5-Ingredient Buffalo Chicken Quesadillas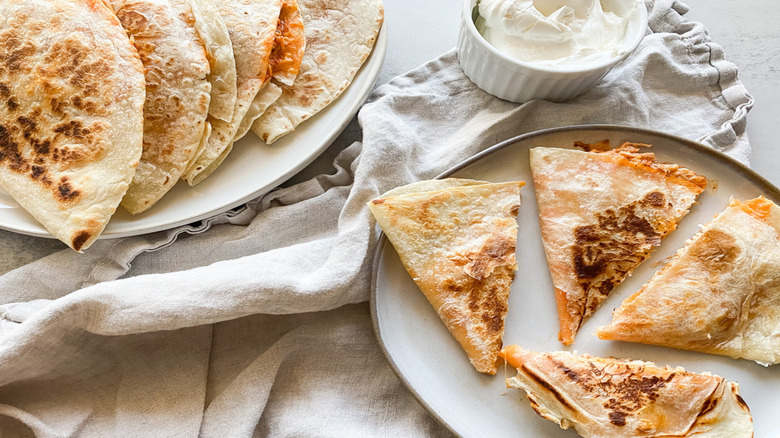 Kristen Carli/Mashed
Imagine it's Taco Tuesday and you can't decide between ordering tacos or buffalo wings. Porque no las dos? Why not have both? Have we got a time-saving masterpiece for you. Recipe developer and registered Dietitian Kristen Carli has the perfect Buffalo chicken quesadilla to cure your cravings. Buffalo chicken, tortillas, sour cream, and cheese? Yes, please! 
Our 20-minute method will have you savoring cheesy buffalo chicken in no time. You can enjoy this on the go or use paper plates for an easy clean up (we won't judge you). These quesadillas are simple and versatile. They are the ideal appetizer but can also double as a portable chicken dinner. Who knew?
Quesadillas were first made in Mexico as veggie-stuffed desserts. When Spanish settlers introduced meat and dairy to the Aztecs, they began adding cheese into the mix. And so, the first quesadilla was created. Now you can relish these "cheesy little things" as a Mexican custom, from anywhere in the world.
You only need five simple ingredients for Buffalo chicken quesadillas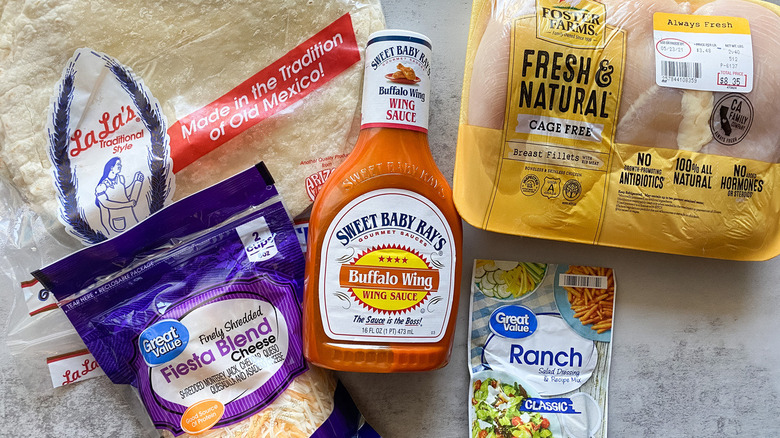 Kristen Carli/Mashed
Starting off, this recipe only takes a quick trip to the store. With just five easy ingredients, in less than 30 minutes you'll be flipping quesadillas the whole family will rave about!
The tortillas hold it all together, so using 10-inch flour tortillas will render the best results. Each quesadilla will be filled with a combination of chicken breasts, Sweet Baby Ray's Buffalo wing sauce, ranch seasoning, and Mexican shredded cheese. Simple enough, right? On to the next step to cheesy Buffalo chicken goodness!
Pressure cook the chicken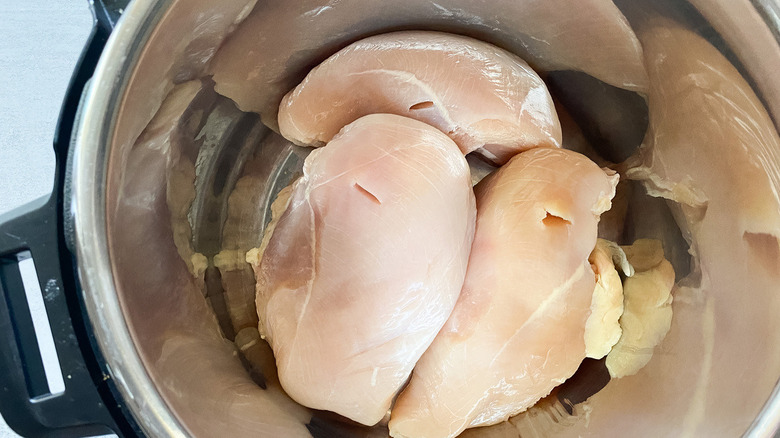 Kristen Carli/Mashed
First, give the chicken a good washing. Then, in an Instant Pot place the three chicken breasts and pour in the 16-ounce bottle of Buffalo sauce. Include the full ranch seasoning packet also. As you overturn the chicken, the seasoning will intermix with the Buffalo sauce, fully coating the chicken. Once this is complete, close the Instant Pot lid and turn the valve to "Sealing." Set the timer to 10 minutes and pressure cook your saucy chicken. The heat inside the pot releases the chicken's juices, naturally.
Searing your chicken on the stove is also easily done, but requires a bit more time. Simply cook your chicken first, add the seasonings afterward on medium heat.
Shred the chicken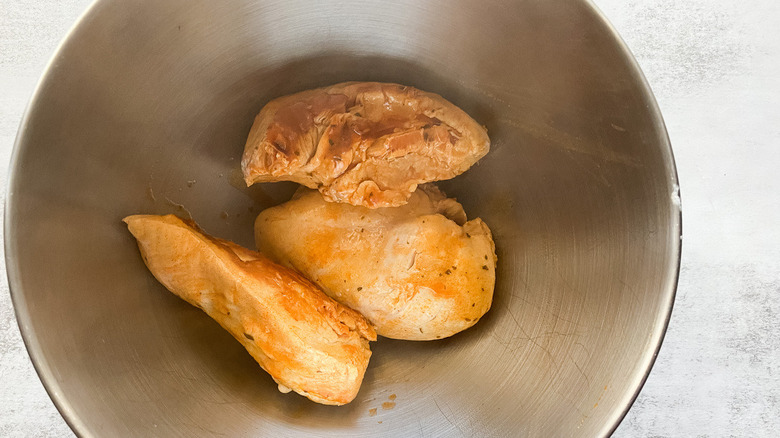 Kristen Carli/Mashed
After it is fully cooked, remove only the chicken from the Instant Pot and place into a stand mixer. If you have a hand-held mixer and a mixing bowl, those work wonders as well. Keep the sauce from the Instant Pot. That will come in handy during the next step. 
The paddle attachment shreds the chicken breasts to the exact texture needed for quesadillas. For kitchens without a mixer, the pollo (chicken) can also be shredded with two forks and some old-fashioned elbow grease. 
Recombine the sauce and shredded chicken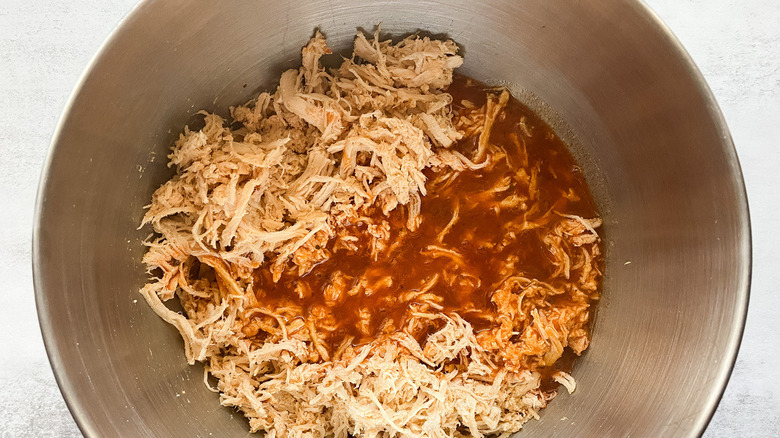 Kristen Carli/Mashed
While the shredded chicken is still in the mixing bowl, pour the remaining sauce from the Instant Pot over the chicken. Take a moment to integrate the sauce and chicken together. 
Buffalo chicken quesadillas make amazing appetizers for the family. If you want to make this a meal, spice it up with Spanish rice and refried beans. Carli told Mashed, "I love these with sour cream and refried beans for dinner!" We're almost ready to plate these cheesy little things.
Fill half of a tortilla with the shredded chicken and cheese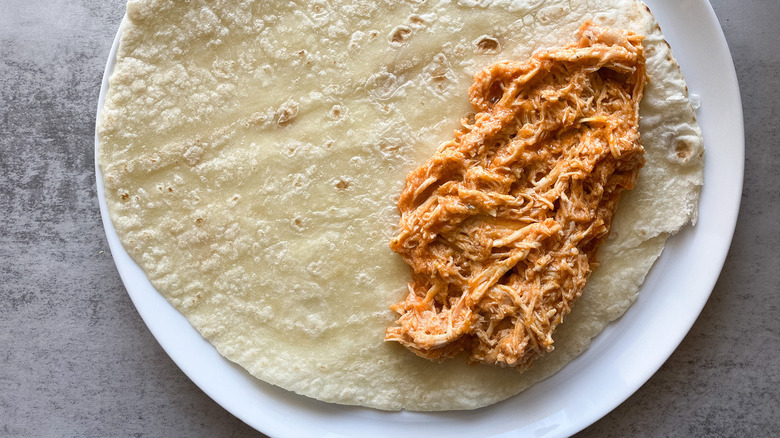 Kristen Carli/Mashed
The next few steps are fairly easy, so stay with us. On a plate, lay out one whole tortilla. Using tongs, pull about ¼ cup of the buffalo chicken and set it on one side of the tortilla. With a utensil, spread the chicken out within one half of the tortilla. Next, you can sprinkle 2-3 tablespoons of shredded cheese to cover the Buffalo chicken.
Since the tortilla is open, if you want to add any (optional) veggies before you cook these bad boys, go for it! Otherwise, you're all set for adding some crisp to these quesadillas. 
Dry fry the quesadillas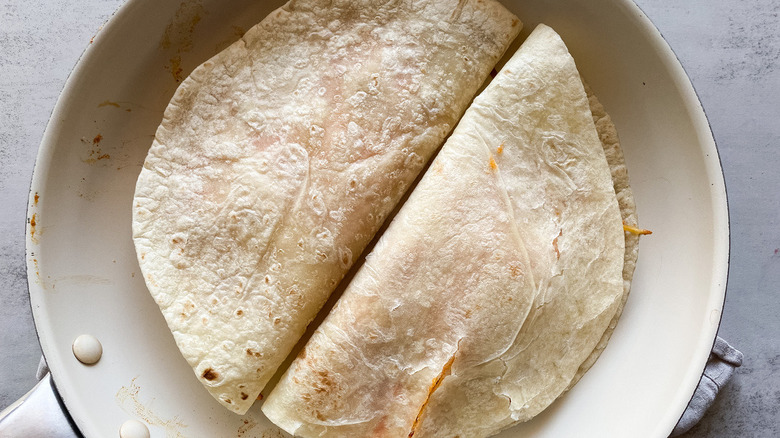 Kristen Carli/Mashed
Folding the empty half of the tortilla over to encase the chicken and cheese is the final phase before heading to the stove. Follow the filling and folding method until all the soft, flour tortillas shells are filled with the Buffalo chicken and cheese combination.
Once that's complete, set a frying pan on a stove eye over medium heat. If you're using a non-stick pan, you may gently rest two folded quesadillas back-to-back in the pan. If your pan likes to stick, lightly dust it with a non-stick spray before adding your 'dillas. Give the quesadillas about 5 minutes on each side, or until they're crispy and golden brown. Repeat the same process to cook the remaining quesadillas.
Serve the Buffalo chicken quesadillas with sour cream
Kristen Carli/Mashed
Fantastic job! ¡Fantastico! Give yourself a hand. Your hand-crafted, cheesy Buffalo chicken quesadillas will be a hit. According to Carli, food photographer and recipe developer, "These would be amazing for appetizers or a dinner."
Add a little more authentic Mexican flavor to your table with homemade guac, rice, and beans. You can't go wrong with sour cream or ranch dressing alongside these unforgettable beauties. This Taco Tuesday will be one for the books! If you want to enjoy them as leftovers, Carli says " These reheat best on the stove-top to crisp up the tortillas."
We know you'll relish these crispy and delicious Buffalo chicken quesadillas. We hope you'll be back for more cheesy little things. Until next time, andale!
5-Ingredient Buffalo Chicken Quesadillas
Take Taco Tuesday to the next level with these easy Buffalo chicken quesadillas. These 'dillas come together in under 30 minutes and are sure to please.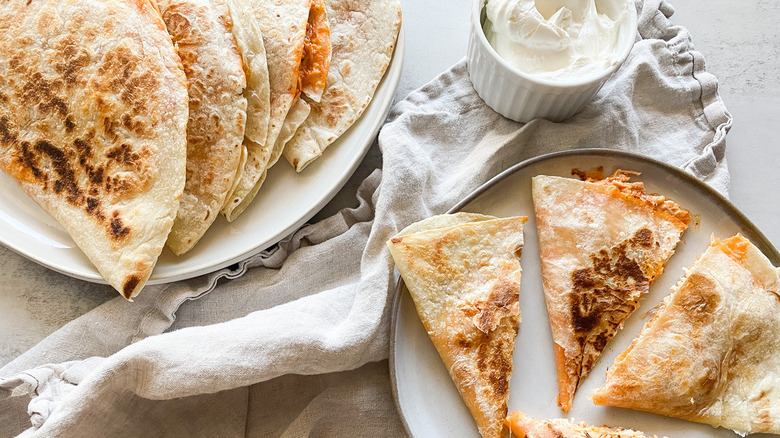 Ingredients
6 individual 10-inch flour tortillas
3 chicken breasts, shredded
1 16-oz bottle buffalo sauce
1-oz ranch seasoning packet
3 cups Mexican shredded cheese
Optional Ingredients
1 dollop of sour cream, for dipping
Directions
In the bowl of the Instant Pot, add chicken, buffalo sauce and ranch seasoning packet. Be sure to move around chicken so that the sauce fully covers the chicken.
Close lid and turn valve to sealing. Pressure cook for 10 minutes. Allow to naturally release.
Remove chicken from Instant Pot and shred the chicken.
Pour liquid at bottom of Instant Pot over shredded chicken. Stir to combine.
Lay out one tortilla on a plate. Using tongs, scoop out about ¼ cup of shredded chicken on one half of the tortilla.
Sprinkle about 2-3 tablespoons of shredded cheese over chicken.
Fold tortilla in half covering the cheese and chicken. Repeat with all tortillas.
Heat a medium skillet over medium heat. Add quesadilla to hot pan and cook until crispy, about 5 minutes. Flip and cook for 5 more minutes.
Repeat with remaining quesadillas.
Nutrition
| | |
| --- | --- |
| Calories per Serving | 621 |
| Total Fat | 32.6 g |
| Saturated Fat | 14.5 g |
| Trans Fat | 0.8 g |
| Cholesterol | 160.2 mg |
| | |
| --- | --- |
| Total Carbohydrates | 28.0 g |
| Dietary Fiber | 1.7 g |
| Total Sugars | 1.5 g |
| Sodium | 824.3 mg |
| Protein | 52.4 g |