Traditional Steak And Kidney Pie Recipe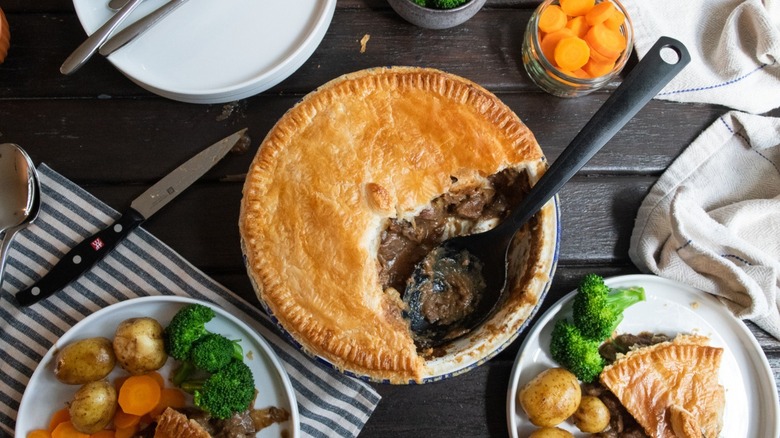 Jennine Bryant/Mashed
While the U.S. and the UK may be similar in many ways, sharing the same language and a similar melting pot culture, we do have some significant differences. They drive on the left, we drive on the right, they use the metric system while we're still holding out with the imperial system, and they have real royals while we have ... Kardashians. Perhaps the most significant way we differ, however, is in what we consider to be acceptable cuisine. Case in point: kidneys. While many Americans recoil in horror at the thought, Brits have long considered this organ a delicacy.
Whether you're an ex-pat, an Anglophile, or just someone who's feeling brave enough to try new things, in-the-know kidney eaters say this meat achieves its pinnacle of perfection as part of a steak and kidney pie. Recipe developer Jennine Bryant is British and tells us, "Steak and kidney pie is a deeply traditional English meal — you'll find it on the shelves in any reasonably sized supermarket or in any pub restaurant. You can even get them in fish and chip shops!"
While she usually blogs about vegetarian recipes at The Marshside Pantry, she didn't want to pass up a chance to share this traditional recipe with us kidney-deprived Yanks. "I think it's good to try new things and different flavors, Bryant says, adding, "If you are a little adventurous, you never know what you might discover."
It may not be that easy to source one of the main ingredients for this steak and kidney pie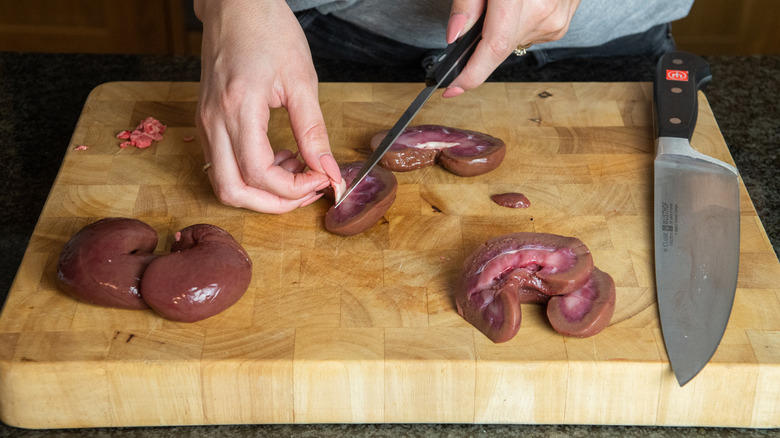 Jennine Bryant/Mashed
Bryant explains that, in the UK, "You can buy different kinds of organs in any reasonably large supermarket." Well, here in the U.S., where we typically adopt more of an "offal is awful" attitude, kidneys are likely to be more difficult to find. You can probably find them at a specialty butcher shop, but you may also have luck at a Hispanic or Asian market if you don't want to pay sky-high prices. If you can't find lamb's kidneys, calves' kidneys are the best substitute, but pork kidneys may have an "off" taste depending on what the pigs have been eating. Beef kidneys may be tough and require a much longer cooking time.
If you're still on the fence and wondering whether you can convert this into a "steak and anything other than kidney" pie, Bryant says you really should try the recipe as is. "Believe it or not," she encourages, "kidneys are super nutritious and contain loads of nutrients and proteins." As for the taste, she describes kidneys as having "a slightly earthy flavor," but says, "they mellow out when stewed alongside the other flavors in the pie, so they make a great addition to add interest and body to any meat stews."
The other ingredients shouldn't be too tricky to find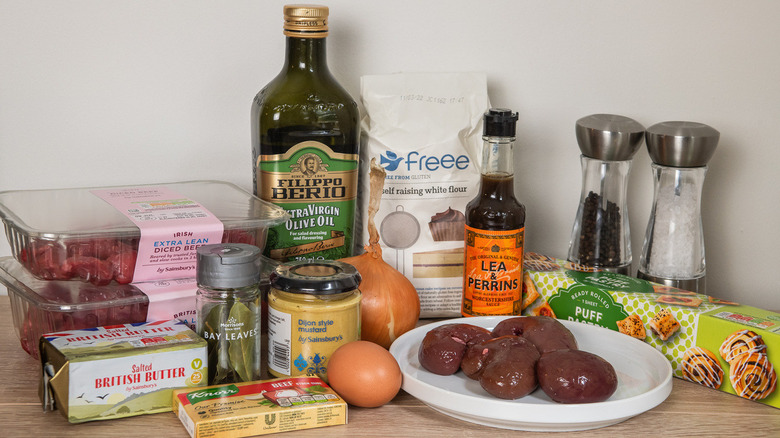 Jennine Bryant/Mashed
When preparing this dish, Bryant used something she called "braising steak," but in American English, it turns out this just means chuck steak. In fact, flank, skirt, hanger, or any other cheap cut of steak would also work here. With a sufficient amount of braising, all of these cuts will become fairly tender, and a more delicate prime cut might be overwhelmed by the strongly flavored kidneys.
Bryant also used a brand of puff pastry that appears to be available only in the UK, and she says the package weighed 350 grams, which is about 12 ounces. Look for puff pastry that's approximately the same weight.
As for the rest of the ingredients, they're pretty universal. You'll need olive oil, butter, an onion, flour, beef stock (Bryant made hers from bouillon cubes), Dijon mustard, a bay leaf, salt, pepper, Worcestershire sauce, and an egg.
This steak and kidney pie starts with a meaty stew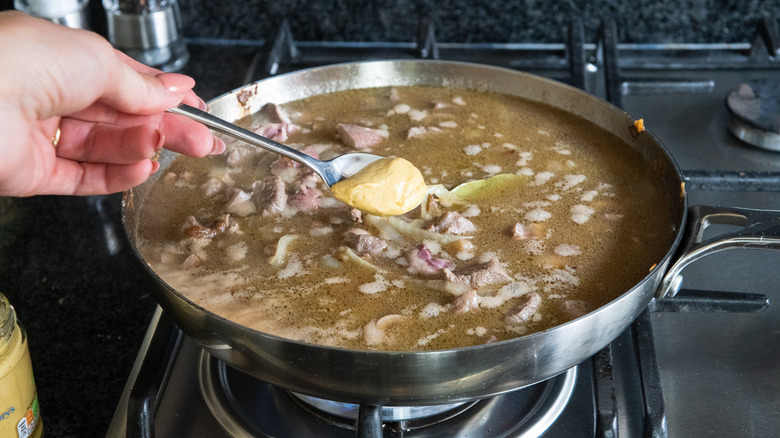 Jennine Bryant/Mashed
Heat up a large frying pan or skillet and add the oil, the butter, and the sliced onion. Fry the onion, stirring, until it's soft and translucent. At this point, add the diced chuck steak and cook until it's slightly browned. Sprinkle the flour over the beef and onions and stir it in. Cook for a few more minutes, then add the kidneys and cook them for a minute or two.
Pour the beef stock into the meat mixture and add the mustard, the bay leaf, the salt and pepper, and the Worcestershire sauce. Let the stew simmer, uncovered, for an hour and a half, giving it a stir every so often. If it starts looking a little dry, add a bit more beef stock. Once the 90 minutes is up, remove the stew from the heat and let it cool completely.
The puff pastry turns the stew into a one-crust pie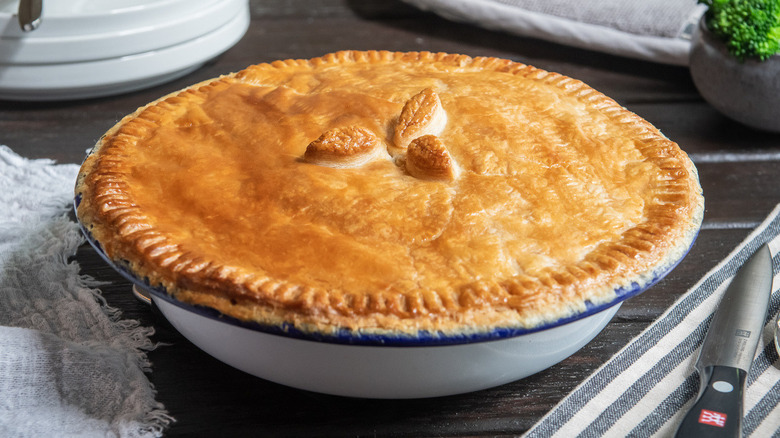 Jennine Bryant/Mashed
While the stew is cooling, preheat the oven to 425 degrees. Once the stew is sufficiently cool, spoon it into a deep pie pan and top it with a sheet of puff pastry. Trim off any pastry hanging over the sides, then crimp the edges with a fork. If you have any excess pastry, Bryant says you can always use it to mold little decorations for the top of the pie.
Take a sharp knife and cut a small cross right in the center of the pie, as this will help let the steam out and prevent any messy spillovers. As a final touch before the pie goes in the oven, beat the egg and then brush the beaten egg over the crust. Bake the pie for half an hour until it's puffy and golden, then take it out of the oven to cool.
How to serve your steak and kidney pie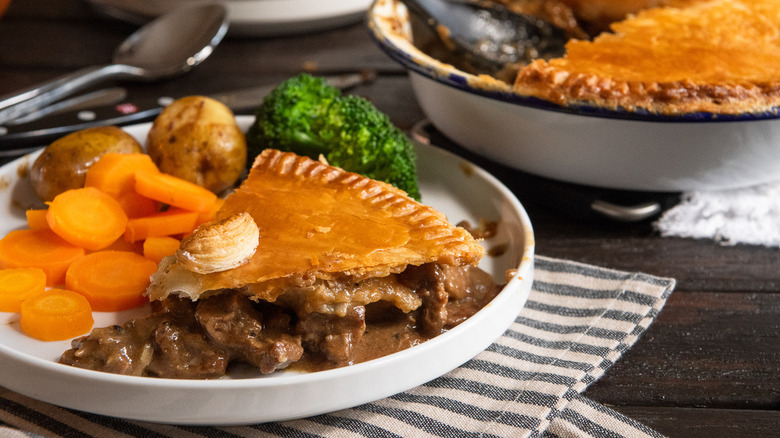 Jennine Bryant/Mashed
There's no need for a sauce with your steak and kidney pie since it will make its own gravy, but you may want some potatoes to help soak up any excess. Bryant suggests mashed or boiled potatoes, but fries are a traditional pub meal side. A side of steamed vegetables, or a fresh green salad if you prefer, can also help to counter some of the meat pie's richness. Serve the pie with a pint of beer or a cup of strong, milky tea for what Bryant calls "a classic British meal." As she points out to anyone still skeptical, "It might seem strange if you've not eaten kidneys before, but it must taste good to have become a classic!"
Traditional Steak And Kidney Pie Recipe
In-the-know kidney eaters say this meat achieves its pinnacle of perfection as part of a steak and kidney pie. Give it a try in your kitchen.
Ingredients
2 tablespoons olive oil
2 tablespoons butter
1 large onion, sliced
1 ½ pounds chuck steak, diced
2 tablespoons flour
5 ounces lamb kidneys, diced
3 cups beef stock
1 teaspoon Dijon mustard
1 bay leaf
Salt, to taste
Pepper, to taste
Dash of Worcestershire sauce
1 package of ready-to-bake puff pastry sheets
1 egg, beaten
Directions
Heat a frying pan, then add the oil, butter, and onions. Fry until the onions are soft and translucent.
Add the chuck steak to the frying pan and cook until the steak is slightly browned.
Stir the flour into the onions and beef. Allow the mixture to cook for a few minutes, then add the kidneys and cook for a minute or two longer.
Add the beef stock, mustard, bay leaf, salt, pepper, and Worcestershire sauce to the meat and onions. Simmer stew uncovered for an hour and a half, stirring occasionally. If the mixture becomes too dry, add a little more beef stock.
Remove the stew from the heat and allow to cool completely.
Preheat the oven to 425 degrees Fahrenheit.
Scoop the cooled stew into a pie pan.
Place the puff pastry on top of the pie pan, then trim the edges and crimp them with a fork.
Cut a small cross into the middle of the top of the pastry.
Beat the egg and brush on top of the pastry.
Bake the pie for 30 minutes or so until the pastry is puffed and golden.
Allow to cool, then serve and enjoy.
Nutrition
| | |
| --- | --- |
| Calories per Serving | 628 |
| Total Fat | 44.6 g |
| Saturated Fat | 15.7 g |
| Trans Fat | 1.4 g |
| Cholesterol | 193.6 mg |
| | |
| --- | --- |
| Total Carbohydrates | 25.2 g |
| Dietary Fiber | 1.4 g |
| Total Sugars | 2.1 g |
| Sodium | 799.8 mg |
| Protein | 32.1 g |