Bobby Flay's Genius Mashed Potato Recipe Is Perfect For Cheese Lovers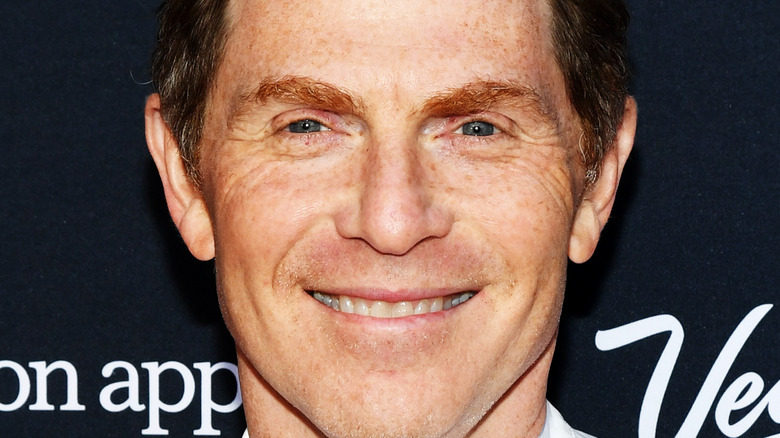 Ethan Miller/Getty Images
Mashed potatoes are one of those comfort foods that we can taste on our tongues before the first forkful even hits our mouth. But, per IrishCentral, they weren't always that way. At one point in history, people believed potatoes were only for feeding livestock, while others linked them as a source that caused leprosy. But as those myths were dispelled, potatoes became a staple. Soon, mashed potatoes became known as "Irish guacamole" because the Irish were said to eat them with everything, and have been doing so for nearly two centuries. 
Fast forward to the present, the moniker continues to stick. They can be eaten as a standalone dish on Thanksgiving or a filling side to serve alongside entrees at dinner. And if you're bored with basic spuds, there are a variety of ways to spice them up. You can add Ina Garten's secret ingredient — lemon zest, or try the Pioneer Woman's creamy mashed potatoes, blending cream cheese with butter and salt. But leave it to Bobby Flay to give us the perfect mashed potato recipe for cheese dip lovers. Trust us, you'll be so impressed with his riff on this classic dish that you'll be racing to expand your cooking repertoire with it. 
Creamy queso will kick mashed potatoes up a notch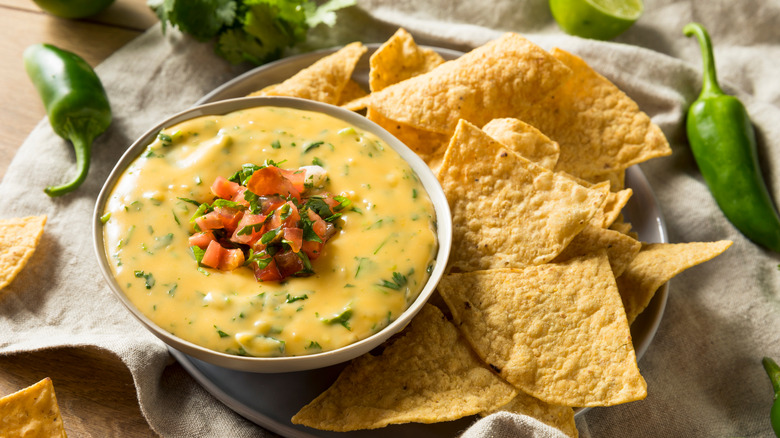 Shutterstock
Ready to transform your traditional mashed potatoes into something new and delicious? Flay's culinary touch comes full force with green chile queso sauce pooling in the center of a mound of creamy mashed potatoes. Flay revealed to SheKnows that this dish is his favorite to serve on Thanksgiving Day, explaining that he makes a well in the middle and adds green chile queso sauce in the middle.  
According to Flay's signature recipe, a blend of Monterey Jack cheese and Parmigiano Reggiano makes up the savory sauce (via Food Network). Milk and warm cream are the secret weapons to his velvety smooth potatoes, and a poblano chile gives this cheesy goodness just the right amount of spice and flavor. Does this Southwestern twist on mashed potatoes make you yearn for an early Thanksgiving? Our mouths are certainly watering just thinking about feasting on hearty potatoes mixed with queso dip.