Duff Goldman Shared An Adorable Photo Of His Baby Eating Watermelon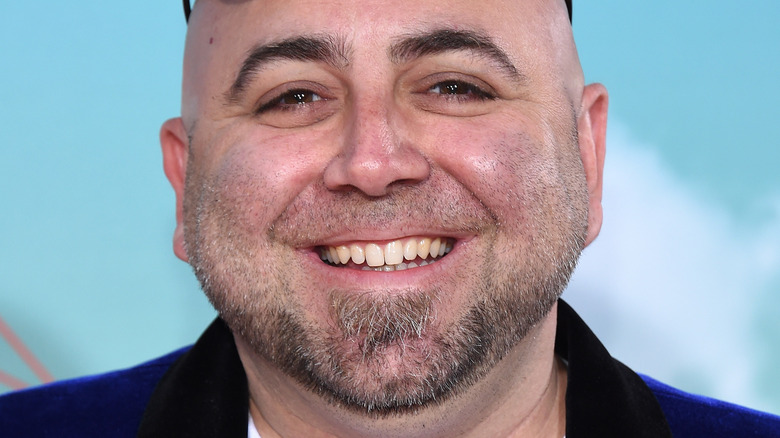 Shutterstock
Apparently, Duff Goldman has a watermelon lover on his hands, and the internet is collectively gushing over the cuteness of it all.
The celebrity baker and wife Johnna welcomed daughter Josephine to the world in January, according to TODAY. "I keep telling Josephine about all the wonderful things she's gonna get to try like pizza and candy and swimming and concerts and riding a bike," Goldman wrote in his over-the-moon-excited Instagram post announcing Josephine's arrival. Sure enough, Goldman's life has been a series of joyful firsts that he and Johnna get to share with Josephine ever since, and his followers have happily been along for the ride. 
The comment sections exploded with heart-eyed emojis when Goldman posted about taking his baby to the original Baltimore location of his bakery, Charm City Cakes, and again when he posted a video of her enjoying an apple. We've gotten to enjoy seeing Josephine spend quality time with Goldman's "The Holiday Baking Championship" co-judge Nancy Fuller, as well as witness a heart-warming mommy-and-me moment between Josephine and Johnna when Josephine was bouncing around in her jumper.
Goldman's latest post, showing Josephine feasting on a slice of watermelon, is just the latest treat for the TV personality's fans.
Goldman's followers can't handle the cuteness of his baby and her first watermelon
Goldman hosts "Kids Baking Championship" with Valerie Bertinelli on the Food Network, where he openly gets very invested in the contestants' talent, struggles, and successes. He also recently wrote a cookbook for children in order to provide something a little more challenging than what's already out there, because he's seen kids wield serious skills. In other words, the author and culinary whiz is no stranger to what children love to eat, and now he gets to see that play out with his sweet baby daughter, Josephine.
When he posted on Instagram and tweeted about Josephine's "First watermelon!" Goldman's followers could immediately sense the chef's excitement that his daughter is already digging the fruit. And they couldn't help but express how ridiculously cute they thought the picture was, too. On Instagram, the comments are full of variations on "Adorable!" User @confectionaryhome added, "You are made for this dad gig!" The reaction was similar on Twitter, with many responses echoing @writer_noir's "Too cute for words! Just melts my heart!" reply. Some even shared photos of their own babies trying different fruit for the first time. It's clear that Duffman's fans are eagerly awaiting all of his adorable photos of baby Josephine's firsts.