The Worst Flavor Of Pringles According To 31% Of People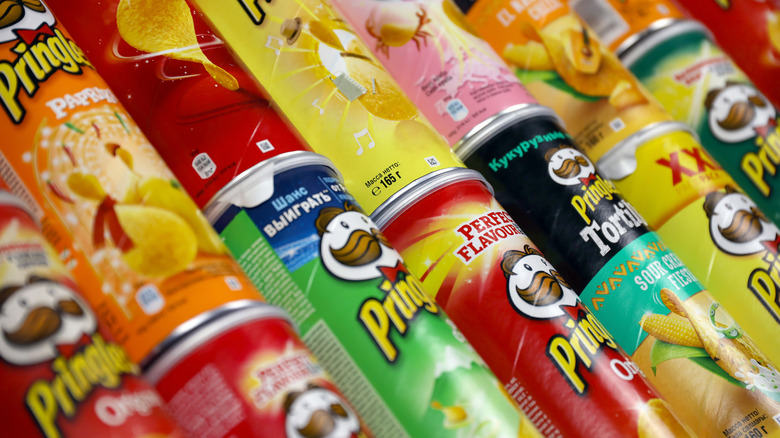 Mehaniq/Shutterstock
We may receive a commission on purchases made from links.
Pringles are not exactly everybody's favorite snack food. They're — well, kind of hard to categorize, really. Not exactly a potato chip, although they are chip-shaped and do contain actual potatoes. Unlike real potato chips that begin with thin-sliced raw potatoes, Pringles "potato chips" are extruded from dried potato powder and a bunch of other not-too-tasty ingredients like cornstarch and rice flour (via Pringles). Despite their sketchy origins, these snack chips nonetheless remain popular with people that value portability above texture, or people who've somehow grown fond of their peculiarly cardboard taste.
Perhaps in compensation for their subpar texture, Pringles are constantly dreaming up new flavor varieties inspired by everything from "Rick and Morty" to the Wendy's menu. A short while ago Mashed conducted a poll to determine everyone's favorite Pringles flavor and, surprise surprise, even with all the options available to them, the top choice was the original ones that are purported to taste somewhat like actual potato chips. As a corollary to that survey, we decided to do a part two, so we could find out what Pringles flavor earns the big thumbs-down from our internet audience. We offered them a selection of flavors, these being BBQ, cheddar cheese, dill pickle, honey mustard, original, ranch, and salt & vinegar. An impressive 603 U.S. residents got back to us, and, while each flavor earned its share of votes, nearly 1/3 of all respondents agreed that one flavor was clearly the worst of the bunch.
This super-trendy flavor isn't popular with everyone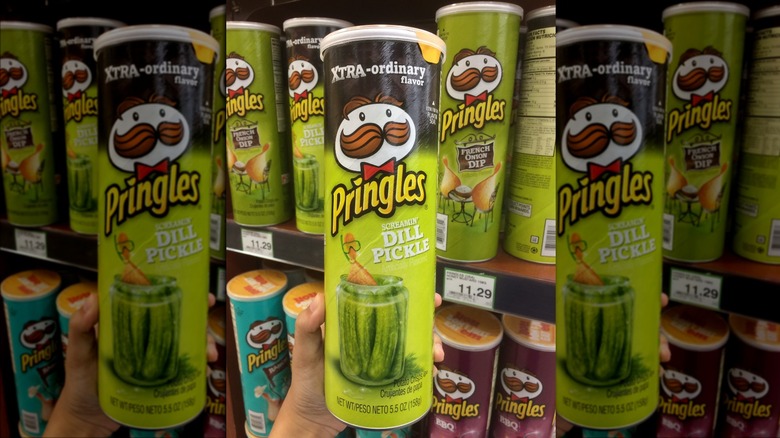 Zety Akhzar/Shutterstock
Are you dying to know who won the least-favored Pringles contest? Too bad, we're building suspense by counting down the runners-up just like the awards shows. In last place, the least unpopular Pringle was cheddar cheese, with less than 6% of the vote, while the penultimate flavor was ranch, just topping the 6% mark. Original got over 9%, followed by BBQ, not favored by nearly 11% of pollees. More than 17% didn't care for salt & vinegar, while over 19% weren't fans of honey mustard. Then we take a giant leap forward to the one flavor that over 31% of our poll respondents say is the very worst type of Pringle. The envelope, please! And our winner, or rather loser, is ... Dill pickle! 
Yes, even as pickle-flavored everything continues to fly off store shelves, Pringles are one pickle product that's not too popular. As to why that might be, we turned to everyone's favorite source of consumer info, Amazon reviews. According to Amazon, it seems that these Screamin' Dill Pickle Potato Crisps aren't screaming at all, more like whispering. As one reviewer put it, these chips "Barely tasted like dill pickles, or dill, or anything for that matter," while another, more succinctly, opined "No pickle flavor." Still another reviewer said they were "expecting more punch of flavor for the title of "screaming dill pickle." General consensus seems to be, if you like pickle chips, don't pick Pringles.