Burger King Fans Won't Want To Miss This Amazing King's Feast Deal
To compete with established chicken sandwich bosses like Chick-fil-A, Popeyes, and Shake Shack, Miami-based Burger King debuted its Ch'King sandwich in June, and now, they're offering it as part of a new combination meal that's a royally good deal.
In fact, the "$6 King's Feast," offered at participating Burger King locations nationwide, gives you a ton of food for six bucks. The deal includes a regular or spicy Ch'King sandwich, a four-piece order of Cheesy Tots, small fries, and a small fountain drink. Ch'King sandwiches usually run between $3.99 to $4.99, so the addition of tots, fries, and a drink for just $2 is quite the deal (via Reuters).
According to Chew Boom, the limited-time promo was designed to promote the spicy version of the Ch'King, but the restaurants will happily swap out a regular sandwich for those who don't like the heat. If you haven't been to BK in a while, it might be time to revisit the chain that regularly owns the Twitter-sphere. The addition of the Ch'King, as well as some other new menu items, has earned the King some positive feedback.
This combo is a great deal for BK fans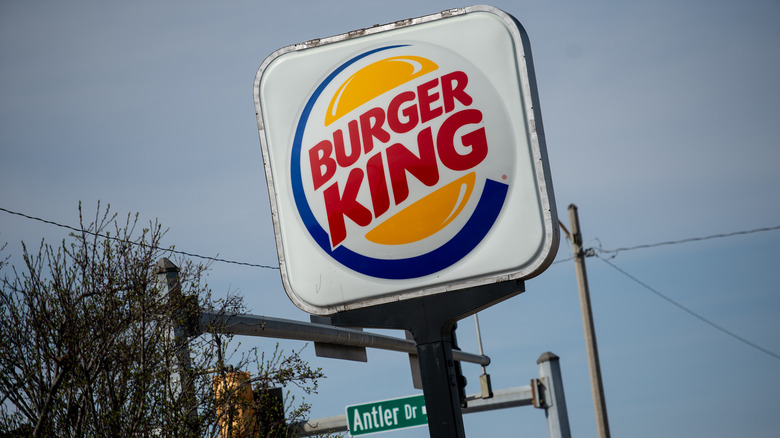 Michael Thomas/Getty Images
In addition to its new all-natural Whopper, which debuted a year ago, Burger King recently added the vegan Impossible Whopper. They also brought back 2019's limited-time offer Cheesy Tots (via Eat This, Not That!). According to Thrillist, this summer also brought the debut of Burger King's Breakfast Bacon King (a brioche bun with egg, sausage, bacon, American cheese, and new maple butter sauce), and the Bacon King burger with three slices of bacon, garlic pieces, American cheese, and mayo. Thrillist says the menu additions have been designed to reverse an 8% decrease in sales at the end of 2020.
But it's the Ch'King that's garnered the most buzz. Eat This, Not That praised this "super crispy filet on a potato bun, accented with some crinkle-cut pickles and a signature mayo-like sauce," and had high praise for this filet's hand-breading. They noted it was a definite step up from the chain's basic chicken sandwich.
How great is this combo deal? So great, that sold separately the sandwich, fries, tots, and small drink would run you $10.86 — that's almost five dollars more than the price of the $6 King's Feast (calculated from suburban Cleveland Burger King menu).
Ready to feast on chicken like the King? Grab this offer while you can, because it's running for a limited time only.