The Problem Some People Have With This Twisty TikTok Omelet Technique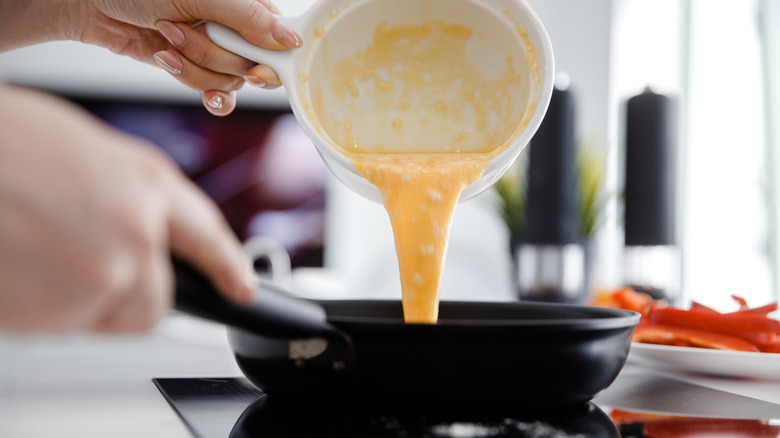 Maxim Artemchuk/Shutterstock
Thanks to a wide array of hacks and dazzling food videos, TikTok has definitely gotten its users into the kitchen, to say the least. Whether it's someone making quesadillas in a toaster to the keto sandwich hacks for bell pepper haters being posted on the app, people are now eager to try out the latest food TikTok trends. Unsurprisingly, hacks for the incredible edible egg have also captured imaginations, with users showing off ideas for reinventing scrambled eggs or making crispy inside-out omelets.
However, this TikTok video showing a twisty technique for making omelets drew quite a bit of criticism from some social media users. The trick was posted by self-proclaimed "EggTokr" @omuraisupuro, who is apparently based in Japan. It entails the chef twisting the eggs with chopsticks while they cook. Describing it as  "Japanese omelet technique," Food Network recently spotlighted the trick on Facebook. Many users appreciated the artistically swirled omelet but even some who found it visually pleasing felt it looked too runny. "A little too wet for my taste, but pretty design," wrote one Facebook user. "Nice but I need my eggs cooked very well. Not runny," remarked a second.
The original TikTok post also garnered praise from commenters, but others had concerns that the omelet wasn't done, like @centrefoldspread, who said, "A lot of it looks uncooked." The comment got over 1,000 likes in agreement.
Not everyone saw a problem
Some people came to the defense of the omelet technique. One TikTok user @bimbowimb0, commented that Japanese eggs "have higher cleanliness standards than the [U.S.] so they're safe to eat raw!" (via TikTok). And a defender on Facebook observed, "Italian Tiramisù is made with raw egg ... and nobody says they'll get Salmonella with it ..." Nonetheless, some the omelet "unappealing" regardless of safety. But even if they couldn't eat it some couldn't deny the omelet's beauty in its final form. Even Food Network describes the technique as "proooobably our favorite egg trick yet."
If you want to give this technique a try, you will first need to crack your eggs into a pan, before positioning your chopsticks on opposite sides. Then, while slightly rotating the pan, start to slowly swirl the utensils inwards, creating a beautiful "twist." Continue this motion until your omelet almost looks like a blossoming flower.
The TikTok user, @omuraisupuro, serves this creation over a steaming bed of rice. If you're still deterred by the appearance or health risks of the raw eggs, keep in mind that other parts of the world have different health standards and culinary traditions for their eggs. And we have to admit — the final product is really pretty to look at!