This Is Scott Conant's Go-To Ingredient When Cooking At Home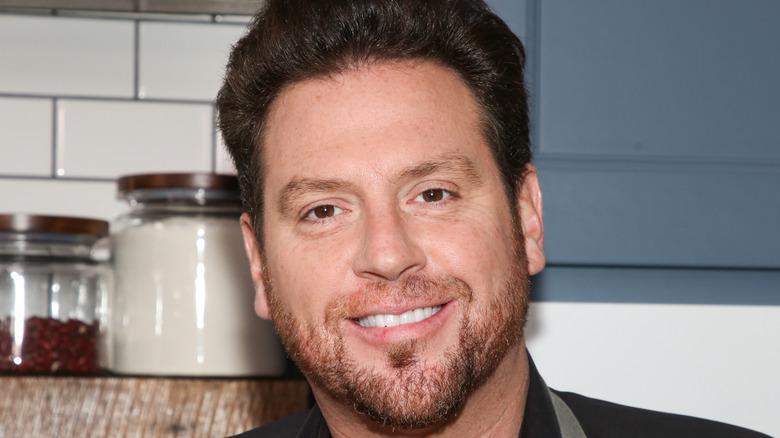 Paul Archuleta/Getty Images
You likely know Scott Conant from his long-time role on Food Network's "Chopped," where he sits at the judge's table alongside a few other familiar faces from the culinary world like Alex Guarnaschelli and Aarón Sánchez. However, the 50-year-old's lengthy tenure on the hit competition series is only one of his claims to fame. Per his website, Conant has also appeared on a handful of other television programs like "Beat Bobby Flay," has authored four cookbooks, and operates restaurants in both New York and Arizona. The chef is clearly a busy guy, so when he has some time off from work and travel, he tells Forbes that his wife and two children are his number one priority. 
"When I am home, I spend as much time as possible with them," he explained. "This includes cooking with my daughters, ages 7 and 9 — they really enjoy being involved in the process." Though Conant didn't dive into the exact meals he likes to make with his young children, he does keep the fridge at his Scottsdale, Arizona, home filled with things like eggs, milk, and fresh veggies, while his countertop holds things like oils, fruits, and gluten-free flours, all of which can be combined together for a variety of dishes (via People). His pantry is always stocked up as well, often with one particular item that the chef revealed to Tasty is his "go-to ingredient" for cooking at home.
Scott Conant transforms this canned item into a savory snack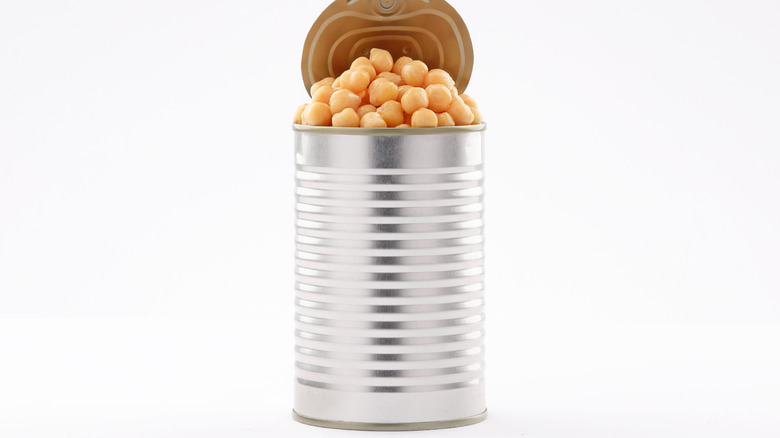 VITTO-STUDIO/Shutterstock
You may think that Scott Conant's pantry is filled to the brim with jars of Skippy Peanut Butter, which he revealed to Food Network was his "guilty pleasure food," but the chef reaches for something wildly different when spending time in his kitchen at home. Believe it or not, Conant's go-to pantry ingredient is actually a can of garbanzo beans, a.k.a. chickpeas, and his favorite way to use them will probably have you ready to head out to the store and pick up a few cans yourself. "I like to pan fry them, dry off the excess oil, and then toss them in a touch of smoked paprika and sea salt," he explained to Tasty. "Then enjoy like popcorn!" 
Garbanzo beans are an incredibly versatile ingredient that, along with his savory late-night snack, the "Chopped" judge uses in a few other recipes, like this one for Cavatelli pasta. They can also be used to make things like soups, hummus, and falafel, while the water that the beans come in — known as aquafaba — is often used in vegan dishes as a replacement for eggs. With so many things you can do with these canned legumes, it's no wonder Conant considers it his go-to when cooking at home.