This Is Guy Fieri's Trick For The Perfect Steak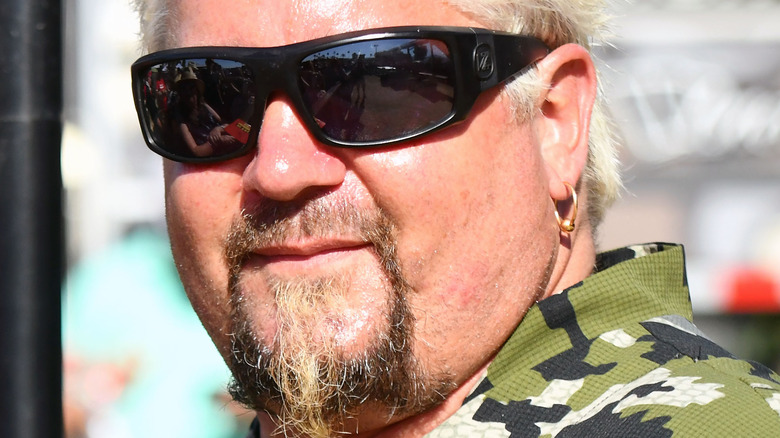 Scott Dudelson/Getty Images
Cooking the perfect steak is an art. You really have to know what you are doing to get the coveted crust on the outside and the juicy, tender, melt in your mouth goodness on the inside. And, as Delish points out, there are oh so many mistakes you can make along the way. From oiling your pan instead of oiling your steak, to not seasoning your meat properly, to trying to cook your steak cold straight from the fridge, to burning it to a crisp, there are plenty of errors you can make that sabotage the savory and succulent taste of your perfect steak.
Enter Guy Fieri. Fieri knows his way around a piece of meat. The host of "Diners, Drive-Ins and Dives" has a lot of tips and tricks to help the culinary challenged. We eat and live by Fieri's bacon rule and we never forget to use his cheese trick to make our cheeseburgers deliciously cheesy. Not to mention, the guy has some seriously awesome hacks for your picky eaters. Well, now the mayor of Flavortown is sharing his secret (or not so secret) trick to make your steak perfect, and this may forever change the way you make your next T-bone or other favorite steak cut. 
Reverse sear your steak to achieve perfection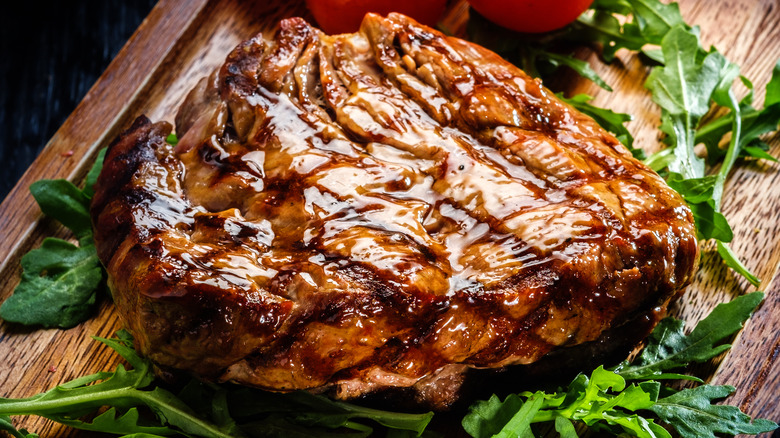 FoodAndPhoto/Shutterstock
Guy Fieri shared with People that, if you want a perfectly cooked steak, you need to utilize a reverse sear. What does that mean? Fieri explained, "Reverse-sear your steak: Start in a low heated oven and slow-roast to your desired doneness, then finish in a hot cast-iron skillet. It gives you better internal temperature control and produces an awesome brown crust." Fieri also appeared on "Live with Kelly and Ryan," where he demonstrated this method on a Tomahawk steak and called this reverse sear method "the bomb." Fieri explained that, with a steak as thick as Tomahawks tend to be, you will need to cook the steak in the oven at about 225 degrees F for anywhere from 45 minutes to an hour-and-a-half. You will then want to break out that digital thermometer to test the internal temperature. You are looking for a reading of 125 degrees F.
After you remove your steak from the oven, you will then sear it over high heat to create that beautiful crust. Just the thought makes our taste buds go into overdrive. Fieri recommends using grapeseed oil in a cast iron pan and searing for about 2-3 minutes. Why does it work? Jessica Gavin explains on her blog that the slow and even heat of the oven means you will have less room to overcook a steak. So, the next time you want steak for dinner, try Fieri's reverse sear and achieve perfection.