Aldi Shoppers Are Seriously Impressed With This Fall-Themed Birthday Cake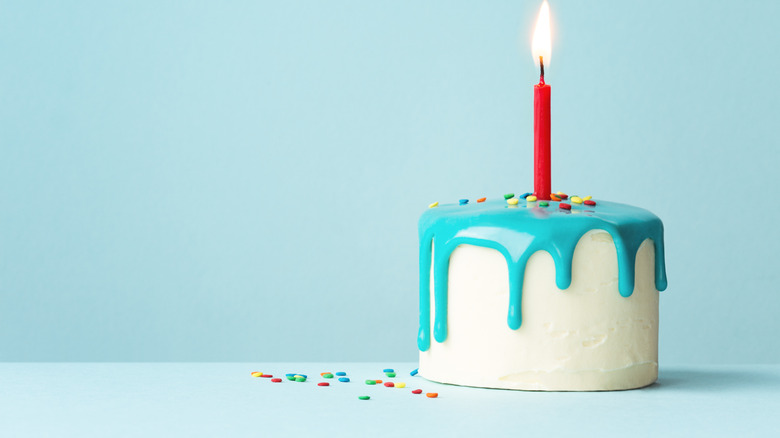 Ruth Black/Shutterstock
While the Aldi subreddit often has customers sharing must-buy products, like European chocolate truffles or a specific tin of brie, it's always interesting to see what else customers have to say about the grocery store chain. For major fans, the Aldi subreddit is worth the visit, but even if Aldi isn't your go-to grocery store, you won't want to miss the cake a Reddit user posted.
The post from u/missblackmrblue is something you can't purchase straight from Aldi's shelves. For their birthday, u/missblackmrblue made an amazing layered fall-themed cake, and everything it is made with came from Aldi.
The photo of the cake could make anyone crave dessert, and the commenters on the Aldi subreddit had nothing but positive things to say. "That is front cover of a magazine worthy! Happy birthday," one commenter wrote. More Redditors and Aldi fans agreed, with plenty of birthday wishes flooding the comment section, as well as saying the cake was "a work of art."
The fall flavors in the birthday cake
Wondering what's in all these layers of cake? "This naked cake features: Spiced apple cider cake layers (with baked apple pieces added in!), No bake cheesecake filling, A baked apple pie middle layer, Spiced mascarpone frosting, Apple cider caramel sauce, Apple + cinnamon sugar mini donuts," u/missblackmrblue explained in a comment on the post.
This sounds like the perfect blend of sweet and creaminess with the cheesecake filling and mascarpone frosting. We expect that the apples add some tartness and freshness, so the cake doesn't feel too heavy and sweet.
According to the original poster, the cake recipe was inspired by Milk Bar's own Apple Cider Doughnut Cake. Although Milk Bar's cake looks delightful, we have to say that u/missblackmrblue's creation might look even more tasty with all the caramel dripping down the sides and large donut holes. In a comment, u/missblackmrblue said that they didn't use a recipe for most components of the cake, except for the donuts, which came from a Sally's Baking Addiction recipe.
We've also got our own recipe for easy apple cider donuts, and you can also pick up a 12-pack of apple cider donuts from Costco. Whether you try making this cake or prefer snacking on apples and cider donuts, you can still enjoy all the flavors fall has to offer!