Shake Shack Is Bringing This Pricey Ingredient Back To Its Menu For A Limited Time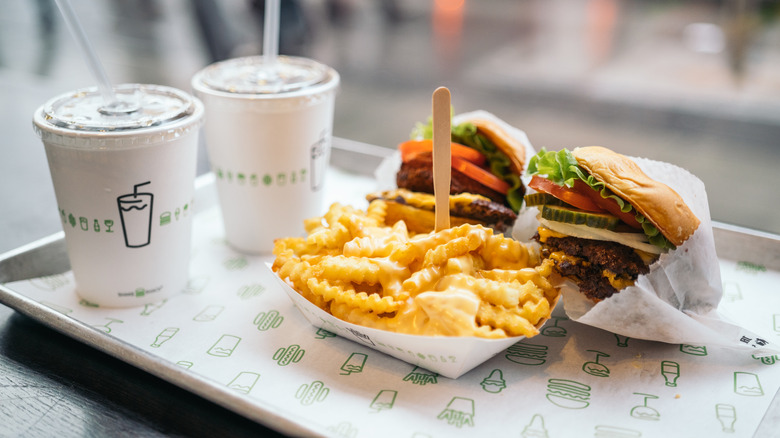 Manu Padilla/Shutterstock
Burgers are a staple of a backyard BBQ and on the menu at many fast food chains, but we've also seen burgers that are elevated and made gourmet with fancier toppings, like a perfectly fried egg. But large chains and fast food joints have also been stepping up their burgers, from Red Robin's Scorpion Burger to Burger King UK's $10 gourmet sandwich menu.
Shake Shack's regular burgers are delicious for a reason, but the chain is also adding a twist to its burgers with a fancier (and pricier) ingredient. So what exactly makes this burger so special? If you guessed truffles, then you're right! According to a press release from Shake Shack, the black truffle menu is returning with its Black Truffle Burger and Parmesan Garlic Fries with Black Truffle Sauce.
If these menu items sound familiar to you, it's because we couldn't stop talking about Shake Shack's truffle burger the first time around in 2020. But if you missed out on the opportunity, here's your chance to try the chain's special truffle menu.
The Black Truffle Burger is returning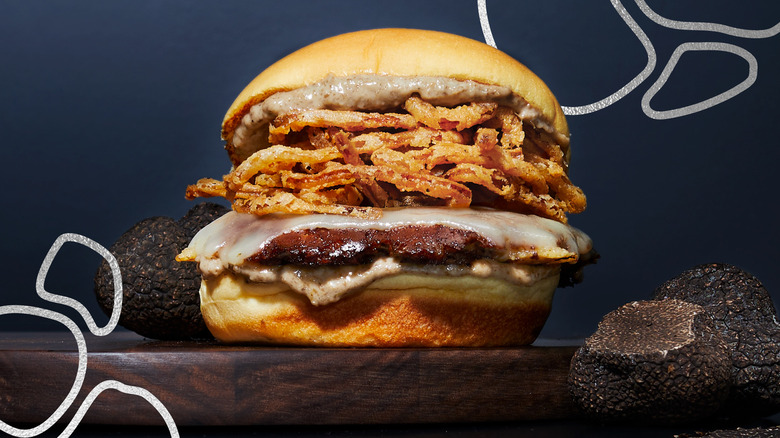 Shake Shack
The key to this truffle menu is in the sauce. In their press release, Shake Shack says that the black truffle sauce is made with organic black truffle olive oil from Regalis Foods, a speciality and luxury food brand. Shake Shack's Black Truffle Burger is topped with gruyère cheese, crispy shallots, and truffle sauce while the Parmesan Garlic Fries with Black Truffle Sauce is topped with cheese and the truffle sauce. This is definitely one way to make your lunch break extra decadent.
Wondering when you can purchase your truffle burger and side of fries? If you have the Shack App, you can order through the app starting October 12, but items from the truffle menu will be available for order in stores on October 15 through January 10. According to Shake Shack's press release, the burger and fries will now be available across the country, unlike the first launch when products were only for purchase in New York City and Los Angeles.