Duff Goldman Fans Are Cracking Up Over These Baby Pic Captions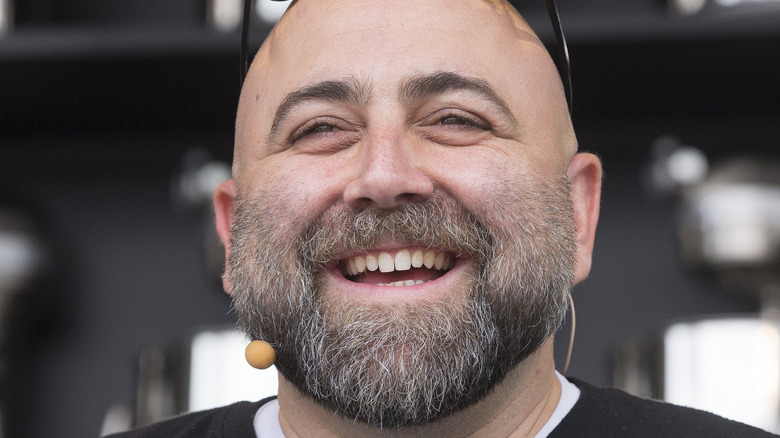 Sterling Munksgard/Shutterstock
Celebrity baker and Food Network host Duff Goldman is known for his over-the-top and incredible cake creations, some of which he shares on his Instagram feed to his hundreds of thousands of fans online. Ever since Goldman welcomed a baby girl, Josephine, with wife Johnna in January this year (via Delish), Goldman's Instagram feed has also included the occasional oh-so-cute shot of his photogenic daughter, like the adorable shot of his daughter in a cornfield, in a pumpkin patch, and just after bath time.
In a recent Instagram post, Goldman includes a photo of Josephine sitting on a carpeted floor in a yellow onesie with her leg extended and hands resting on her legs, a pouty expression on her face, and a few tears for good measure. Josephine, while still adorable, is clearly not happy about something. As to that something, Goldman asked his fans to guess with the caption, "Caption this."
Duff Goldman fans have a lot of caption ideas involving cake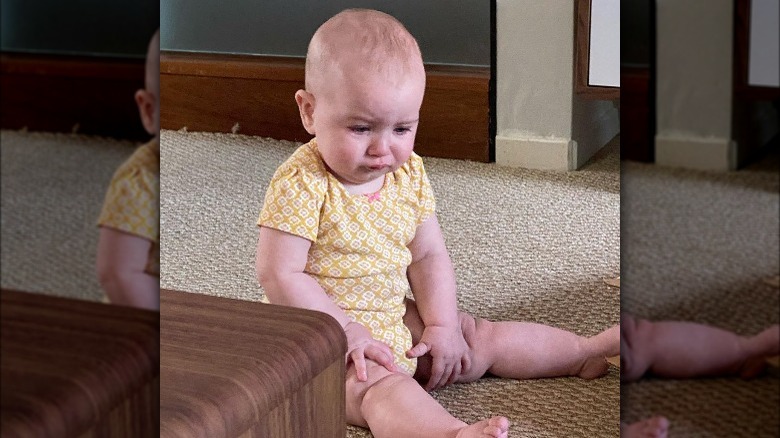 Instagram
A few of the comments reference the last post that Duffman had of Josephine, where it was revealed that she was a fan of Bamba snacks. "They took my Bamba puffs!" suggests one person. As anyone who has tried taking a beloved snack from a toddler knows, tears are often not far behind!
However, given Goldman's claim to fame, most of the suggested captions to the Instagram post relate to cake. "They told me there would be cake. There was no cake," writes one fan. "What do you mean no more cake?" says another. Some out-of-the-cake-box thinkers took the theme in a different direction. One such commenter recommends the caption, "I just don't know how to break it to him that I really, really don't like cake ..." In a similar vein, someone envisions that Josephine has had enough of her father's trademark dessert: "Daddy why do I have to eat cake again!!! Lol." 
It's probably not that much of a stretch to think that cake would be a common food in the house of the ultimate cake master (via Food Network). The cake master who recently lost to Buddy Valastro in Season 3 of "Buddy vs Duff," which a few of the comments also reference which such lines as "When your dad loses to team buddy." That's news worth crying over indeed!