The Adorable Story Behind Giada De Laurentiis' Marry-Me Muffins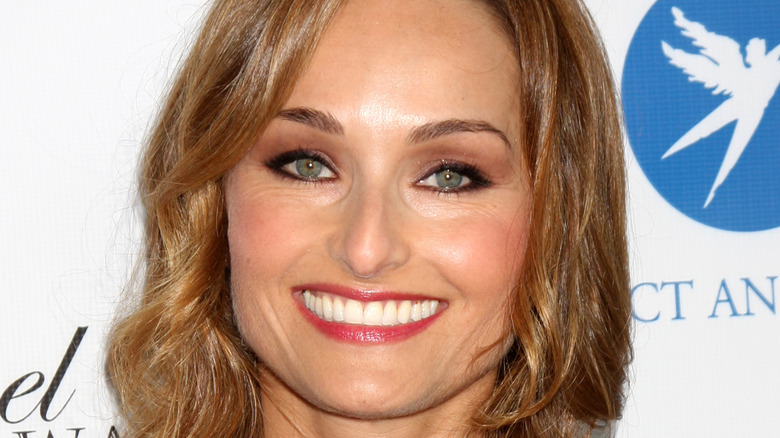 Kathy Hutchins/Shutterstock
Giada De Laurentiis is one of the most notable figures in the culinary world these days, so much so that even if you don't consider yourself a die-hard foodie, you're probably at least familiar with her name. A staple on the Food Network since the debut of her first show "Everyday Italian" in 2003, De Laurentiis has spent the last two decades padding her resume with best-selling cookbooks, restaurants, and a few more Emmy Award-winning television programs, most of which revolve around the Italian fare that she grew up with (via Food Network). 
She has developed dozens, if not hundreds, of "easy-to-make Italian dishes," some of the most popular of which Giadzy lists as chicken piccata, simple bolognese, and lemon spaghetti. And while the chef clearly thrives in the savory side of cooking, don't count out her arsenal of tasty dessert recipes as well. Believe it or not, De Laurentiis originally intended to become a pastry chef after graduating from culinary school, so unlike her pal and fellow chef Bobby Flay, sweets are actually a strong suit for the television host. In fact, one of De Laurentiis' dessert recipes is so good, it's even been known to lead to a marriage proposal.
Don't be surprised if someone pops the question when you make Giada De Laurentiis' Marry-Me Muffins
Have you ever eaten something so good, you've wanted to ask the chef for their hand in marriage? That's been the case at least once with Giada De Laurentiis' Marry-Me Muffins, which received its alliterate moniker after a run-in that the chef had with a fan during the South Beach Food & Wine Festival in 2018. "Met a couple in Miami recently & the woman told me she made these muffins for her bf & he proposed that night," she explained in an Instagram post. Formerly submitted to Food Network simply as Banana Muffins with Mascarpone Cream Frosting, Delish caught wind of the adorable story and suggested that the De Laurentiis rename the tasty treat "Marry-Me Muffins." As you can see, she took the news outlet up on their proposal.
While the famous chef admitted in a post on Giadzy that she thought it was "random" that her muffin recipe was what led her fan's significant other to drop down on one knee, she did note that it wasn't the first time she had been told that one of her recipes had "sealed the deal." The incident isn't specific to the Italian-born chef either. According to Showbiz Cheatsheet, Ina Garten's roast chicken has earned the nickname "engagement chicken" after inducing several proposals over the years and is even rumored to have been on the menu the night Prince Harry proposed to Meghan Markle.