Coconut Red Lentil Dal Recipe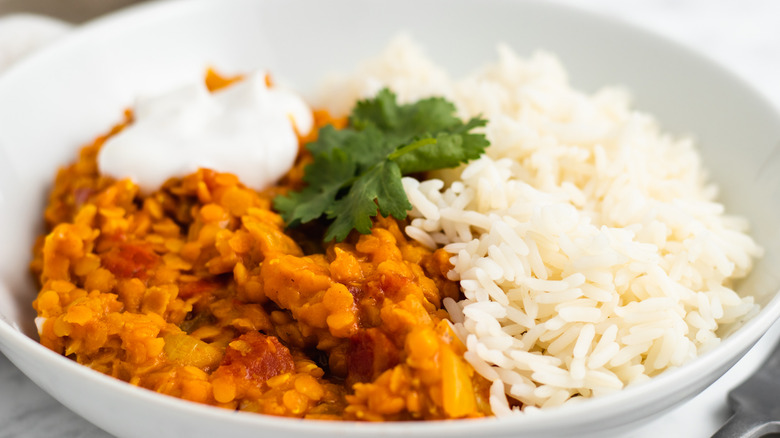 Catherine Brookes/Mashed
Dal (dhal) is a word with two meanings. It not only refers to a type of ingredient — specifically, dried peas or lentils — but also to a method of food preparation. Dal is an Indian dish that's one of the nation's favorite comfort foods.
Recipe developer Catherine Brookes, who blogs at Blue Sky Eating, tells us, "Lentil dal is one of my favorites. I love the texture that lentils give and how they soak up all the flavors." She describes this red lentil dal as having "creamy, coconutty tomato, a little spice, and lots of flavor from the onion, garlic, and ginger."
What's more, she tells us that this recipe makes for great planned leftovers, saying "This is a great one for making in a big batch and freezing leftovers for later." Even if you're not so good at planning ahead, though, you can still enjoy this dish on a spur-of-the-moment basis, as it can be cooked and ready to enjoy in just 40 minutes.
Gather up the ingredients to make this dal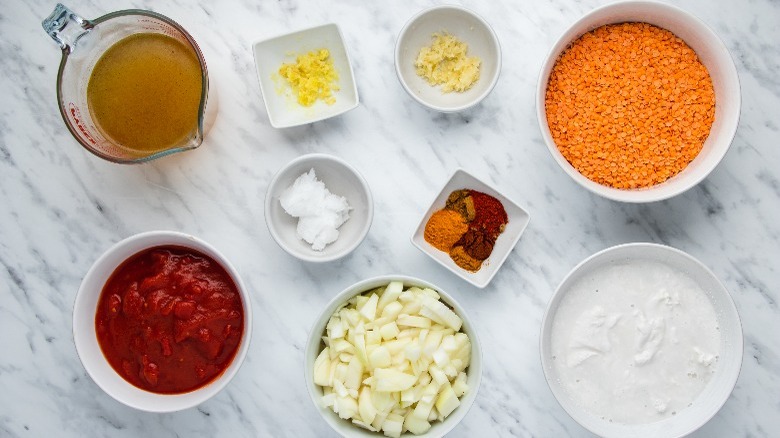 Catherine Brookes/Mashed
Nearly all of the ingredients you need for this dish are fairly shelf-stable, so you can shop a week or so ahead of whenever you intend to make it. The only fresh vegetables involved are the long-lasting onions, garlic, and ginger, and you'll be using a lot of dried spices: cumin, turmeric, ground coriander, curry powder, paprika, and chili powder. You're also going to need coconut oil, coconut milk, diced tomatoes, vegetable stock or broth, and of course, red lentils.
Brookes does say that the lentils have to be red ones for this recipe, explaining, "Green and brown lentils are different to red lentils [in that] they don't soak up liquid in the same way." She does say, though, that "You could add in some extra veg if desired, perhaps some diced sweet potato add[ed] with the lentils or spinach stirred in five minutes before the end."
Prepare the vegetables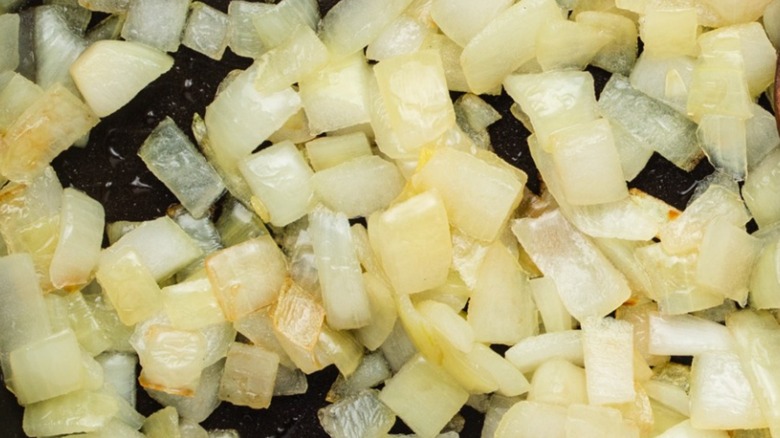 Catherine Brookes/Mashed
Since you are not using too many fresh vegetables here and most of the spices are dried, there isn't too much prep work needed, but there is some. If you want to get the worst part out of the way, start by peeling and dicing the onion. You'll also need to peel and mince the garlic, then peel the ginger. With this last ingredient, you have your choice as to how you'd like to proceed. Brookes says you can either grate it or mince it.
Simmer the dal low and slow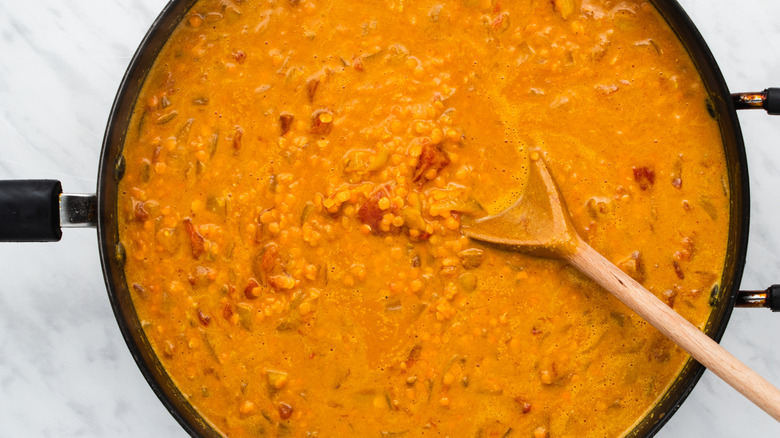 Catherine Brookes/Mashed
Heat the oil in a saucepan over medium, then add the onions and cook them for about five to eight minutes until they are starting to soften up a bit. At that point, stir in the garlic, ginger, and dried spices, and cook for another minute. Now add all of the remaining ingredients — the lentils, coconut milk, tomatoes, and broth — and bring the pot to a boil, stirring so that everything comes together.
Once the dal starts bubbling, turn the heat down and simmer it for 25 to 30 minutes until the lentils are tender. Stir it from time to time to make sure nothing sticks to the bottom of the pot.
This dal makes for a hearty vegetarian meal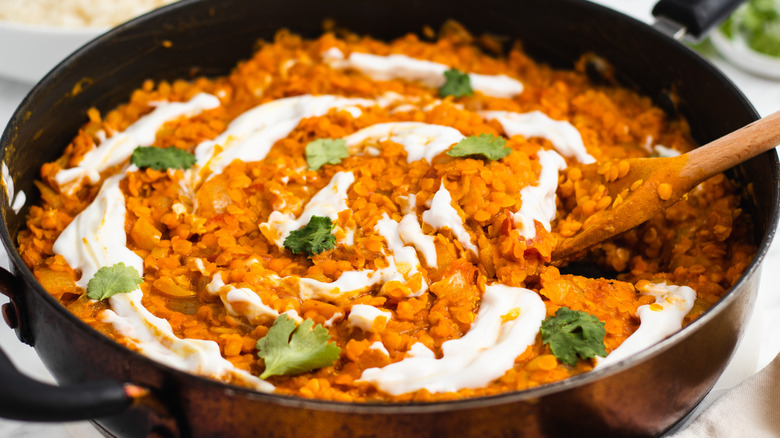 Catherine Brookes/Mashed
While you could serve this dal as a side dish, perhaps with some tandoori chicken or chicken biryani, lentils have plenty of protein, so it can easily stand on its own as a meat-free entrée. Brookes suggests that you might enjoy this dal served over rice, perhaps topped with some yogurt and/or chopped cilantro. Coconut yogurt would keep this dish vegan-friendly. Brooks also offers, "You could spoon [the red lentil dal] over a baked potato as a topping."
As a beverage to pair with this slightly spicy dal, you might like to try a tart, fruity Gewürztraminer or a refreshing Riesling. For something alcohol-free, a delicious mango lassi would be a great choice as well.
Coconut Red Lentil Dal Recipe
If you're looking for a healthy and filling dish that you can eat on its own or as a side, you're going to fall in love with this coconut red lentil dal.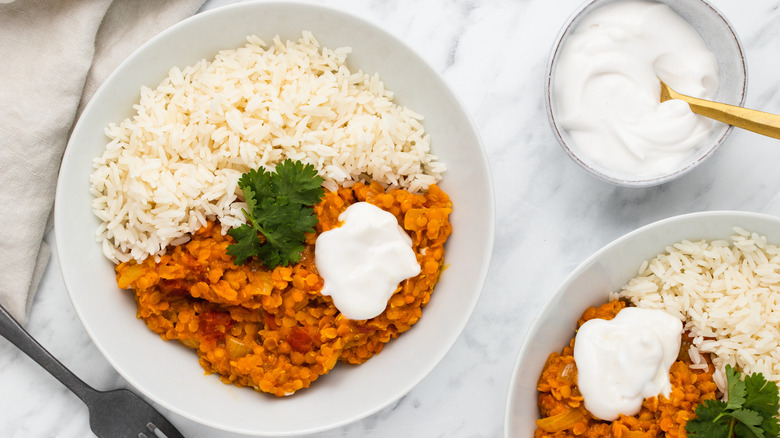 Ingredients
2 tablespoons coconut oil
2 onions, diced
4 cloves garlic, minced
1 tablespoon ginger, minced or grated
1 teaspoon cumin
1 teaspoon turmeric
½ teaspoon ground coriander
½ teaspoon curry powder
½ teaspoon paprika
½ teaspoon chili powder
2 cups red lentils
1 (14-ounce) can coconut milk
1 (14-ounce) can diced tomatoes
1 ¾ cups vegetable stock
Optional Ingredients
Cooked white rice
Yogurt
Chopped cilantro
Directions
Heat the coconut oil in a large saucepan on a medium setting.
Saute the diced onion until softened, around 5 to 8 minutes.
Stir the garlic, ginger, and spices into the onion and cook for another minute.
Add the lentils, coconut milk, chopped tomatoes, and vegetable stock to the pan, stir, and bring to a boil.
Lower the heat and simmer the dal for 25 to 30 minutes or until the lentils are tender, stirring somewhat frequently.
Serve with rice, yogurt, and/or fresh coriander, if desired.
Nutrition
| | |
| --- | --- |
| Calories per Serving | 431 |
| Total Fat | 19.8 g |
| Saturated Fat | 16.6 g |
| Trans Fat | 0.0 g |
| Cholesterol | 0.0 mg |
| | |
| --- | --- |
| Total Carbohydrates | 50.4 g |
| Dietary Fiber | 9.4 g |
| Total Sugars | 4.9 g |
| Sodium | 39.1 mg |
| Protein | 18.5 g |