This California Del Taco Is Putting Takis In Just About Everything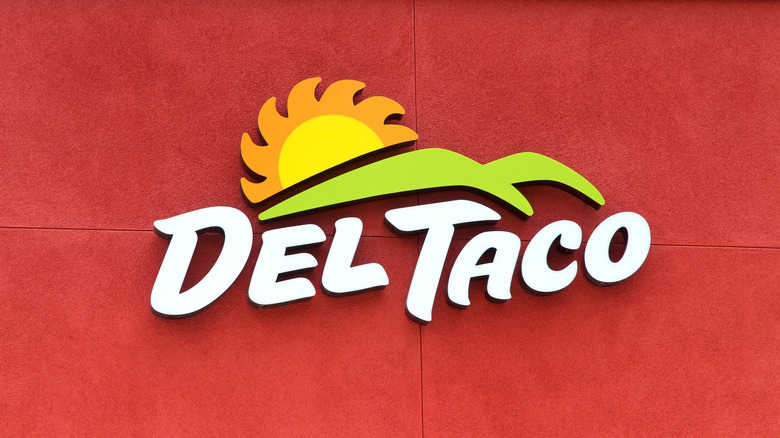 Sheila Fitzgerald/Shutterstock
If you've already tried Takis, chances are you're now a Takis convert and a part of a loyal fanbase at par with those of Cheetos and Doritos. The Mexican corn chip flavor is currently on the market in several different flavors, including Fuego, Nitro, Guacamole, Blue Heat, and Crunchy Fajitas (via Barcel).
Although a snack brand that generally keeps a low profile as compared to its corn chip counterparts, Takis has previously partnered with Old El Paso to offer Hot Chili Pepper and Lime-Flavored Stand 'N Stuff Taco Shells (via Chewboom). And that's not all. You can also get Fuego-flavoured Totino's mini snack bites and Takis Crisps, which are a thin chip packed in a tub similar to Pringles.
Now, as the brand continues to expand, Takis is partnering with a leading Mexican fast-food chain in America to introduce its Fuego Rolled Tortilla Chips to the chain's menu: Del Taco. In fact, Foodbeast reports that the brand is already testing an all-Takis-inspired menu at Del Taco outlets in Bakersfield, California, and the entire affair it seems, is meant to be kept under the wraps!
The Takis-themed Del Taco menu has four items
Per Chewboom, Del Taco and Takis have partnered up to create a four-item Takis-inspired Del Taco menu featuring the snack maker's Fuego Rolled Tortilla Chips. The menu includes a Takis Double Del Cheeseburger with two beef patties, American cheese, tomato slices, lettuce, and onions sandwiched between a sesame seed bun with Takis Fuego Rolled Chips and burger sauce. The menu will also have a Takis Grilled Chicken Burrito, a Takis Roller, and Loaded Takis with beef, Cheddar cheese, cilantro, onions, sour cream, and a secret Del Taco sauce on top of a bed of Fuego Rolled Tortilla Chips.
A few weeks ago, Foodbeast spotted the Takis menu at Del Taco outlets in Tustin, California with the Takis Rollers priced at $1.29, Loaded Takis and Takis Double Del Cheeseburger going for $4.99, and the Takis Grilled Chicken Burrito for $4.59. While it's unclear when Del Taco plans to roll out the Takis-themed menu nationwide — if it plans to at all — you might have to make a trip to California to try out the Takis menu.