Nigella Lawson's Creepy Cookies Are Perfect For Your Halloween Bash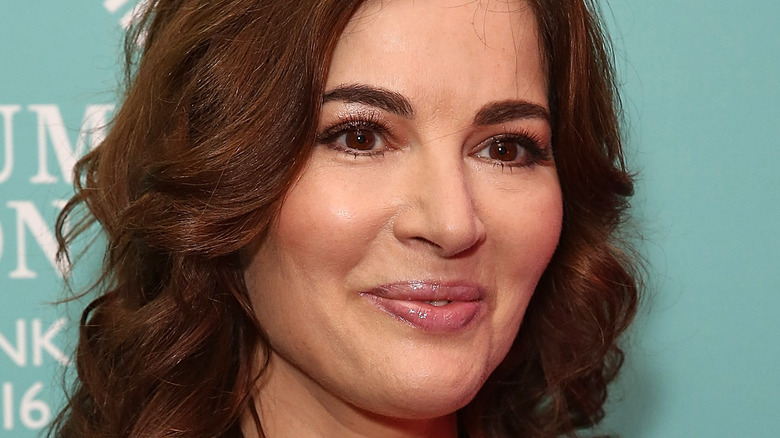 David M. Benett/Getty Images
Halloween brings out some of the most creative foods and treats from our celebrity chef set. Jamie Oliver's son made some "fangtastic" treats that included healthy-looking apple monsters and tangerine-shaped pumpkins. Rachael Ray has us dreaming of her hearty Draculas Transylvanian Ghoul-ash (via the "Rachael Ray Show" website). And Martha Stewart showed us how to make some pretty sinister-looking caramel apples. But right now, we are loving the creepy Halloween-themed treats Nigella Lawson recently posted about on her social media. 
Not long ago, the "Nigella Bites" star already had us rolling with her hilarious savory cheese biscuits-slash-cookies in the shape of feet, which she shared on Twitter. The celebrity cook noted that she has been making these unconventional Halloween cookies every year since her children were young. And while Lawson will probably be baking those feet again this year, there is a more traditional-sounding treat she recently posted about that should put you in a spooky mood. 
In fact, it sounds like a kind of Halloween cookies that, according to PBS, have been putting the "treat" in "trick-or-treat" since the 1950s: specifically ones formed using pumpkin- and witch-shaped cookie cutters. And they have us thinking it might be time to break out some creepy cookie cutters and ask Alexa to fire up "Thriller" or "Dead Man's Party." 
These sugar cookies are 'spooktacular'
Nigella Lawson shared an image on Instagram of sugar cookies that had been cut out in the shapes of ghosts, witches, and pumpkins and decorated with white, black, green, or orange icing. There were also circular cookies iced with spider web patterns. They really were quite festive in appearance. 
Lawson wrote, "Creepy Cookies are #RecipeOfTheDay! The dough is very forgiving – you can roll and reroll away – and they also obediently keep their shape as they bake." The celebrity chef also got a little nostalgic, writing, "Takes me back to when my kids were little. And yes, they did help with the decorating of these ones!" The post garnered about 5,000 likes, a lot of ghost emojis, and some sweet comments. One follower called the cookies "Spooktacular!" while another dubbed Lawson a "creative goddess." A number of commenters shared their intention to make these sugary treats with their own kids. 
As explained on Nigella.com, the sugar cookies are decorated with instant royal icing mixed with food coloring. Lawson also offered busy moms and dads wanting to make these cookies a timesaving pro tip. She wrote that "if you go down the Halloween cutter route but don't have time (or the food [coloring] pastes) to make the witch's hat black, the pumpkin orange and so forth, simply coat all cookies with white icing again, and just scatter over some seasonal sprinkles."