These Aldi November 2021 Products Make Thanksgiving Easy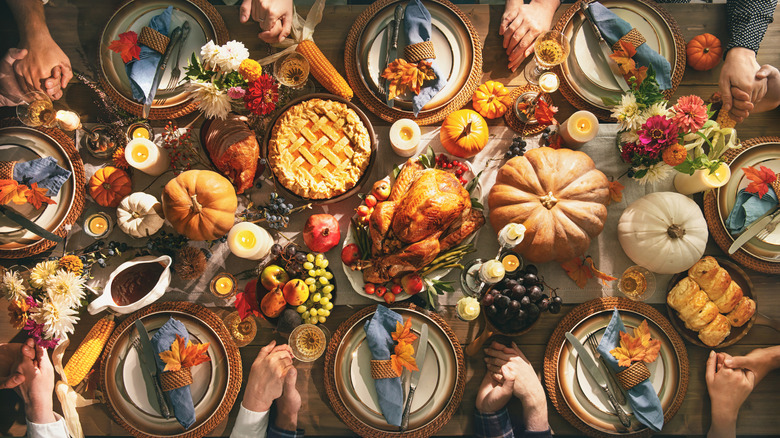 Alexander Raths/Shutterstock
Aldi is invariably known for their stellar and popular products, which are thoroughly vetted and ensure their beloved low, low prices do not sacrifice quality. They are the type of supermarket that announces new holiday treats regularly, much to the amusement and excitement of their many fans. For example, their Halloween roster, which included ceramic pumpkins, Transylvania cave cheese, Rice Krispies Halloween kits, and more, was so popular with shoppers that they actually ran out of spooky items in several stores. 
Aldi's advent calendars are also highly coveted items and make gift-giving for the holidays a breeze by offering daily treats from chocolates to wines to beers to cheese (via Today). In fact, their seasonal items in general are so well-liked that Aldi has created a section of their website dedicated to updated seasonal offerings. And this year for Thanksgiving, the grocery store is bringing the eats so you don't have to stress about your holiday planning!
Season's Choice Sweet Potato Casserole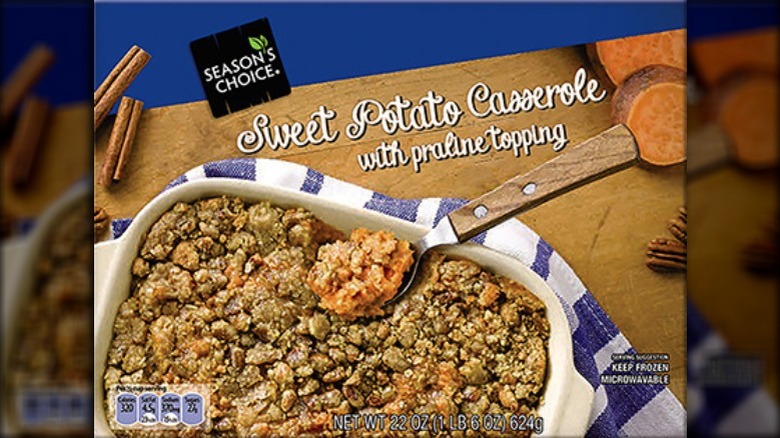 Aldi
Let's face it, one of the best sides at the Thanksgiving table is the sweet potatoes to counteract the savoury dishes it accompanies. And Season's Choice has upped the usual sweet potato with maple syrup game with a Sweet Potato Casserole. This new casserole comes in a microwaveable container and is topped with crushed pralines, another holiday flavor favorite. The frozen side is available starting November 3 and is only $3.99 so you can get one for each guest or hoard for yourself!
Mama Cozzi's Pizza Kitchen Cheddar Biscuits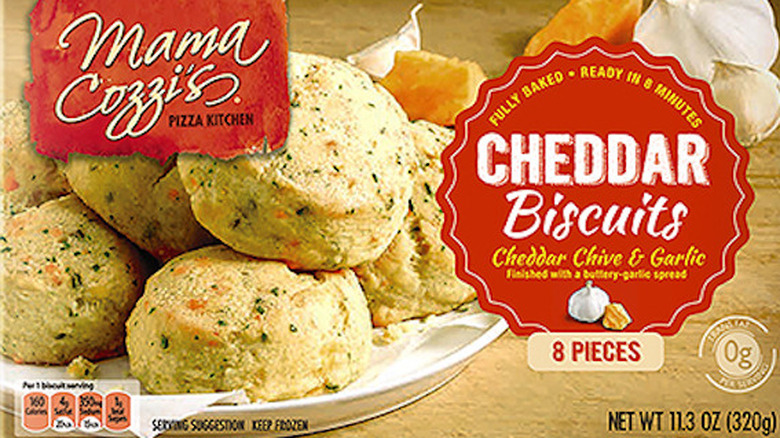 Aldi
Another Thanksgiving staple, biscuits are often crumbly and delicious but very time consuming to make. But fear not, Mama Cozzi's Pizza Kitchen has you covered with their Cheddar Biscuits. These bad boys come with cheddar chive and garlic and are brushed with a garlic butter spread for extra flavor. They come out on November 3 and are $2.89 per pack of 8.
Season's Choice Plain or Garlic Herb Mashed Cauliflower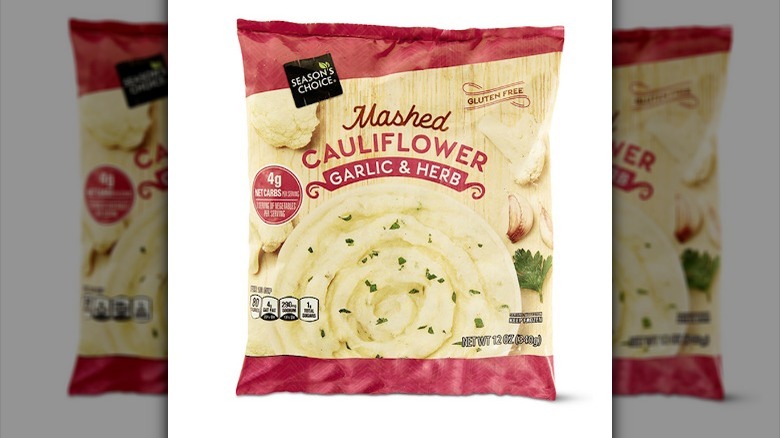 Aldi
There is always at least one very picky eater at your table. Or the one who, despite the fact that Thanksgiving is a holiday catered around eating, insists they are on a diet. If you have one of those at your table, or if you just have someone who needs a celiac-friendly option, Season's Choice Plain or Garlic Herb Mashed Cauliflower is for you. These gluten-free mash options have just 4 net carbs per serving and come out on November 10 for $2.49 per bag.
Never Any! Whole Turkey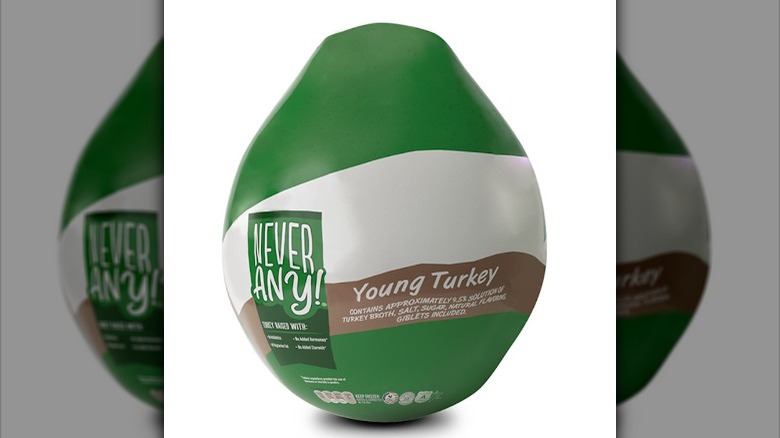 Aldi
The roast beast and king of the Thanksgiving table is the turkey. And while they will do a lot for you, Aldi can't deliver a pre-made turkey for your Thanksgiving needs. They can however offer the Never Any! Whole Turkey at Aldi prices. So, while you may stress about the roasting part, you won't stress about the price. It will be available on November 10 and cost $1.69 per pound.
Diamond Chocolate Nut or Pecan Pie Crust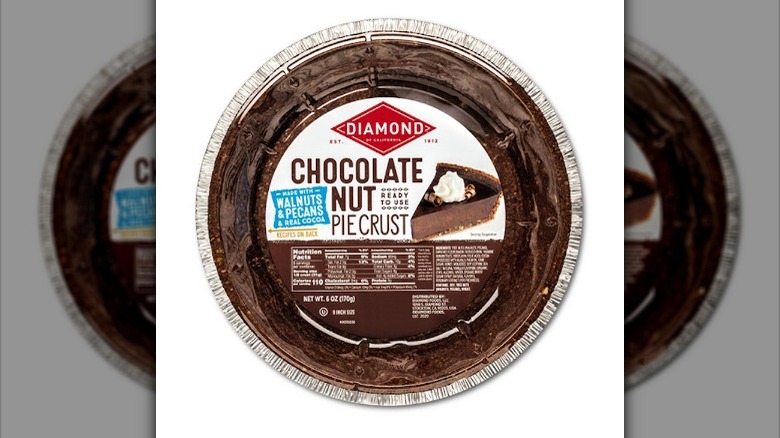 Aldi
Sometimes you don't want to take the easy way out and order a pre-made pie, but you don't have the time to make one from scratch completely. Diamond's Chocolate Nut or Pecan Pie Crust offers the flexibility to work in that middle ground. Made with walnuts and pecans and ready to be filled, these are going to be a lifesaver for home bakers. Coming to shelves on November 10, each pack will set you back $3.48.
Cloudcap Oregon Pinot Noir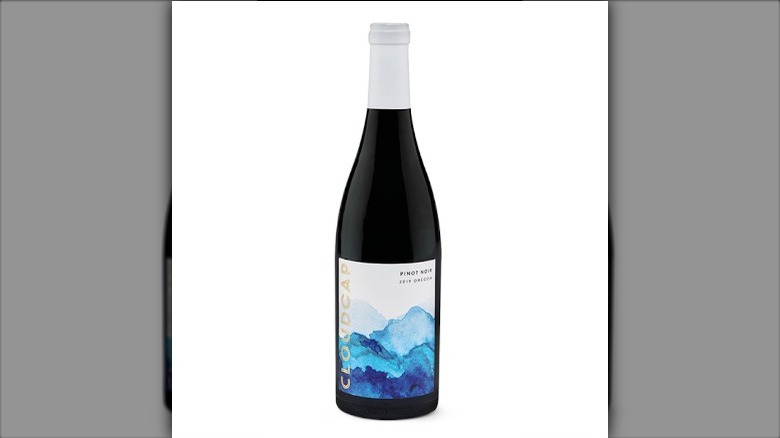 Aldi
Thanksgiving is either a family affair you need to brave or a friendly affair to enjoy. Either way, wine is a necessary addition. And, with the weather cooling down, reds are in season. Enter Cloudcap's Oregon Pinot Noir. The wine comes to shelves November 10 and is only $12.99 per bottle. Just don't drink it next to the klutzy guest.
Specially Selected Steakhouse Whole Green Beans or Kung Pao Broccoli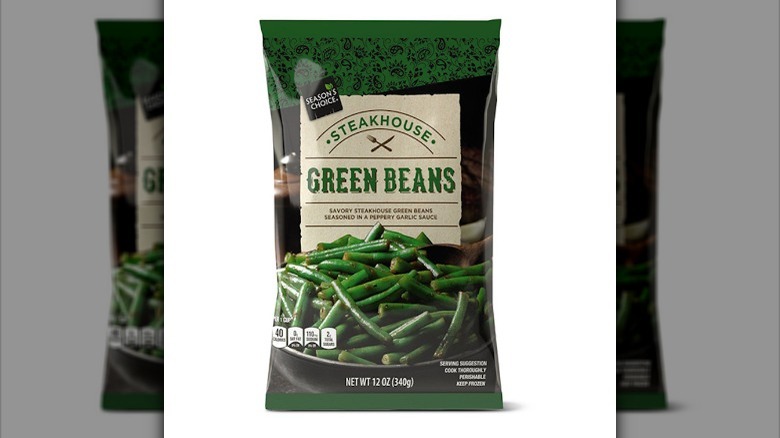 Aldi
Green beans in all of their forms are welcome additions to any Thanksgiving table. Whether you decide to serve them as a healthy option or drowned in creamy mushroom and fried onions, you can't go wrong with this veg. And, if you want to get crazy, Specially Selected Steakhouse offers both Whole Green Beans and Kung Pao Broccoli. Both come out on November 17 and are only $1.99 each.
Kevin's Natural Foods Mashed Cauliflower or Mac & Cheese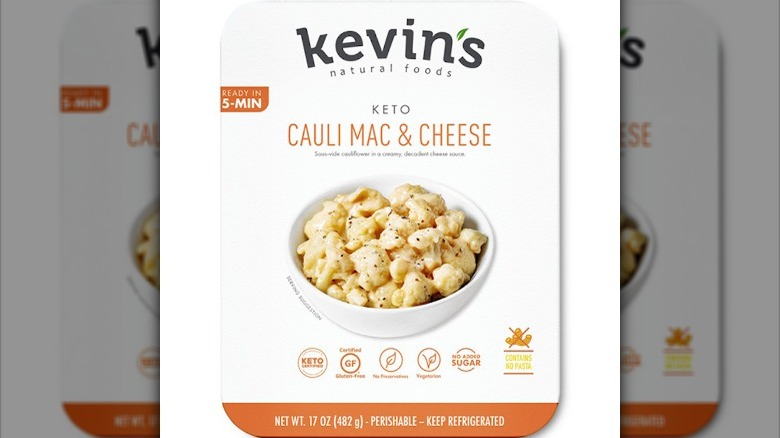 Aldi
In case you are jonesing for another veggie-friendly option for the picky eaters or those opposed to meat, there is another cauliflower mash item coming to shelves on November 17 — and this brand also offers a Cauliflower Mac and Cheese option for added measure, and flavor. And good news for the dieter, they are Keto. These packs pop right into the microwave and best of all, only cost $5.49.
Bake Shop 10″ Pumpkin Pie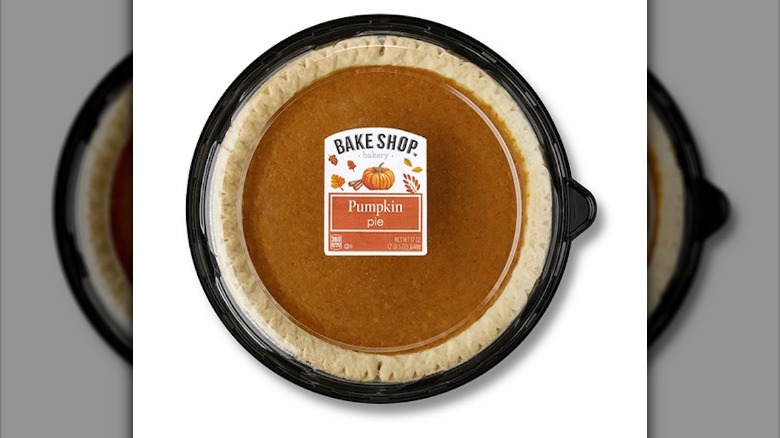 Aldi
If you are the type of person who equates making a pie with buying a pie at your local bake shop and putting it on a serving dish so it looks somewhat homemade, Aldi has you covered. Their 10″ Pumpkin Pie comes courtesy of Bake Shop and will be released on November 17, leaving plenty of time for purchase before the guests arrive and making you look like a pro, all for only $5.89. 
Appleton Farms Black Truffle or Fennel Bite Size Salami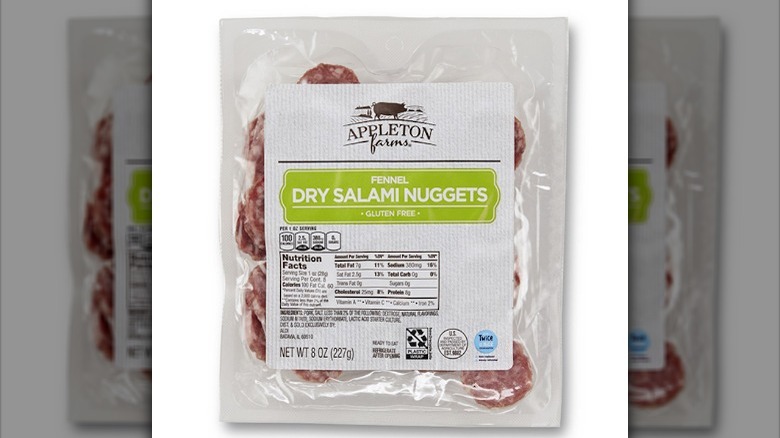 Aldi
What is a meal without an appetizer? And lately, with the rage around cheese and charcuterie boards, meats and cheeses are an easy and tasty option to keep guest satisfied until the real food is ready. Appleton Farms' Bite Size Salami comes in Black Truffle or Fennel flavor and offers a nice meat accompaniment to your cheesy board. And, as a bonus, they are gluten-free. The bites come to shelves on November 17 and cost $4.96.
Specially Selected Premium Shrimp Ring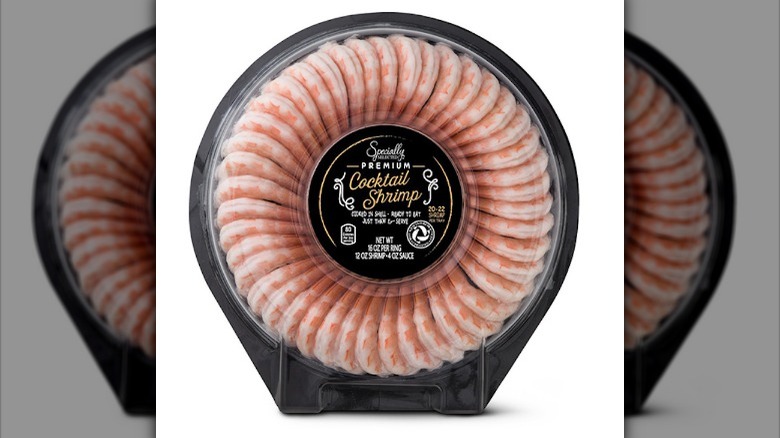 Aldi
If you are unfamiliar with a "shrimp ring," it is basically what it sounds like: A platter with shrimp in a ring shape with room in the middle for any dip you desire. Aldi's Specially Selected Premium Shrimp Ring is another available app starting November 17 and comes to $8.99 for a fairly large platter with between 20 and 22 shrimp.
Park Street Deli Pineapple or Chili Cream Cheese and Jelly Spread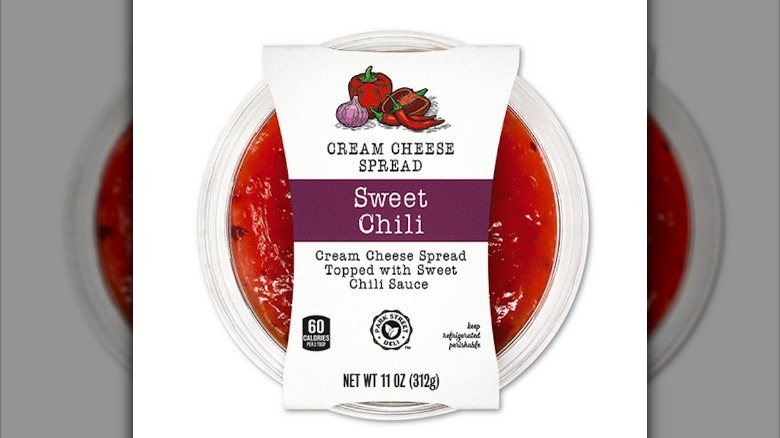 Aldi
There have been some weird cream cheese releases as of late — but this one might take the cake. Instead of dessert cream cheese or a PB&J mix, this Park Street Deli Cream Cheese comes in flavors like Pineapple or Chili. And, while this $3.99 find may not be the Thanksgiving treat you're looking for, it will certainly add an unexpected twist to your festivities, or your next bagel. Get to stores quick on November 24 if you want to add it to your Thanksgiving fixings.