Costco Shoppers Are Putting These Praline Pecans To Good Use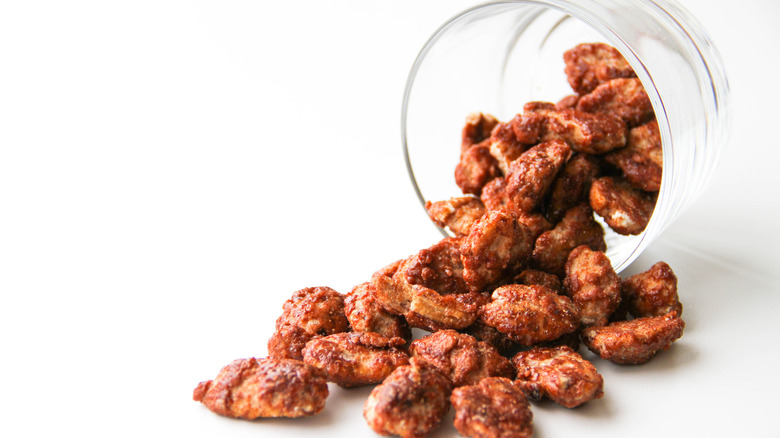 Photos and vectors/Shutterstock
For Costco fans, the holiday season means finding extra festive and limited-time items. You can look for a peppermint loaf at the Costco bakery, and don't forget to keep an eye out for these underrated holiday desserts. Recently, Instagram user @costcobuys also shared a photo of the store's Kirkland Signature Praline Pecans, which are great for snacking in addition to being a versatile ingredient.
So how do Costco shoppers like to use these praline pecans to spruce up their food? One commenter wrote about putting them in oatmeal while another person said that they added these praline pecans to banana bread. Someone else clearly agreed that this was a fun way to add crunch and sweetness to banana nut bread, replying with an emphatic "YUM."
Of course, there are other shoppers who buy these and eat them as is. One praline pecan fan wrote, "So good but I've banned them from my house bc they seem to magically disappear shortly after I buy them." Though this treat only seems to pop up around the holidays, another commenter wished that these pecans would be kept in stores throughout the year.
What else can you do with Kirkland Signature Praline Pecans?
While some Instagram users seemed enthusiastic about the idea of eating oatmeal or banana bread with Kirkland praline pecans, others might find inspiration in an idea posted by Costcuisine in 2019. This Costco superfan put them in cookies along with butterscotch chips but noted that the idea would work perfectly fine with all pralines and no butterscotch. "These cookies are soft, chewy, sweet, and oh so good," says Costcuisine, though it might be best to test this claim for yourself.
Since you get 40 ounces of praline pecans per container, you might have plenty left once you've consumed all the cookies, banana bread, and oatmeal you could possibly eat. Need some more ideas to use all of them up? You can make praline sweet potatoes or a praline chocolate layer cake filled with nuts. Both of these recipes have you making the praline nut mixture from scratch, but with these pecans from Costco, you can save a little time. Of course, snacking on them is always an acceptable option.