Instagram Is Loving This Sweet Clip Of Duff Goldman's Baby At Dinner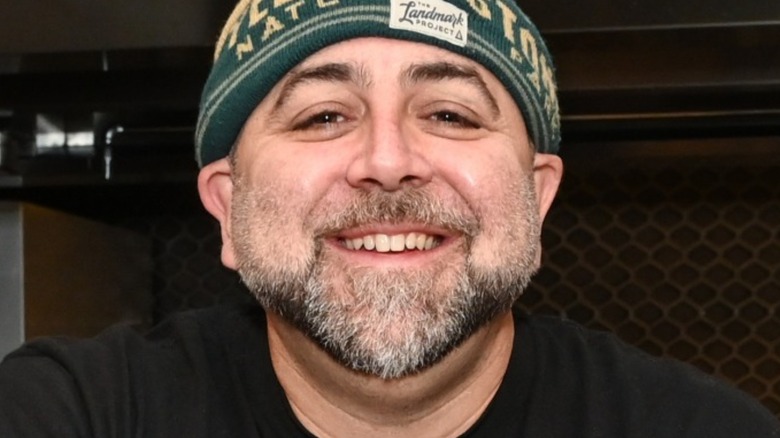 Daniel Zuchnik/Getty Images
Everyone loves babies — just think of their dimpled faces, giggles, and sweet smiles. Celebrity pastry chef Duff Goldman's social media followers are no exception. They have been cooing nonstop over posts about Goldman's 10-month old daughter, Josephine, whom the "Ace of Cakes" shares with wife Johnna, since he sweetly announced the baby girl's arrival last January.
Josephine is the first child of Johnna and the 46-year-old "Kid's Baking Championship" star, who has always seemed to be a natural when it comes to interacting with the kid contestants on the show. The adoring Goldman posts about his little "muffin" regularly: We've seen little Josephine enjoy her first strawberry and cuddle up in a sweet moment with Nancy Fuller, Goldman's fellow "Holiday Baking Championship" judge. As usual, one of the father's most recent Instagram posts has fans saying "aww" and raining heart emojis. The short video shows a sweet Josephine reacting with some surprise to the end of her meal.
Goldman's fans think Josephine takes after dad
Duff Goldman's recent Instagram post is a video clip of baby Josephine, who will turn 1 in January, sitting in her high chair and taking a last bite of her dinner. Suddenly, Josephine seems surprised that her food is no longer there. She adorably checks both sides of her hands to make sure the food is, in fact, "all gone" before looking into the camera and making a questioning little chirp. Duff captioned the video, "She loves dinner time! That's my girl."
Fans were enchanted by the sweet moment. Several made comments such as, "So precious!!," "OMG I JUST LOVE JOSEPHINE!!!," and, "She's a doll!" Despite Josephine's blue eyes, several fans think she resembles her dad: "Omg she looks just like u Duff. So cute." Others noticed that Josephine is getting her baby teeth, and one follower commented, "Can't believe how fast she's growing!" Although we don't know if the Goldmans have introduced sweets — like her dad's amazing cakes — quite yet to their baby, one fan imagined that Josephine "loves dessert even more!!!"