Duff Goldman Is Turning Heads With This 'Sparkly Glittery Challah'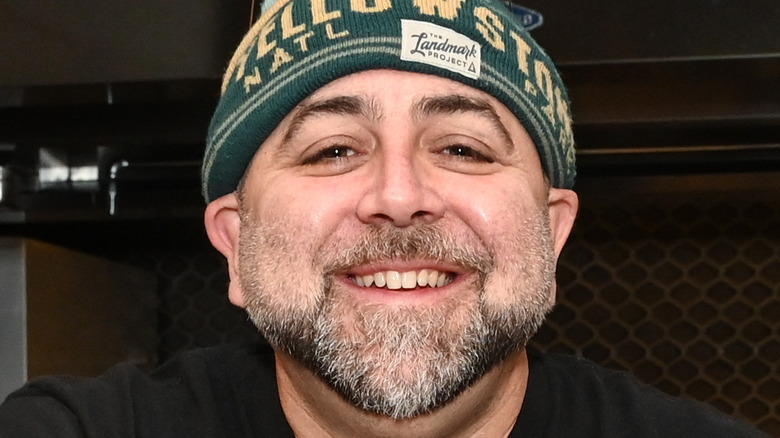 Daniel Zuchnik/Getty Images
Duff Goldman is no stranger to out of the box ideas for baked goods. Would you expect anything else from a man who had no less than five cakes at his wedding, including one that hung from the ceiling like a chandelier of sugar and another that was made of meat? Goldman has also made cakes in the shape of R2D2 (a massive Star Wars fan, the baker once described making the cake as "the most amazing thing that's ever happened to me"), a giant disco ball for Raising Cane's birthday, and many more unconventional shapes, sizes, and flavors. 
And although cakes are kind of his thing (Goldman is the Ace of Cakes, after all), he of course bakes more than just cakes. Fans love the Food Network star's expert tips for things like ultra crispy focaccia and perfect snickerdoodle cookies. But for Hanukkah, this sparkly challah loaf he was gifted had Goldman raving — and fans drooling (via Instagram).
The Goldman family loves challah
Raised in a Jewish household (via JNS), Duff Goldman has experience making traditional Jewish desserts and pastries. (The baker shared a recipe for his great-grandmother's babka with the Jewish Food Society.) Recently, Goldman shared a photo on Instagram of some pretty, glittery challah, which he received for Hanukkah from said Jewish Food Society and author Aliza Sokolow. The braided loaf seems to include raisins baked inside and looks pretty darn delicious. 
Fans were dazzled to say the least, leaving comments like, "We love challah. Looks delish" and "That looks sooooo good!" One fan even noted, "That's the only way to eat challah," with a winking emoji. It is definitely hard to disagree. Goldman himself wrote that he could not get a better photo of the bread because he and his wife, Johnna, "kinda tore into it!" The comments are unanimous, this challah is something everyone would love a piece of.