Aldi Shoppers Can't Wait To Grab This Chobani Peppermint Mocha Creamer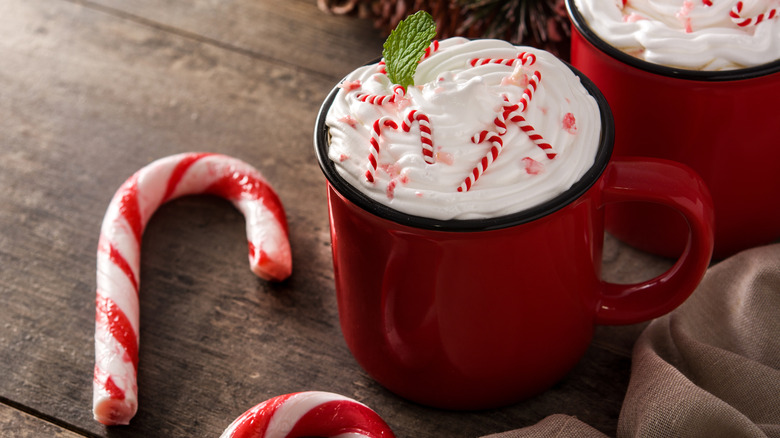 etorres/Shutterstock
When it comes to adding some seasonal flair to your morning cup of joe, the popular discount grocer Aldi typically has customers covered. In the past, the retailer has offered a variety of seasonal creamers, from winter-approved Peppermint Bark and Danish Butter Cookie creamers, to fall-friendly Pumpkin Almond and Pumpkin Spice creamers.
Now, a new holiday creamer hitting grocery store shelves across the country is getting Aldi fans excited for some seasonal sipping. The Instagram account Adventures in Aldi recently shared the arrival of a limited-batch holiday-inspired Peppermint Mocha Oat creamer by Chobani, along with a glowing review of the product. "I cannot stress this enough! When Aldi has the Chobani oat creamers, GET THEM!!!," the creator wrote in their post. "The pumpkin spice one was incredible a couple of months ago and this peppermint mocha is no different! We are on our third container. It's so good and the best part is it's gentle on my stomach too!"
Aldi shoppers quickly flocked to the comments to share their mutual enthusiasm for the tasty dairy-free product, like user @sam_loves_disney, who wrote, "this is my first time trying Chobani anything, and I love it!" Meanwhile, user @_0mg_itz_edonna approved of the account's recommendation, writing, "because you posted this I went and got it and I was not disappointed. It was so delicious."
The seasonal product will only be on Aldi shelves for a limited time
A handful of commenters recommended stocking up on the limited-time Peppermint Mocha Oat creamer, like @run_with_yourself, who wrote, "Yes this stuff is great!!! Buy a few at a time because they don't expire for a few months." However, not all of the reviews were so glowing, with one disappointed customer writing, "I wanted to love this but I just didn't. I bought four because I was going to try to replace the regular creamer I use with something a little bit healthier but this didn't do it." Another wrote that while she loved the taste of the product, it "always sinks to the bottom of [her] cup."
While Aldi's website features an image of the peppermint-flavored product, it indicates that there are "assorted varieties" of the seasonal creamer available, hinting that additional flavors of the non-dairy creamer could be hitting shelves during the holiday season. There's no saying how long the buzzy seasonal product will be available on Aldi shelves, so caffeine lovers looking to jazz up their morning mug should act fast. Bonus points if you kick the winter festivities up a notch by topping your peppermint mocha-flavored coffee with a festive gingerbread cookie mug topper and pairing it with a slice of the Christmas tree-shaped Chocolate Chip Brioche for the ultimate Aldi-approved holiday treat.