Aldi Shoppers Are Loving These Christmas-Themed Pastas
A trip to Aldi in December comes with holiday cheer. While the supermarket's boozy advent calendars have been a highlight since November, Aldi has given all sorts of foods and drinks a Christmas makeover. Whether it's Christmas tree- and star-shaped pizzas or giant cookies, mulled wines, and eggnogs, there are plenty of holly-jolly options for shoppers' pantries and freezers.
Instagram accounts @ohheyaldi and @aldifavoritefinds have even noticed the return of an unusual Christmas-themed item that got raving reviews from fans last year: Priano's Christmas gnocchi. Aldi is selling two varieties of Christmas-themed gnocchi. One is a spinach-flavored green and white version shaped like Christmas trees and stars. The other is red and white and shaped like cute little mittens and Santa hats. Both Instagram posts said these festive options are selling for $3.99 at their Aldi location, and fans are very excited about these pastas.
Both bags of festive gnocchi come with recommendations for sauces: "Gorgonzola sauce and a sprinkle of Parmesan cheese" are suggested for the trees and stars while "marinara sauce & shredded mozzarella cheese" are recommended for the mittens & Santa. There's always the option of switching things up and making the gnocchi your own of course!
Aldi's Christmas-themed gnocchi is super easy to cook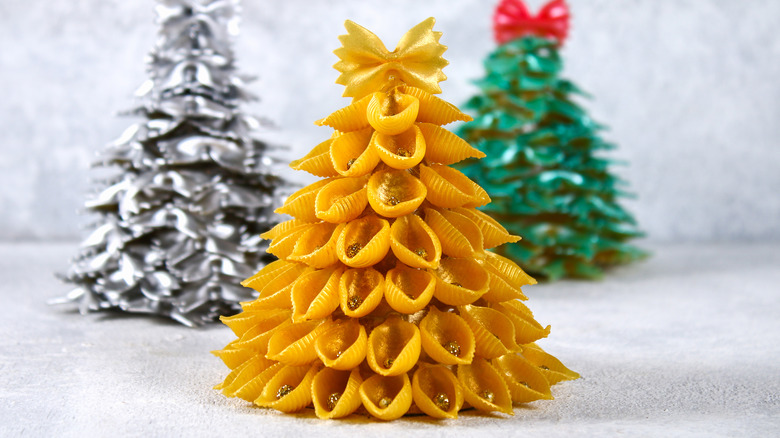 Olya Detry/Shutterstock
If the comments are any indication, Aldi fans are already making their way to the store. Responding to @ohheyaldi's post, a fan shared they had already bought some, and a different user declared, "Aww! I need to find these!" Others had already cooked it. "I followed the stove top directions on the back of the stars and trees bag and they turned out delicious!!" one user wrote on the post by @aldifavoritefinds. A separate comment said that the instructions are simple, and all you really need to do is not overcook the little puffy potato pillows. The packages say the gnocchi can be prepared in just 10 minutes.
The tree and stars gnocchi also got The Kitchn's stamp of approval last year and the site found that the shape of the gnocchi inside the bag was actually as "perfect" as the packaging showed. The reviewer found that the taste of the trees had a lovely hint of spinach. Both the shapes crisped up well when pan-fried, and the writer couldn't wait to eat more gnocchi. As with most festive treats at Aldi, the Christmas-themed gnocchi likely won't be around for a very long time. Luckily, you can stash them in your freezer for the months to come!