Duff Goldman's Christmas-Themed Cakes Were Inspired By His Love For This Brand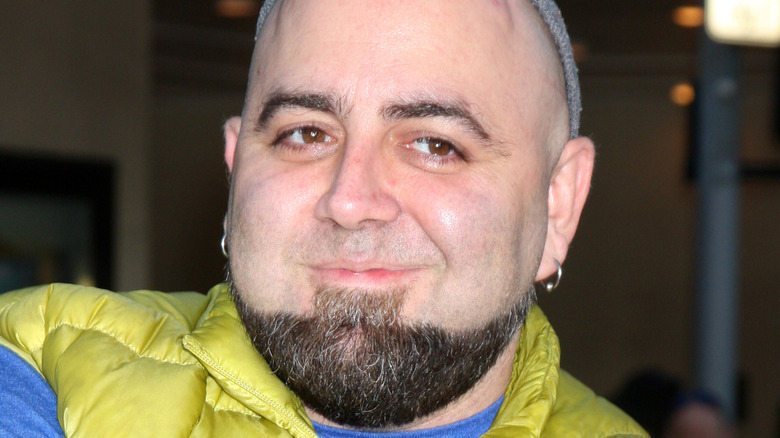 Kathy Hutchins/Shutterstock
A good chef knows to take inspiration from everything around him, from flavors to colors to things they just flat out enjoy. And Duff Goldman is an artist in the world of cake. Earlier this year, he revealed that his favorite cake was one that was inspired by the "Star Wars" movies and created in the shape of R2D2, one of the movie's main characters. 
He also revealed that "Imagination Movers" on Disney Plus was the inspiration for "Duff's Happy Fun Bake Time," a show in which Goldman, along with some puppet friends, helps families learn the science behind cooking. And over the years he's revealed many other favorites, like his favorite fast food chain fries, favorite place to get deep dish pizza, and favorite chip brand, and it's only a matter of time before he finds inspiration from those too. So it should come as no surprise that his latest Christmas-themed creation was also brand-inspired. 
A Little (Debbie) goes a long way
On an episode of "The Kelly Clarkson Show," it was revealed how to make Duff Goldman's Little Debbie-inspired Christmas tree cake. A video on YouTube shows Goldman explaining that one of his favorite things about being a pastry chef is the ability to recreate store brand products from scratch. The chefs cops to being a huge Little Debbie snack cake fan and showed some baker guests on the show how to make some Christmas-themed Little Duffy's cakes.
The full recipe, which can be found on the show's Facebook page, involves a thin chocolate cake cut several times with a Christmas tree cookie cutter and sandwiched with some chocolate ganache before being coated with buttercream and covered with melted green chocolate for a finish. From there, they just decorate and voila, Little Debbie-inspired Little Duffy cakes of your very own!