Instagram Can't Wait To Try Bobby Flay's Festive Holiday Salad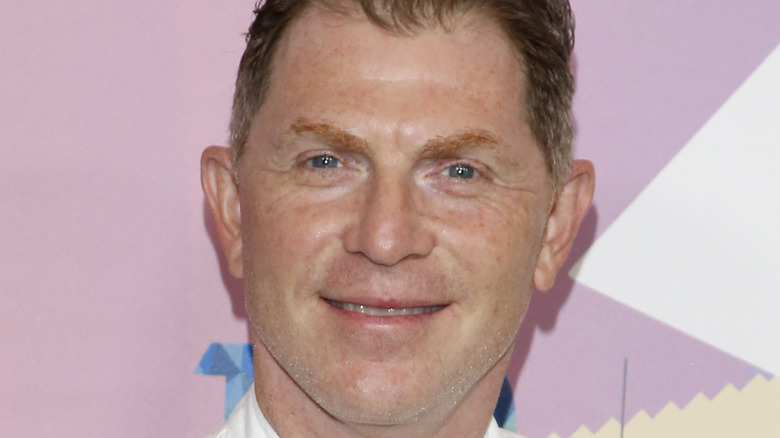 Gabe Ginsberg/Getty Images
Bobby Flay is one of Food Network's biggest stars, and whether you love the chef or find his dominance on "Beat Bobby Flay" and other cooking competitions more than annoying, you have to admit that he certainly knows his way around the kitchen. From juicy steaks and burgers to the various dishes from his signature Southwestern cuisine, it seems like there's nothing the 57-year-old can't cook (though he does admit to having trouble making one particular baked good). Flay even has the magical ability to make veggies look appealing – a skill that he demonstrated on his Instagram page earlier this week.
Set to the tune of a song from his favorite Christmas movie, the restaurateur shared a short video compilation to his account on Friday, December 17 in which he could be seen putting together a beautiful and festive salad that will make an excellent addition to your upcoming Christmas meal. "Sweet, tangy, salty, fresh and so satisfying. This one has it all," Flay said of his "perfect winter salad" that has caught the eye of many of his fans.
Bobby Flay's Apple Salad will make a great addition to your Christmas spread
A succulent ham may be the traditional star of Christmas dinner, but Bobby Flay's Apple Salad will shine just as bright. Per Food Network, the easy-to-make veggie dish can be put together in a matter of 15 minutes and calls for spinach, endive, apples, pomegranates, walnuts, bleu cheese, and a homemade pomegranate vinaigrette that is made using a secret ingredient. The end result is a gorgeous, red and green salad like the one pictured above, which Misfit Market says is "simple enough to serve during the week but tasty enough for your next holiday gathering." Based on the response to the chef's recent Instagram video featuring the dish, many of his followers plan on doing exactly that.
"So yummy!!! I'll do it for Christmas!!" Instagram user @lucia.mansur wrote in the comments section of the upload, while another declared that it would "definitely be on the menu" for their own holiday celebration. Others, meanwhile, appear to eager to wait for Christmas to indulge in the meal. "I want that right now. That is my kinda salad," a third user replied.
If you're planning to whip up Flay's Apple Salad for Christmas or otherwise, the chef has a great tip. "I don't like to dump the dressing on top of the greens," Flay explained to Food & Wine. "Instead, I pour it against the side of the bowl – using only enough to glaze the leaves – then toss."