The Coffee Bean & Tea Leaf Now Has A Plant-Based Breakfast Sandwich
There's a difference between plant-based and vegan foods, but both types of cuisine have been making splashes on fast food menus. For example, plant-based chorizo was the inspiration for the three new Chipotle lifestyle bowls, and even Popeyes is introducing a vegan sandwich option in the U.K. 
If you want to start your morning with a plant-based meal and a jolt of caffeine, The Coffee Bean & Tea Leaf has good news. The coffee chain just announced a new meatless breakfast sandwich on its menu. 
According to a press release sent to Mashed, the chain's new Beyond breakfast sausage sandwich starts with an English muffin and is topped with a cage-free egg, provolone cheese, and, of course, a Beyond Meat plant-based sausage patty. Because there's provolone cheese and egg on the sandwich, it isn't vegan, but this item is a suitable option for vegetarians or for anyone who wants to eat less meat.
Other new items from The Coffee Bean & Tea Leaf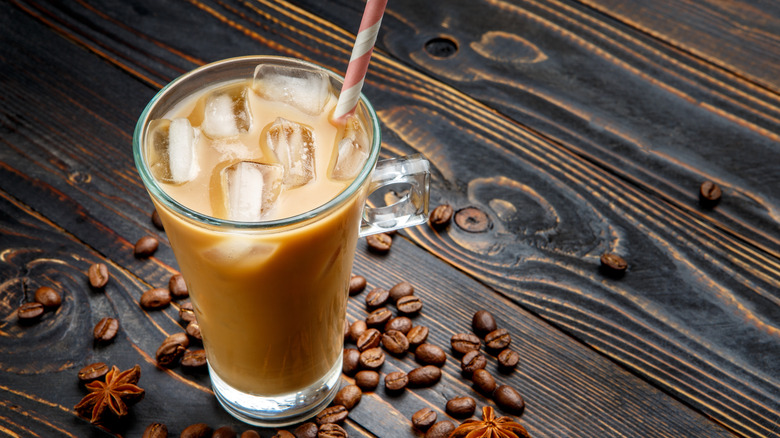 RESTOCK images/Shutterstock
Although vegetarian diners can certainly feel excited about The Coffee Bean & Tea Leaf's new meatless breakfast sandwich, the coffee chain's recently updated menu also features other new items to try. In August, the chain announced three new breakfast items that are currently on the official menu, including a bacon, egg, and cheese English muffin with melted cheddar cheese. For meat lovers, there's the chorizo breakfast burrito packed with potatoes, eggs, cheese, salsa, and chorizo. 
In terms of drinks, The Coffee Bean & Tea Leaf has launched an iced vanilla latte and a lightened vanilla latte, which is less sweet.
And if you're looking for meatless breakfast items at The Coffee Bean & Tea Leaf, the chain has other things to pair with your Beyond breakfast sausage sandwich, from egg white and veggie bites to overnight oats, per the chain's official website. It appears that 2022 will be the easiest year yet to score vegan- and vegetarian-friendly items at major fast-food chains.