The Secret Ingredient Bobby Flay Swears By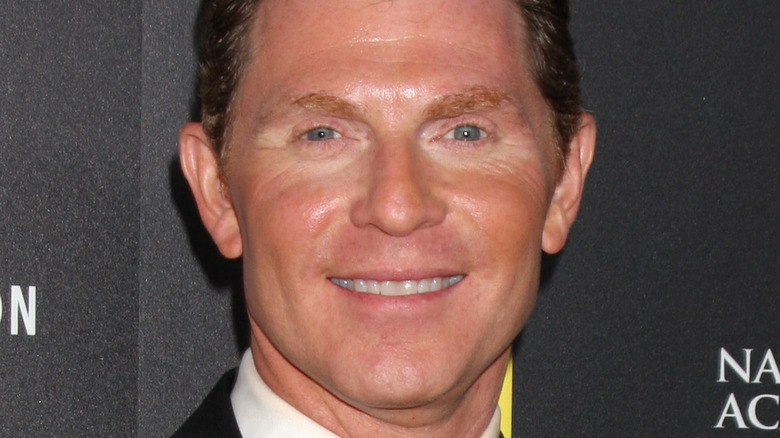 Kathy Hutchins/Shutterstock
Food Network chef Bobby Flay may have claimed his fame by creating bold, Southwestern-inspired food — but one of the chef's favorite pantry staples is anything but a Tex-Mex staple. The 43-time "Iron Chef" winner, who hosts a variety of shows on the Food Network, including the popular competition reality show "Beat Bobby Flay," surprised fans with a reveal in a Misfits Market's Instagram video.
Misfits Market, an organic anti-food-waste produce distributor where Flay is a chef-in-residence, posted a video of the celebrity chef giving viewers a tour of his personal pantry. While showing off his impressively organized shelves, which include plenty of his famous chili peppers, he revealed the culinary hack that he believes more people should use as a "secret go-to" ingredient.  
"I put anchovies in so many things and people don't know it," Flay shared, noting "Especially when I'm cooking seafood, I crush up a bunch of anchovies, put it in the sauce. It just enhances it so much more."
Here's why anchovies are a great ingredient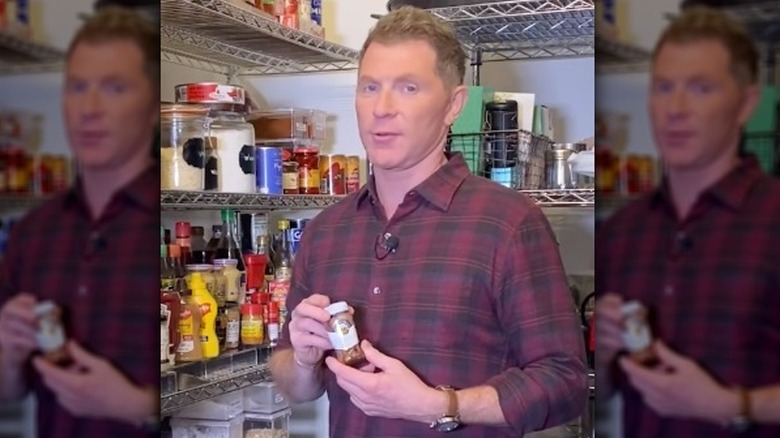 Instagram
Why do successful chefs like Bobby Flay value anchovies in recipes? Believe it or not, these little fish offer many benefits. They provide a powerful, savory flavor that, according to salon, has been appreciated since at least ancient Roman times. Although a controversial pizza topping, anchovies add a rich, salty, umami hint to many recipes from pasta puttanesca to Bobby Flay's own Food Network recipe of spicy lobster with fettuccine and anchovy breadcrumbs.
Anchovies also pack a nutritious punch. Not only are they high in protein while being low-calorie, but anchovies are a great and inexpensive source of omega-3 fatty acids. This nutrient is associated with health benefits from decreased inflammation to improved cardiovascular function, cell metabolism, and skin health.
The Instagram pantry tour is not the first time Flay has publicly sung the virtues of this small fish. On an episode of "Bobby & Giada in Italy," Flay cooked an anchovy butter pasta, offering the advice of warming the anchovies in butter and pasta water rather than cooking them over a direct flame. 
While you may not be a fan of anchovies, if Flay is singing the fish's praises, perhaps it's time for a change of heart.