Panda Express Is Testing Out 2 Plant-Based Meals. Here's Where To Try Them
Fast food chains have always regularly expanded and updated their menus, but you might have noticed a more recent trend in which several of these new items are plant-based. These include Chipotle's plant-based chorizo, as well as a meatless sandwich from Pret-A-Manger, to name just a couple. And if plant-based American-Chinese fast food is what you're after, you can find that at Panda Express.
According to VegNews, Panda Express is currently testing out two dishes containing Beyond Meat's vegan beef: mapo tofu and string beans. While the mapo tofu is garlicky and spicy, the string beans come with a garlic sauce that packs more savoriness than heat. Chefs intend for customers to eat the tofu with white rice and the beans with chow mein. These two dishes are now available until February 23, but only at one location in Pasadena, California. This particular restaurant is home to the company's Innovation Kitchen, "a real-time testing environment" for chefs to see customers' reactions to developing menu items, a Panda Express executive told VegNews.
Other plant-based options at Panda Express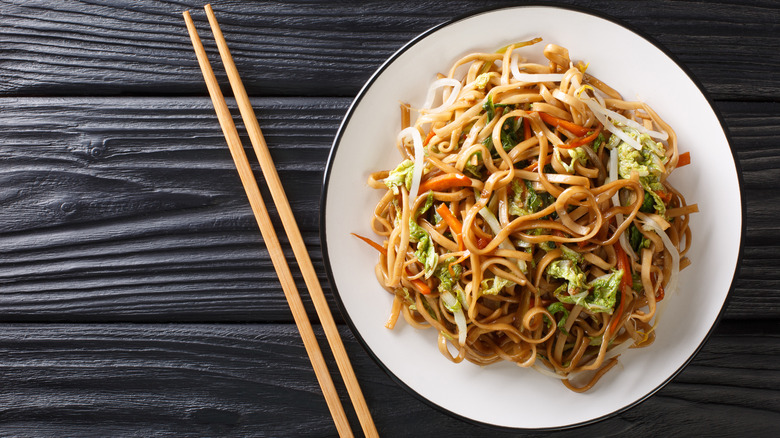 AS Food studio/Shutterstock
Whether or not the Beyond Beef mapo tofu and string beans will become permanent Panda Express offerings depends on feedback from the testing phase, per VegNews. For anyone outside of California, Panda Express still has a number of plant-based options to sample in the meantime. Over the course of the past year, the chain has been testing plant-based orange chicken featuring vegan chicken from Beyond Meat. Panda Express' website lists the locations where it's being served.
As for non-meat-mimicking dishes, The Beet rounded up some of Panda Express' other vegan options, which range from vegetable spring rolls and chow mein to the chain's soy sauce-glazed eggplant and tofu main course. Although these items don't contain animal products, The Beet notes that there's potential for cross-contamination during the cooking process, which is why Panda Express doesn't brand any of its dishes as vegan. Depending on your feelings about cross-contamination, it would appear that Panda Express is becoming a friendlier fast food joint for anyone looking for meat alternatives.