Richard Blais' Super Bowl Post Made Fans Choose Between Ranch And Blue Cheese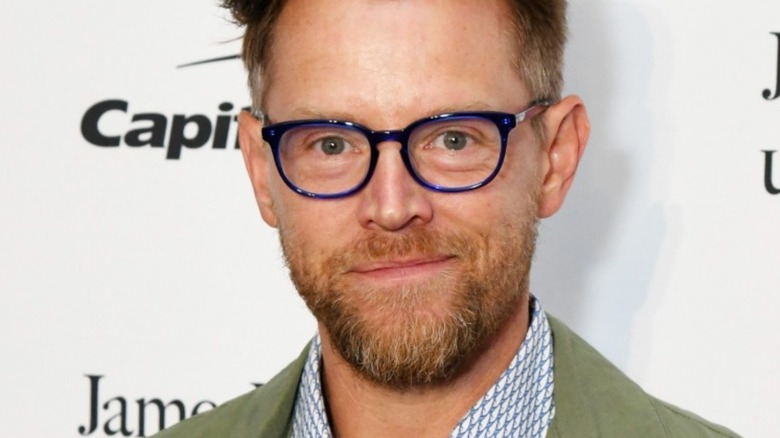 Bryan Bedder/Getty
When it comes to a game-day party spread, finger foods like pizza, jalapeño poppers, and Buffalo wings reign supreme. But all of these popular Super Bowl foods (especially the wings) are often even better when paired with something to dip them in, such as ranch dressing or blue cheese dip. Ranch is usually made with a combination of buttermilk, sour cream, mayo, alliums, and herbs and spices, while a typical blue cheese dip recipe has mayo, sour cream, blue cheese, and other seasonings. Both are cool and creamy contrasts to warm foods, and they can help tame the fiery heat of hot sauce and chilies. But which dip is better?
That's the question Richard Blais posed to his Instagram followers on Super Bowl Sunday. The "Top Chef" alum and "Next Level Chef" co-host shared a video of himself tossing some chicken wings in a glossy-looking Buffalo sauce, with a bowl of creamy dip visible to the side. He captioned the post, "Bengals or Rams? Ranch or Bleu Cheese? You MUST CHOOSE BELOW!!!" The chef's followers seemed game to chime in, as did several of his culinary colleagues.
Most fans had the same answer to Blais' question
Per the Buffalo Stories blog, most residents of Buffalo, New York, will adamantly tell you that chicken wings belong with blue cheese dip. Blais' Instagram followers, though, appear to come from all over, so their comments on his post were somewhat split. Chef Eric Adjepong, the host of "Alex vs America," responded, "Life is too short. Do both," as did former "Top Chef" contestant Dale Talde. However, chefs Jean-Paul Bourgeois, Tregaye Fraser, and JJ Johnson were all firmly in the blue cheese camp.
Among non-chefs, some preferred the combination of "Rams and ranch." Still, blue cheese seemed to pull far ahead. One user chimed in, "ALWAYS bleu!! Ranch is for fries!" while another insisted, "ranch is banned from Buffalo wings." Several specified that they like their blue cheese dip chunky, and one named Cambozola, a creamy cheese that's like Gorgonzola meets Brie, as their ingredient of choice. As for Blais? One fan commented that the chef can be heard on an episode of the "Food Court With Richard Blais" podcast arguing in favor of blue cheese, which seems to settle the question.