Why It's Important To Take Risks With Food, According To Andrew Zimmern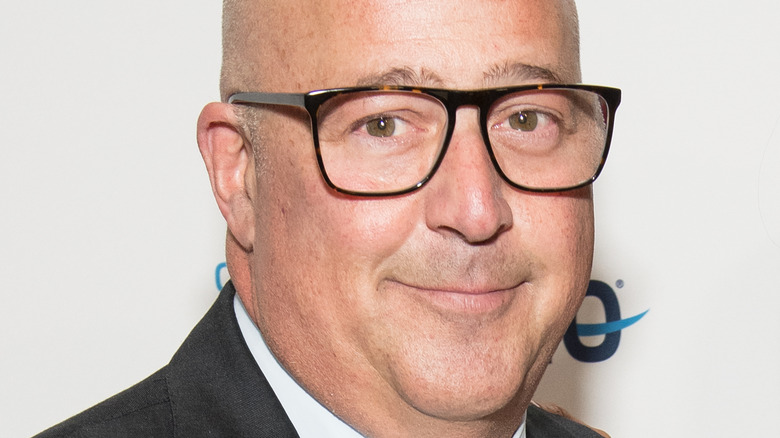 Noam Galai/Getty Images
Andrew Zimmern, the James Beard award-winning television personality finally had his "Hot Ones" moment. As fans of the chef may recall, back in May 2021, Zimmern posted a Youtube video where he said, "We're paying homage to our favorite hot sauce show 'Hot Ones,' while I wait for my invite to be on the show." He then proceeded to do a Q&A with Patrick McMahill acting as the Sean Evans of the segment while the pair munched on wings they dipped in an assortment of spicy sauces that fans sent to the chef. It turns out his homage also served as a practice run because Zimmern eventually did get his invite.
Recently, the former host of the Travel Channel's "Bizarre Foods" joined an elite group of celebs (such as Kevin Hart, Gordon Ramsay, and the surprisingly heat-resistant Lorde) when he sat down with the real Sean Evans, and the two chowed down on those wings and hot sauces while talking about some pretty fascinating topics. Those subjects included Zimmern's go-to drink to recover from spicy foods, the spiciest food Zimmern has ever eaten, and the biggest issue in the restaurant business. The chef also revealed why he believes it is important to take risks with food. It boils down to a philosophy that spills over into other aspects of life.
It's about trying new things
During his sitdown with Sean Evans, right before the two sampled Queen Majesty Cocoa Ghost Hot Sauce, Andrew Zimmern was quizzed about an Instagram photo of the celebrity chef throwing a frisbee (via YouTube). Zimmern explained that it allows him to focus and forget about anything trivial that might be bothering him. But he went on to share that it is also "about trying new things" and getting out of your "comfort zone." The frisbee-flinging chef added, "It's one of the things I was trying to do with 'Bizarre Foods' – was get more people out of their comfort zone."
But Zimmern also lives in a realistic world and doesn't expect anyone to necessarily eat some of the foods he sampled. He said, "I don't think someone is going to go down to West Virginia and start hammering down squirrel brains ... But maybe if you're down there and someone has fried squirrel on the menu, you may say, 'Look, sure I'll try that.' And then you go, 'You know something, that's pretty good.'" That squirrel could be the gateway to opening people's eyes to more personally significant risks. 
That's a pretty amazing outlook. So, for all those who thought Zimmern was eating some of those foods on a dare or because his palate is a just little more adventurous, the chef was actually pushing himself out of his comfort zone and being open to new experiences.