How To Make The Tropical Nuggets From Chick-Fil-A's Hawaii-Themed Restaurant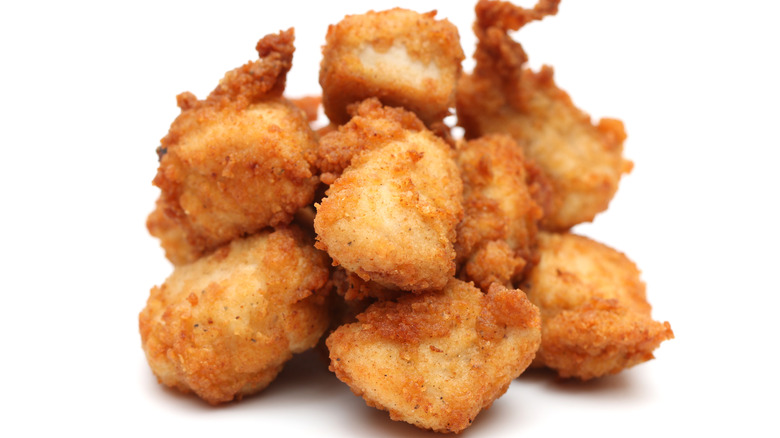 P Maxwell Photography/Shutterstock
Doesn't a trip to Hawaii sound great right about now? Sadly, for those stuck on the mainland, Hawaii is a long, and likely expensive, plane ride away. However, there's a little haven of Hawaiian-themed kitsch to be found in a place not typically associated with leis and spam musubi: a Chick-fil-A in Fayetteville, Georgia. Truett's Luau, part of the company's S. Truett Cathy brand of restaurants, is less than 30 miles from Atlanta, which is a major transportation hub. 
So what's in store for you should you decide to take a trip to this one-of-a-kind fast food fantasy island oasis? A meal like you've had at no other Chick-fil-A, that's for sure. Among the menu highlights only found at Truett's are fish tacos, a pineapple-studded chicken salad sandwich, a pineapple milkshake, and a chocolate lava cake. Oh, and there's even a "tropical" version of everyone's favorite chicken nuggets –- and by tropical, we don't just mean dipped in Polynesian sauce.
You can easily DIY the tropical nuggets at your local Chick-fil-A
Even if time and budget will not permit a trip to Georgia, much less Hawaii, you can still try a little taste of Truett's Luau at home, or in a booth at your nearest Chick-fil-A thanks to a nifty menu hack that went viral on TikTok. Insider visited the destination dining spot to get a taste of the real deal and attempted their own faithful recreation while noting the inauthenticity of Truett's interpretation of Hawaiian cuisine and decor, according to experts. Apparently, to make a pretty passable version of the tropical nuggets, you first need an order of chicken nuggets, plus a couple of Chick-fil-A sauces. 
Yes, you'll be using the Polynesian sauce, but you'll also be adding the Sweet and Spicy Sriracha. For a 5-piece serving, dump the entire container of Sriracha sauce onto your nuggets (use two containers for 10 nuggets, etc.), then add about ¾ of the Polynesian sauce. Close the nugget box tightly and shake until all of your nuggets are coated in sauce. That's it! Bite into a tropical-sauced nugget, close your eyes, and imagine you're on a beach in Waikiki, or perhaps a parking lot in suburban Atlanta. Either way, at least you'll be enjoying some darn tasty chicken.