This Might Be The First Vegan Sub Chain In The US
For sandwich lovers, there are plenty of fast food spots you can head to for the sub of your dreams. There's an absurd number of combos you can make at Subway, for one, as well as the "freaky fast" Jimmy John's chain, which just opened its first drive-thru-only location. However, while there may be many ways to make a sub and a range of ways to buy them, it can be tricky for vegans and plant-based eaters to find options at these chains without opting for an all-veggie sandwich. It looks like it's about to change. 
According to a press release, a trio of companies has partnered up to start a sub chain that's fully vegan. Only Plant Based!, a line of eggless and vegan mayos and condiments, is now working with Mrs. Goldfarb's Unreal Deli, which makes vegan deli meat. With the help of ghost kitchen operator Acelerate, they've launched (and are currently expanding) a plant-based sub sandwich service across the United States.
Where and when can you try these vegan subs?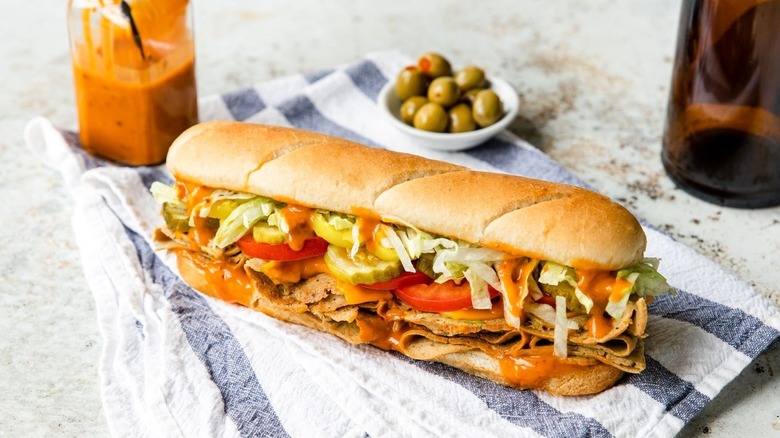 Unreal Deli
According to the press announcement, the vegan sandwich venture is now serving subs in Austin, Denver, Los Angeles, New York City, and Raleigh, North Carolina. The brands haven't specified how local customers can order them, but based on a 2021 VegNews article detailing Unreal Deli's previous ghost kitchen project, the subs will be available in these cities on delivery apps such as DoorDash and Postmates. 
Sandwiches on offer include vegan versions of a reuben and cheesesteak, as well as a plant-based Albuturk'y turkey and cheddar sub with banana peppers and chipotle mayonnaise. All subs feature condiments by Only Plant Based!. If your city is outside of the ghost kitchens' service, you may still be able to try other plant-based sandwich options that are currently popping up. A new menu at Peet's Coffee, for example, includes the return of a meatless breakfast sandwich and a new flatbread wrap.