Why Bobby Flay's Latest Instagram Pic Has Fans Doing A Double-Take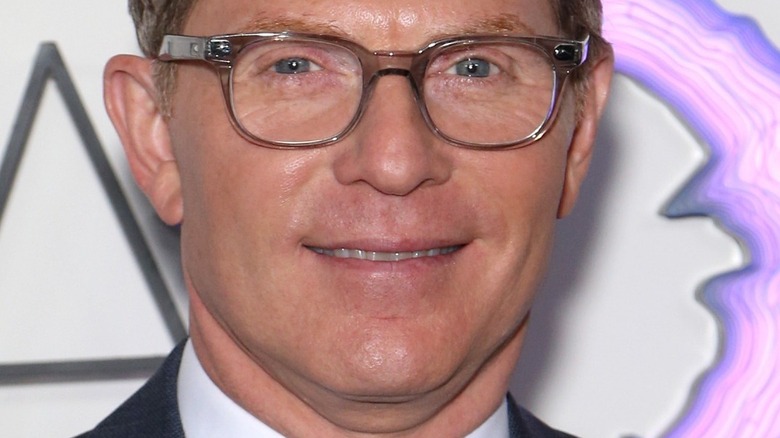 Gabe Ginsberg/Getty
Chef Bobby Flay currently has over 1,600 posts on Instagram, and if you were to guess that most of them were about food, you probably wouldn't be wrong. The Food Network veteran has enticed his foodie followers with a number of mouthwatering photos and videos through the years; some of his more recent shots include a drool-worthy stack of chocolate chip cookies and a popular antipasto dish that he serves at his Las Vegas restaurant, Amalfi.
Of course, just like Flay's life, his Instagram page is more than just food, and this week, one non-sustenance-related snap from the Iron Chef has fans doing a double-take for a surprising reason. The photo in question was posted on Wednesday, April 6, and shows Flay sitting on what appeared to be the countertop in a large kitchen while holding a peace sign up for the camera.
"Today I'm in @savannahguthrie's kitchen...thanks for having me Savannah & @todayshow 'Starting From Scratch'.. stay tuned for the airdate!" he captioned the post that, at first glance, hardly seems out of the ordinary. However, as several fans pointed out in the comments section of the upload, the shot has a little more to it than meets the eye.
Bobby Flay was sitting on what?
For those scrolling quickly through their Instagram feed, Bobby Flay's latest post may seem fairly normal. Even without a plate of food in his hands, seeing the chef in a kitchen is far from unusual, and with his IMDb page reporting 28 appearances on "The Today Show" in the last decade, Flay's upcoming cameo on host Savannah Guthrie's series "Starting From Scratch" isn't exactly huge news –- though that's not to say it didn't generate excitement amongst his followers. "So glad to see she is cooking with the best," one person commented. "Can't wait to watch!" quipped another fan.
So what is it about Flay's latest Instagram post that has some fans poking fun at the Food Network star? His choice of countertop seating, which several eagle-eyed fans pointed out wasn't actually the countertop, but rather, the flat cooktop stove. "Looks like you're in the 'hot seat' @bobbyflay!" one follower teased, while TV personality Carson Kressley asked the chef if he was "toasting [his] buns."
While most of Flay's followers found some humor in where he was sitting, The Spruce Eats does advise not to sit or stand on a flat cooktop, as too much weight can ultimately cause it to shatter. Though Flay typically offers some great advice in the kitchen, it's probably best to avoid following in his footsteps on this one.