Duff Goldman's Upcoming Book Is All About Cookies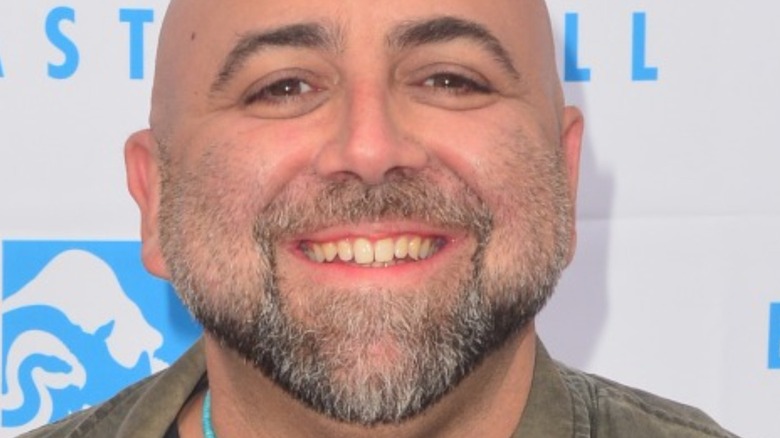 Jerod Harris/Getty
As the former star of Food Network's "Ace of Cakes" and the owner of Charm City Cakes, celebrity pastry chef Duff Goldman is widely known for his mastery of (you guessed it) cake. He even made the cake for former President Barack Obama's 2013 inauguration, not to mention a giant R2-D2 robot creation for "Star Wars" director George Lucas, which he revealed to be his favorite cake he's ever made. But just as Goldman is varied in his personal interests — he's a prolific emo-rock bassist, according Los Angeles Magazine — he's also eclectic in his baking abilities. 
Goldman took Instagram to cookie heaven last month when he shared a post hinting at a new project that will revolve around another endlessly adaptable baked good: cookies. "This is what happens when you write a cookbook about cookies," reads the caption, which accompanied a photo of Goldman standing before an enormous table covered in all manner of freshly baked confections. This week, those who have been anxiously awaiting an update on Goldman's new cookbook were treated to a follow-up announcement on the baker's Twitter page. 
The new book is called 'Super Good Cookies For Kids'
Goldman's signature brand of excitement pervades the photo attached to his recent tweet, which, just like last month's Instagram post, shows the pastry chef admiring an enormous John Boos block table covered edge to edge in checkerboard sablés, unicorn cookies, pirouettes, and other cheerful-looking delights. "The book I just finished and should be out by this fall is allllllllll...COOKIES! Super Good Cookies For Kids!" reads the post.
As a new parent, Goldman is following other food professionals with his latest project, like J. Kenji López-Alt (whose first child inspired his food-centric children's book, "Every Night Is Pizza Night," per Serious Eats) and Samantha Seneviratne (whose Food52 YouTube series "Cook and a Half" features recipe tutorials for parents and their little ones). For Goldman, though, "Super Good Cookies For Kids" isn't just a book for tiny hands. In response to a Twitter comment inquiring about the book's intended audience, Goldman replied, "All of my books are for everyone. Kids, adults, amateurs, professionals." He added, "The recipes aren't simplified or anything, just thoroughly explained." The book will hit shelves in November of this year, according to Harper Collins, and is available for online preorder via nationwide booksellers.