Blue Bell Ice Cream Brought Back This Favorite Summer Flavor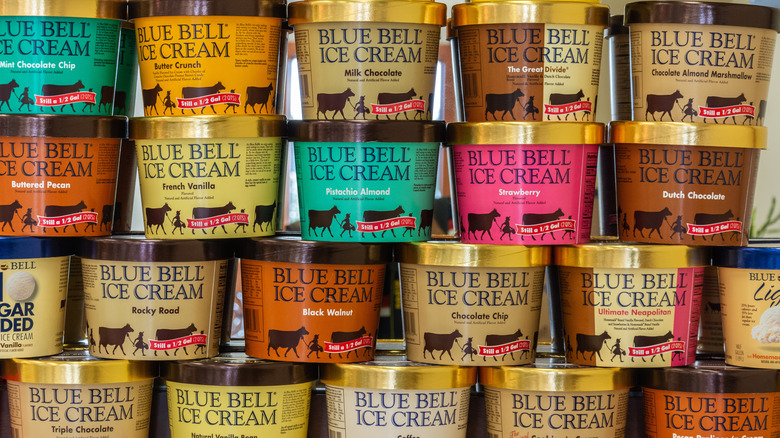 Alizada Studios/Shutterstock
With summer around the corner, it's time to bust out all of your favorite ice cream treats. If you're looking for some new flavors to try, Ben and Jerry's most recent flavor is inspired by the classic summer dessert, cherry crumble. For ice cream fans who prefer to buy in bulk, Costco has a frozen treat inspired by Stroopwafels. But if you prefer flavors that are tried and true and evoke country cooking, then look no further than Blue Bell's Southern Blackberry Cobbler Ice Cream.
According to Southern Living, this ice cream flavor is back in stores for a limited-time as a "seasonal" flavor. MarthaStewart.com says Southern Blackberry Cobbler is one of the brand's most popular products and points out that the flavor has blackberry sauce incorporated into the ice cream as well as pieces of pie crust in it. If that description isn't enough to convince you about the excitement around this ice cream, an article from My San Antonio announcing Southern Blackberry Cobbler's return called it the "best flavor of Blue Bell ice cream."
What people think about Blue Bell's Southern Blackberry Cobbler Ice Cream
It's clear that there's a large fanbase for this particular Blue Bell flavor, and praise has followed on social media. On a Facebook post from Blue Bell four years ago, one commenter enthusiastically wrote, "We just got back from watching fireworks and sat down to a delicious bowl of the new southern blackberry cobbler flavor from Blue Bell. If you have not tasted this, stop what you are doing and go down to the store right now to buy a half gallon."
So what exactly makes this ice cream flavor so enticing? Based on a post from the blog Blue Bell Review, the deliciousness of Southern Blackberry Cobbler comes from the texture of both the ice cream and pie chunks. The review notes that "The ice cream itself is delicious, creamy, and perfectly fruity and the pie pieces were soft on the outside and crumbly (almost crunchy) on the inside," and concludes, "If I were going to a dinner party and it was my job to bring the dessert, I would forgo making or buying a pie and just bring a half-gallon of this instead!"
Want double the blackberry? Top off a traditional blackberry cobbler recipe with Blue Bell's ice cream.