Aldi Released The Perfect Dessert To Conquer The Dog Days Of Summer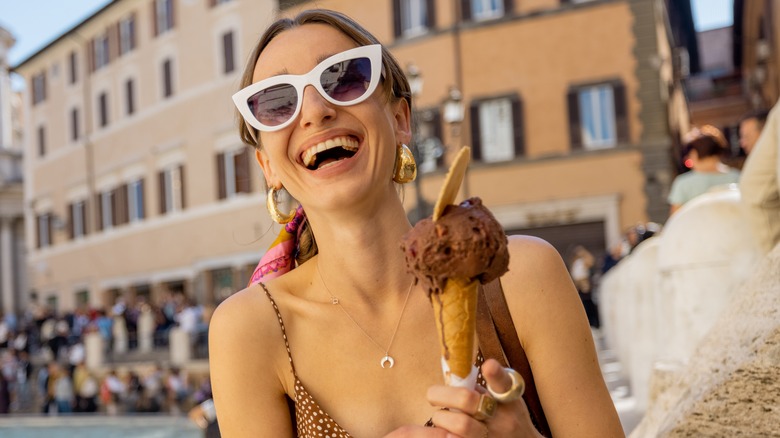 RossHelen/Shutterstock
Summer has just gotten underway and Aldi is offering so many products to help us optimize this short and sunny reprieve. The economically priced supermarket chain recently released a summer-ready boozy treat called Poptails to help us keep cool. And then there are those cute fun-packed ice cream cones that have arrived for the Fourth of July that will have you feeling like a kid. Who could possibly resist those cute galactic, unicorn, or mermaid ice cream cones? They look so colorful and fun! And, if you are stocking up on drinks for a holiday cookout, a few weeks ago, Aldi dropped a must-have cooler that you can fill with ice and store your sodas and juice boxes so they are cool and ready to go when a parched person needs a drink.
But that's not the only sweet Aldi is offering up. This grocery store chain seems to know what you need before you do. In fact, Aldi has released the perfect dessert to conquer the dog days of summer, and social media users are excited about how these frozen treats will add a sweet chill to a hot summer's day. What is this creamy concoction that has Instagram all abuzz?
It's an Italian treat
On Instagram, Aldi USA shared a photo of a 16-ounce container of Specially Selected Chocolate Vanilla Cookie Gelato, and the food market's followers are loving it. "Finders keepers, so they say. And, geez, are all of this week's #ALDIFinds keepers. Check 'em out for yourself," they wrote. According to Aldi's site, this gelato is multi-layered and filled with many textures to savor.
Aldi's frozen dessert definitely has fans excited, with one sharing, "Shame on you for taunting and teasing us up here in Spokane Washington, with no ALDIs in sight!! We so dearly need ALDIs up here!!! That way I would not have to keep making trips to California to get my 'Winking Owl' wine and chocolate fix! btw that Gelato looks yummy." Another added, "I bought the gelato – OMG!!! Delicious."
And if you ever need an excuse to enjoy gelato, it might make your summer day a little brighter to learn gelato can make you happy, according to neuroscientists. Per Villa Dolce Gelato, a study out of London revealed a single spoonful of ice cream can make you happy. Apparently, the moment it enters your mouth and hits your tastebuds, the orbitofrontal cortex tells your body it's in a good mood. We could've told you that!