This Is Duff Goldman's Favorite TV Show He's Done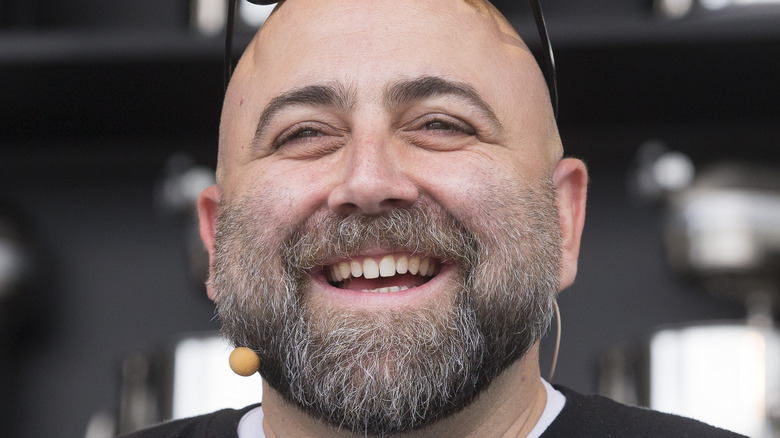 Sterling Munksgard/Shutterstock
There are some stars who stay so mum about their personal opinions and personal lives that it feels like you barely know them outside of what they share on television or in the movies. Then there are celebrities like Duff Goldman. Not only does Goldman frequently hop on social media to share everything from good food he's eating (like these pastries with "killer" buttery flavor) to sweet posts about his daughter, but he's also always willing to talk about how he feels about his work.
He recently even shared with Mashed many of his thoughts on his new show "Ace of Taste," savory recipes, and his community, revealing that compared to "Ace of Cakes," filming the new show "was really chill." But that doesn't necessarily mean that it's better. In fact, in another instance of surprising but welcome openness from a celebrity, Goldman recently decided to answer a few questions from a fan on Twitter, who was completing an interview project for school. In doing so, he revealed which of the many shows he's filmed was his favorite.
And Duff's favorite show award goes to...
In a video posted to Twitter, the young interviewer asked Duff Goldman, "What is your favorite show you've ever made?" among other questions. Goldman replied to all of the questions right away. His favorite recipe that he's created is his chocolate babka, he's been baking for 28 years, and his favorite "Kid's Baking Championship" challenge is one called Dessert Imposters. But, most importantly? "My favorite show I've ever done is 'Ace of Cakes,'" the star shared (via Twitter).
That might give hope to some fans of the original "Ace of Cakes" series, who may be wishing for a reboot. But that's not too likely to happen. According to Goldman, there's a reason why we'll never see a return of "Ace of Cakes." Basically, everyone who was involved with the show back then has had their careers and personal lives evolve, and many have moved on to other things, so the premise just wouldn't stick anymore. "It was a very special time and place that I'm just not sure we can ever really recreate," the star shared exclusively with Mashed. Still, it's nice for fans to know that the show meant so much to Goldman.