The Unexpected Ingredient Andrew Zimmern Uses In His Cacio E Pepe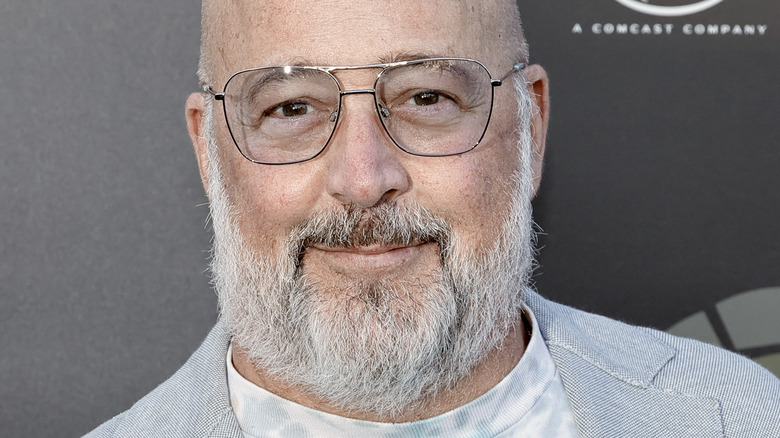 Kevin Winter/Getty Images
When it comes to underrated Italian dishes, cacio e pepe has to rank near the top of the list. Never heard of cacio e pepe? Consider adding this traditional, easy-to-prepare dish to your repertoire soon. But don't just take our word for it — the late, great Anthony Bourdain once called this simple concoction of pasta, cheese, and pepper "the greatest thing in the history of the world" (via Bravo).
The beautifully simple and humble dish, according to the BBC, is said to have been invented hundreds of years ago by the shepherds of Italy's Apennine Mountains. Dried pasta, salt, and pepper were easy to transport, and shepherds would combine these ingredients with cheese from their herds for a satisfying meal.
Classic cacio e pepe has a silky texture and plenty of rich flavor. It contains just three ingredients: pasta, pecorino romano, and black pepper (via Pina Bresciani). The silky "sauce" comes from using the reserved pasta water as its base (a process called "risottare," as in risotto). The starches in the water combine with the cheese and pepper to create a creamy, delicious sauce.
Of course, over the centuries, home cooks and restaurant chefs have created endless variations on cacio e pepe. Giada De Laurentiis toasts the crushed black pepper in butter and sometimes adds pancetta. "Is it Cake?" judge Ronnie Woo adds crispy shiitake mushrooms (via Food Network), and "Kids Baking Championship" host Valerie Bertinelli adds some lemon juice and lemon rind for bright, tart flavor (via Food Network).
Classic pasta gets a sweet, summery ingredient
So, what's chef Andrew Zimmern's hot take on cacio e pepe? He creates a continental medley by taking this old-world dish and adding a new world ingredient, corn, which traces its origins to Mexico (via North Dakota State University).
Zimmern shared the idea for his "Sweet Corn Cacio e Pepe" on Twitter, calling it "a seasonal twist on the 'It' pasta of the moment," and went into more detail in his "Spilled Milk" Substack newsletter. Exulting basic cacio e pepe for its incredible taste and texture, Zimmern explains the simple dish gained popularity during the pandemic when home cooks were, well, home and cooking. Savvy restaurateurs caught on to how inexpensive it was to make and how easy it was to sell to customers looking for comfort food. 
Today, he points out, this pasta is on menus everywhere, both in restaurants and at home. Zimmern makes many variations on the classic dish, but his favorite for summer includes sweet corn. He says the flavor of the summer staple is enhanced by "the saltiness of the cheese and the intensity of the black pepper." Plus, he says, the creaminess of the "sauce," a combination of pasta water and butter, is also a perfect foil to the crisp corn. The full recipe is only available to "Spilled Milk" subscribers, but if the final result is as sweet as this corn and pasta combo sounds, it might be worth signing up.