The Cracker Barrel Secret Menu Item You Never Knew Existed
Ken Wolter/Shutterstock
Have you ever stopped to wonder if your favorite chain restaurant has off-the-menu items? After all, the idea of ordering a hidden menu item can be exciting for customers as it gives them that unique dose of feeling special. You may not know that In-N-Out has secret menu items and you can find hush-hush McDonald's menu items, too. There are Starbucks secret menu items, too. However, some customer requests can sometimes be deemed absurd and plain disgusting. For instance, one barista was asked to blend egg bites into their beverage (per Business Insider). 
But let's talk about the cozy getaway we all know as Cracker Barrel. Does this America's favorite Southern restaurant have a secret menu? Since its humble inception in 1969, Cracker Barrel Old Country Store has made a special place in the hearts of many Americans through its old-school Southern offerings, a reasonably-priced dining experience, numerous entertainment possibilities, and of course, convenient locations near highways across America. The menu at Cracker Barrel is varied, with intensely satisfying comfort foods and plenty of entrees, desserts, and popular breakfast dishes. 
With so much to discover that Cracker Barrel takes pride in offering, there's really no need for hidden menu items. But, where's the fun in that, right? Turns out, there's one sweet secret menu item you probably never knew existed. 
The Cracker Barrel secret menu item that satisfies the sweet tooth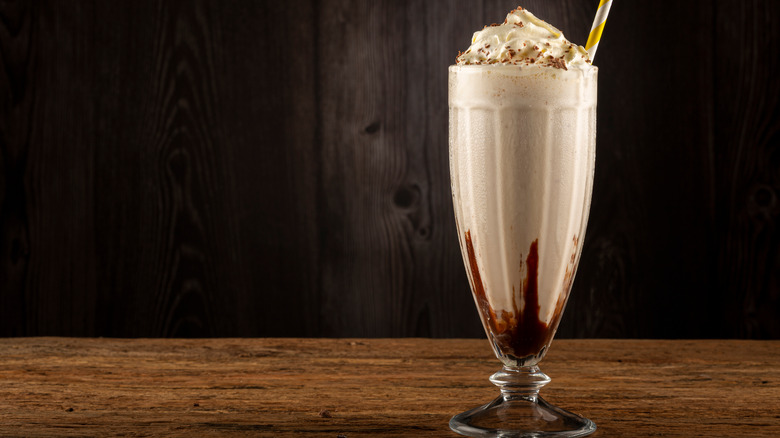 WS-Studio/Shutterstock
According to Yelp reviewers, Cracker Barrel's milkshakes are one of the restaurant's best-kept secrets (per Readers Digest). Cracker Barrel may not have a secret menu, but you won't find milkshakes printed on the menu pages at any location. However, if you ask your server for the restaurant's secret signature milkshake, called the Cracker Barrel Milkshake, the kitchen will happily whip up a classic milkshake topped with vanilla ice cream and grated chocolate (per TheFoodXP).
There are some other secrets that Cracker Barrel may not want you to know. One Quora user shared that ordering the Country Boy Breakfast gives you an unlimited hash brown casserole. Although the menu doesn't specify it, the servers won't charge you for extra casserole. Moreover, all traditional favorite meals come with unlimited grits, gravy, and biscuits. Once again, the menu doesn't include this information. It's worth mentioning though that the comfort food chain actually encourages customers to modify or craft custom meals according to their taste.