Twitter Won't Stop Comparing The New Yeezys To A GBBO Pastry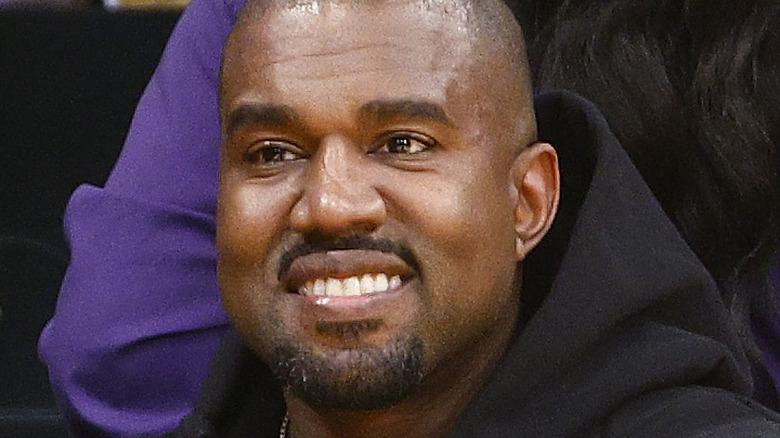 Ronald Martinez/Getty Images
Although he frequents the pop culture news circuit, it's not every day that Kanye West is named alongside Netflix's hit series "The Great British Bake Off." While the series recently made headlines with the premiere of "The Great British Bake Off: The Musical" and West struck an advertising deal with McDonald's, the television show and musician don't have much in common. "Bake Off" is a wholesome, PG-rated baking competition where 12 bakers compete for the title of The UK's Best Amateur Baker. On the other hand, West, who changed his name to "Ye," is a controversial, R-rated rapper, producer, and fashion designer. 
Despite their differences, social media is drawing a hilarious comparison between the two thanks to West's pastry-like Yeezy sneaker drop. Described as "aggressive and claw-like," Yeezy's 450 sneaker is anything but ordinary (per Hypebeast). According to Adidas, the shoe is made with "sock-like construction" to provide an "adaptable fit with exceptional comfort." Despite its intriguing and futuristic design, Twitter and Reddit users are having a field day comparing the sneaker to a GBBO challenge gone wrong.
Yeezy 450 sneakers compared to a Bake Off dessert
Sneakerheads may be lining up to get their hands on their own pair of Yeezy 450 sneakers, but fans of "The Great British Bake Off" are busy poking fun at the shoe's subjectively bizarre aesthetic. One Twitter user posted a photo of the yellow monochromatic Yeezy's, saying that the shoes look like a "Bake Off" challenge gone wrong, "like lemon tarts that were meant to look like sneakers suddenly collapsed in the middle."
The Twitter photo found a home on Reddit as well, where a new audience of cheeky commenters offered their takes on the unique footwear. One person commented, "just a smidge of whipped cream down the center and you got yourself an advertising campaign." Another person added, "I thought they were a new shape of dry pasta." Although it's not uncommon to see an illusion dessert spamming social media, with hit shows like Netflix's "Is It Cake?" drawing stellar reviews and Tom Brady's viral GOAT cake (per NY Post), it's unlikely West was going for pastry-couture on his latest Yeezy kicks.