The Neil Gaiman Recipe Duff Goldman Is Enchanted By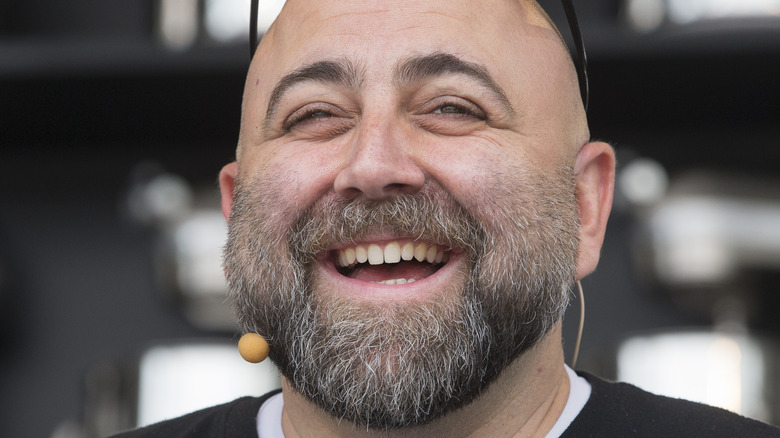 Sterling Munksgard/Shutterstock
Instagram's a big fan of Duff Goldman. Whether cracking up over the way his daughter eats toast or drooling over the recipes and sweets he posts, viewers can't help but engage in the comment section. Given his expertise as a pastry chef and host of shows like "Ace of Cakes" and "Kids Baking Championship," it's not a shock that the internet loves Goldman.
While he can dazzle Instagram with custom cake photos and adorable family pics, a recent post proves that he can also make a simple recipe shine, and shows Goldman himself is enamored by other celebrities' works.
A few days ago, Goldman posted a video to his Instagram page where he demonstrated how to make lemon pancakes, which is a recipe from Neil Gaiman's book "The Ocean at the End of the Lane." Goldman spends the beginning of the video raving about Gaiman's books, and then he goes on to explain that he made these pancakes following Gaiman's recipe for this dish, which was included in an interview at the end of the book.
The recipe for these pancakes has been posted online, but you can also follow along using Goldman's video. His tips include using a fresh lemon to finish off the pancakes instead of lemon juice from a plastic container and making sure the pan is piping hot.
Here's what Instagram thinks about this Goldman/Gaiman crossover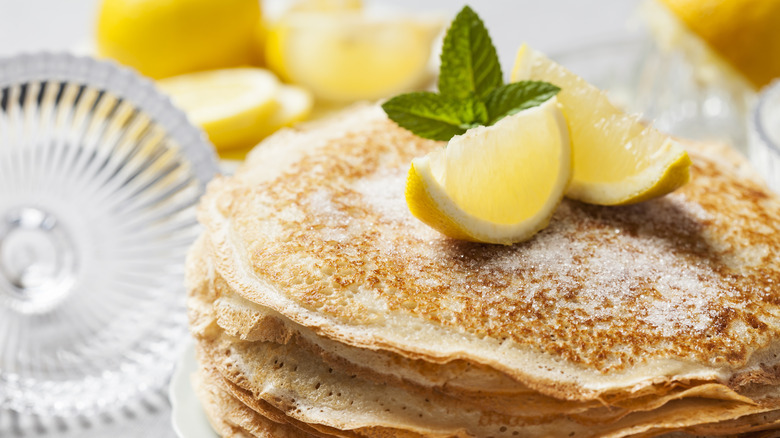 Natalia Van Doninck/Shutterstock
If you're an avid reader and a foodie, this might be the crossover of your dreams, and you're not alone. Goldman received tons of comments on his Instagram post that also expressed love for this book-inspired recipe. Jessica Leigh Clark-Bojin, who is well-known for her pies, commented, "This is brilliant. Love book-inspired food and pancakes!"
Goldman's video also may have inspired more fans of Gaiman's work to try out recipes from his novels. One person said, "I LOVE that book. I got a signed copy for my birthday when it first came out, but I've never made the pancake. Might have to do just that tonight and use up this lonely lemon on the counter!"
For others, this pancake post was super nostalgic. One person said, "Growing up, these were the "pancakes" I grew up on! Later, I was introduced to the "American" style of fluffy pancakes. I prefer my momma's pancakes!!" This recipe is similar to crepes although they're officially called pancakes in Gaiman's book. But in the video, Goldman describes the dish as "tender" and "soft," but he also says that they're not as flour-y as traditional crepes.
Looking for other lemony yet whimsical sweets? Try our recipe for ginger and lemon scones or put a batch of easy lemon shortbread cookies in the oven.