Burger King Is Discontinuing A Classic And Fans Are Furious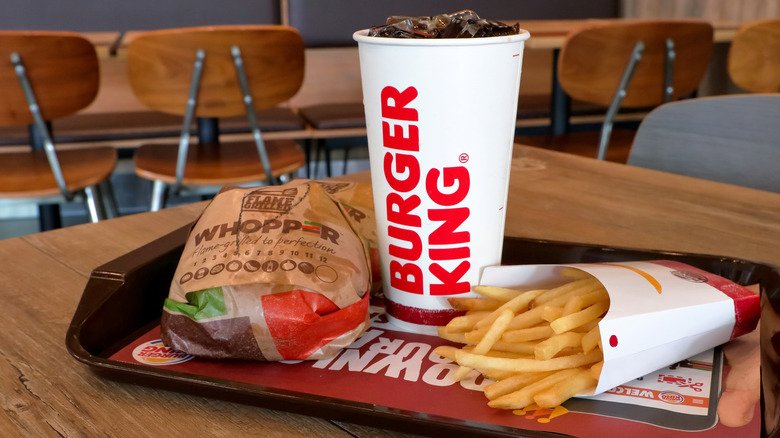 agencies/Shutterstock
There's a big difference between a store being out of your favorite things and finding out they've been discontinued for good. There's a certain period of grief, and if it's replaced with something new, you know it won't be quite the same. In some cases, you'll grow to love the new alternative, but it will still never replace the original. 
Burger King is one of those fast-food places that people love for its regular menu. But sometimes, it introduces items that you love even more — and then takes them away. Most of the time, the chain will let you know that something is only temporary with a "limited-time" added to the item's promotional material. Yet, sometimes, things that you thought were a permanent fixture get replaced by menu items that Burger King believes are better. 
In February, Burger King discontinued some items, such as sundaes, whipped topping, and chocolate milk (per Business Insider). It also got rid of particular discounts and removed the Whopper from the discount menu. While Business Insider suggested those changes were due to inflation, the chain's chicken sandwich is also seeing a change — and fans aren't particularly happy.
Will fans warm to BK's new chicken sandwich?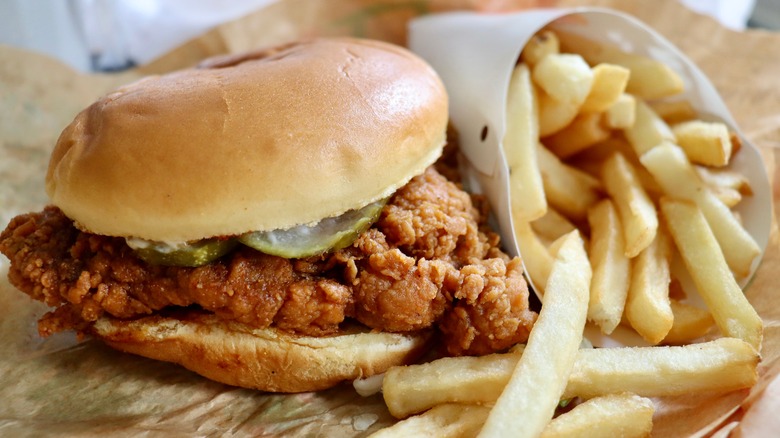 Ant DM/Shutterstock
USA Today reported that Burger King's Ch'King chicken sandwich, which was released in June 2021, consisted of hand-breaded chicken with pickles and sauce on a potato bun (per Chew Boom). Just over a year later, Don Accordino, CEO of Burger King's major franchisee Carrols Restaurant Group, said, "They spent a fortune on the chicken sandwich and it just didn't do what it was supposed to do. The Ch'King didn't generate the excitement that was hoped for" (via Eat This, Not That).
But some fans couldn't disagree with Accordino's statement more. After hearing the news that the Ch'King wasn't available at their local Burger King, many took to social media to make their voices heard. One Twitter user said, "Getting rid of the Ch'King (which i have as the best chicken sandwich out) is by far the stupidest thing the franchise has ever done." 
And Reddit users weren't far behind. One person wrote, "This is a lame tactic to install the new shrinkflation patty. It was like I ordered the value menu chicken sandwich (not OG chicken) and they threw the Royal toppings on it" (per Reddit). Only time will tell if Ch'King fans will warm to the new chicken sandwich offerings at Burger King. 
What we know about the new offerings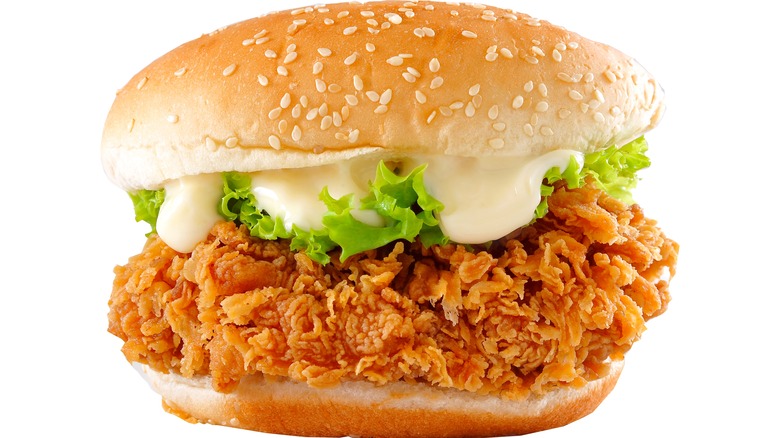 usaphoto/Shutterstock
In May, Burger King began testing the Ch'King replacement sandwiches in New York City and Virginia markets, according to Chew Boom. Available in three varieties, the BK Royal Crispy Chicken Sandwiches are each served on a potato bun with a crispy white meat breast fillet. 
The original sandwich consists of savory sauce, lettuce, and tomatoes, while the spicy alternative is built with the same ingredients plus the addition of a triple pepper spicy glaze. Finally, the bacon and Swiss chicken sandwich sees the addition of bacon and creamy Swiss cheese.
Additionally, in chicken-related news, Burger King has begun to serve Impossible brand chicken sandwiches in Cincinnati, Ohio locations, per Veg News. This is yet another way for the fast-food establishment to test the vegan waters following the release of its 2019 Impossible Whopper. The trend is growing even quicker in Europe; by 2030, UK Burger King locations are planning to offer a 50% plant-based menu.