Apple Cider Donuts Are Back At Trader Joe's And Instagram Is Ecstatic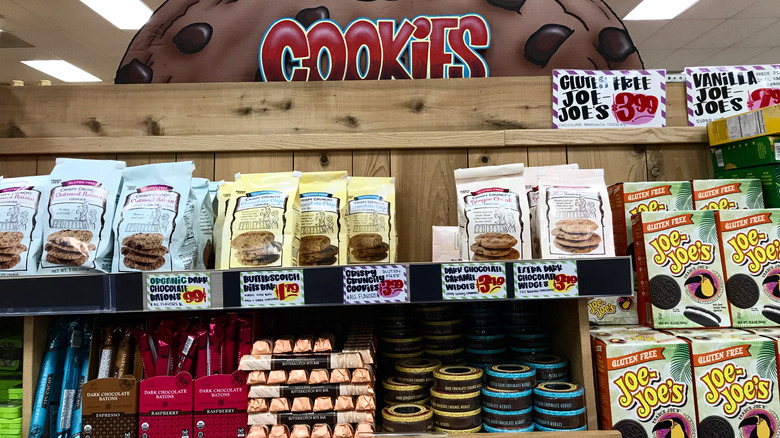 Jeff Bukowski/Shutterstock
If you've walked into a store recently, you may have already seen the growing fall displays. Even though it's technically still summer, many stores are gearing up for Fall, Halloween, and even winter celebrations. It seems as if everyone is anticipating the cooler weather and the flavors of the holidays. It's about this time that pumpkin spice makes its appearance in what seems like every food imaginable. Another popular autumn flavor that's at peak season this time of year is apple.
There's nothing like a hot cup of apple cider on a cold morning to get the day started. No longer is apple cider relegated to simply a hot beverage. Apples and pork are a perfect pairing and it's not uncommon to see an apple cider pork chops recipe. If you live in a state where fall feels more like summer, you can make an apple cider slushie recipe to get into the holiday spirit.
One of the more popular ways to use apple cider spice is to make doughnuts. Costco's apple cider donuts are a huge Fall hit and Trader Joe's shoppers fawn over the store's apple cider donuts.
These seasonal donuts won't be here for long
Trader Joe's shoppers were thrilled to find out that the apple cider donuts were back on the shelves. Instagram account @traderjoeslist posted a photo of the apple cider donut six-pack. The entire package is priced at $4.49 which is a slight increase from the 2021 price of $3.99 (per Trader Joe's).
The original poster notes that the donut is slightly dry and tastes best when cooked in the air fryer. A side of vanilla ice cream never hurt anything, these donuts included. Traderjoeslist also suggests adding a scoop of Trader Joe's cinnamon bun spread or maple butter. One commenter suggested dipping the donuts in a cup of coffee. One commenter wrote, "I already ate an entire package." Another fan simply said, "NEEEEEEEEED." One commenter found that the donuts can be frozen for up to a month, so long as they are kept in an airtight sealed bag.