What Happened To Quevos After Shark Tank?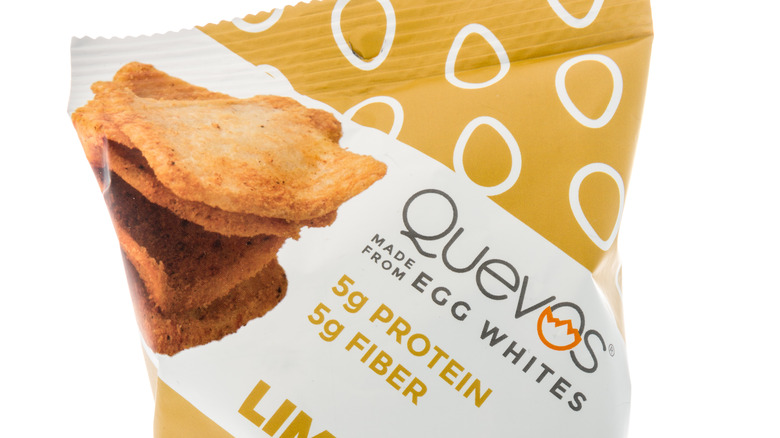 Keith Homan/Shutterstock
Budding entrepreneurs who are searching for mentorship and infusions of cash get their chance on the show "Shark Tank". There have been a variety of products and innovations on "Shark Tank," including sponges, wines, and baby products. But, what better way to entice a hungry shark, than with a new food product? "Shark Tank" investors have eaten their fair share of foods, with some of their favorites being plant-based or healthier alternatives. Indeed, the best food products on Shark Tank include plant-based fried chicken and mushroom jerky.
And, in the same vegetarian vein, Nick Hamburger, along with his co-founder and best friend Zack Scheier, invented Quevos – an egg white chip. The name is a play on the words "quick eggs," using the Spanish term for eggs: huevos. Hamburger is a type 1 diabetic, which means he needs to eat a high protein, low carb diet. He consumed a lot of eggs and one day noticed the crispy edges of his omelet resembled chips, according to Forbes.
Hamburger and Scheier worked with a pilot lab to create the perfect shelf-stable egg white chip. An entire bag of chips has only 2 carbs, 10 grams of protein, and 6 grams of fiber. The chip's popularity took off during the Keto diet craze (via Tech Nori). Hamburger submitted his invention to his college's startup challenge and won a $15,000 investment. After launching a Kickstarter and surpassing his goal, Quevos made its TV debut on Shark Tank.
Which Sharks took the bait?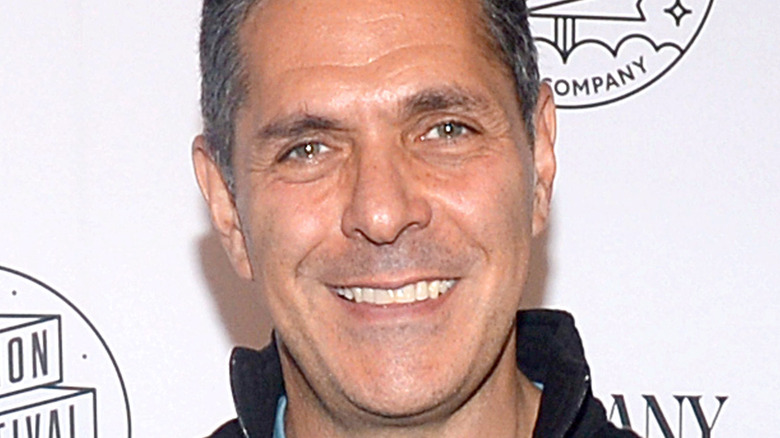 Brad Barket/Getty Images
Robert Herjavec referred to Nick Hamburger and Zack Schreier as, "Two of the youngest, most impressive people we've ever had out here," according to Food Business News. Even though Herjaveck was impressed, he did not know much about the industry and decided to bow out. Lori Greiner did not offer a deal but vowed to be a customer, after loving the taste and concept of the chips.
Next up, Mr. Wonderful, aka Kevin O'Leary, presented an offer. He offered $200,000 for a 2.5% stake in the company. He attached a 10% royalty on every bag until $400,00 was recouped.
The final offer came from the man Hamburger initially hoped to impress. Daniel Lubetzky, the founder of KIND bars, offered $200,000 with a $200,000 line of credit for 10% of the company. Hamburger's original offer to the Sharks was $200,000 for 5% of his company. After some back-and-forth counters, Hamburger gladly accepts Lubetzky's offer.
Quevos is doing egg-cellent business
In the two weeks following filming, Quevos generated $500,000 in sales. Lubetzsky added $1.35 million and outside investors chipped in an additional $3.6 million. As of 2021, Quevos had over $2 million in sales. The sales since appearing on Shark Tank are $3.2 million (per Shark Tank Blog).
Quevos can be found in 1500 stores nationwide, with products also available in Canada. Quevos can be purchased at Whole Foods, Wegman's, The Vitamin Shoppe, and GNC. The products can also be purchased online at Quevo's website or through Amazon.
Quevos debuted its chips at Whole Foods and sales at the retailer have tripled since Quevos made its TV debut (via Shark Tank Blog). Quevo's website shows that the chips are now available in six flavors, with honey mustard being the newest addition. The other flavors include mesquite bbq, huevos rancheros, cheddar, dill pickle, and sour cream & onion.
In early 2023, the brand was acquired by Joe Oblas, the co-founder of Stryve Foods and Prosupps. Oblas met Quevos co-founders several years ago at The Sweets and Snacks Expo where Oblas recalled it was one of the few snacks that tasted delicious. After trying the chip Oblas shared that the chips were "an interesting and innovative disruption to the chip/cracker category," (via LinkedIn). Though the details of the acquisition are closed, Oblas is the new CEO. 
Customers seem to love the chips, with the website reporting a rating of 4.8/5 stars. The site has over 600 reviews, with 98% of reviewers saying they would recommend the product.