Duff Goldman Has Instagram Cracking Up Over An Adorable Baby Hotel Pic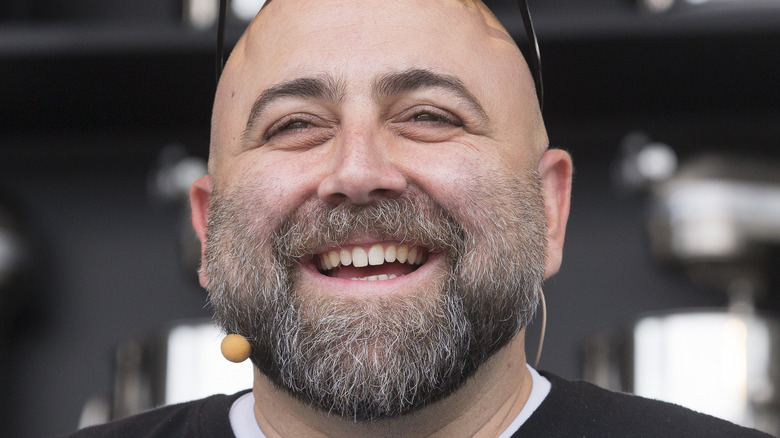 Sterling Munksgard/Shutterstock
Duff Goldman has given the world so much to appreciate. His cake creations extend far beyond anything that you might imagine could be done, including the one he baked for George Lucas, which is actually his favorite cake that he ever made. Goldman not only delights us with his cakes, he also captivates audiences with his TV shows. "Ace of Cakes" and "Kid's Baking Championship" are just two of the shows the celebrity chef has starred in, and although "Ace of Cakes" was canceled, it's still revered as a huge "entrepreneurial success," (per ENTREPRENURER).
But TV shows and fancy desserts aren't the only ways that Goldman affects the public. The baker's social media accounts keep fans on their toes, either drooling at an edible creation or cooing over a sweet family photo. He's garnered even more attention with the many (many) posts of daughter Josephine. In an adorable Instagram photo, Duff does it again, and we can't help but crack up.
Breakfast and a baby in bed has Instagram in stitches
It's no surprise that Duff Goldman is a proud family man. From his heartwarming mommy-daughter posts to the adorable pics of his daughter eating cookies, his fans are now fans of his family, too. The Charm City Cakes owner has charmed his viewers once more, with a post of Josephine sprawled out on, what appears to be, a slept-in bed, eating toast and enjoying a little breakfast in bed. 
"Hi. Welcome to the @hamptonbyhilton. I'm Josephine. Can I interest you in an omelette or a selection of breakfast sausages? Enjoy your stay. (This girl is ridiculous)," is the caption Goldman posted alongside the Instagram photo. While utterly adorable, we can't say we aren't a tiny bit jealous of Josephine — and commenters agree. Statements include, "Josephine, can we trade places? (crying laughing emoji) I could use some r&r" and "She's living her best life!!"
Included in the 16,400 likes and 398 comments (so far) were some celebs who just couldn't help themselves. Chef Jason Licker wrote "Adorable lol" and author and chef Jason Roberts claims "Day Job." We can't help but agree that this post is super adorbs and we know for sure that it won't be the last we see of Josephine.