The Live Streamer That Allows You To Connect With Your Favorite Chefs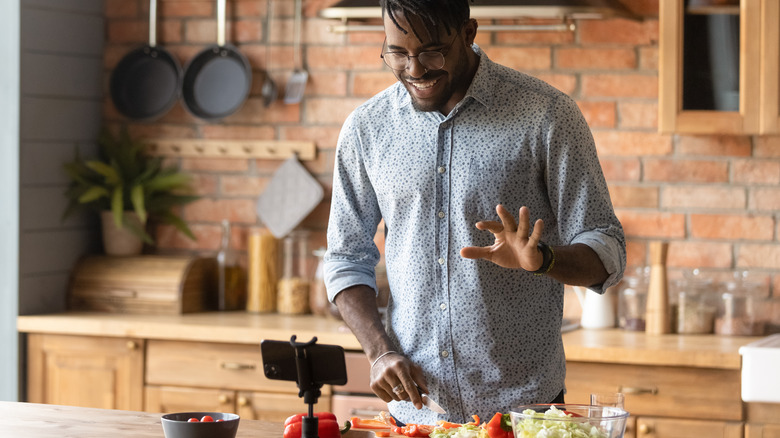 fizkes/Shutterstock
The media landscape for chefs and food professionals has changed exponentially in recent years. In the past, television networks used to play instructional, cook-with-me, programs. However today, there's a dearth of cooking shows including travel/food hybrid shows, reality competition shows, or even the (inexplicably) popular non-chef learns how to cook genre. 
This shift, in conjunction with the meteoric rise of social media, has created a new realm of food professionals who are able to advertise their brand, messaging, food ideology, and recipes on their own accord, whether on TikTok, Twitter, Instagram, or Twitch, etc. However, this new model does run into its own issues, though; there's nothing stopping someone with zero food knowledge from making videos that can either be unappetizing or downright dangerous like the infamous Nyquil chicken debacle. 
But, one company has an idea to bypass some of these issues. Kittch is prioritizing legitimate chefs and food professionals who intend to teach, inform, and whet the appetites of their viewers and subscribers.
How does Kittch work?
Kittch is a new streaming platform that has been called "Twitch and OnlyFans combined," according to The Takeout. One may also think it has a bit of a Masterclass-type appeal in terms of virtual classes intended to educate. The outlet reports that "anyone can apply to be a creator," and after approval, the applicant can stream-away. In addition, viewers can "send tips in exchange for content or subscribe to certain chefs' channels."
There is both free and paid content, and a Kittch user can discern the breakdown of that content. ABC 7 notes that there are more than 500 cooks on the site, including both big-name chefs and relative newcomers. The content can range from "cooking classes and kitchen tours to interviews and product reviews," (via The Takeout). It's a real mixed bag, and this versatility is yet another perk of the new streaming service/platform.
The company was founded by Brian T. Bedol, Elana Karp, and Douglas DeLuca, whose previous work involves Plated, Jimmy Kimmel Live, and Classic Sports Network, as reported by The New York Times.
Who is on Kittch?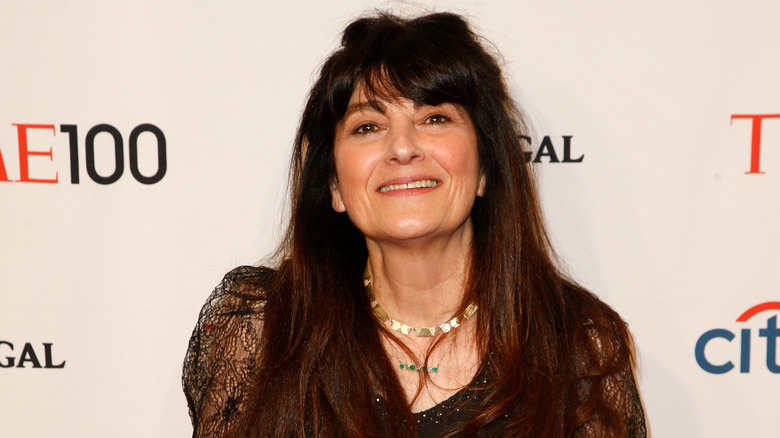 Debby Wong/Shutterstock
Sara Hauman of "Top Chef" fame is one of the many chefs on the platform (via ABC 7) and Amanda Freitag, Ruth Reichl, and Marc Vetri as some of the other iconic personalities on the site, according to The New York Times.
Net Influencer highlights numerous chefs and food professionals on the platform, noting that the diversity and ability to customize your experience allows for more engagement and discussion than a standard cookbook release or network TV show. Some of the chefs the outlet mentions are "Top Chef"'s Joe Sasto, cookbook author Beth Lee, restaurant chef Carlo Lamagna, baker Jevay Thompson, and pastry chef Maya Erickson among many more. So, it seems the amount of foodie knowledge that can be gleaned may be inexhaustible. The site also notes that a platform like Kittch could all but replace the pandemic-era uber-popular Zoom cooking classes. 
While the sheer extent or reach of Kittch is still not yet fully known — and it's still only in the beta phase — it's clear that this new platform is set to become a useful outlet for chefs and anyone even remotely involved in food. With its focus on the food professional and desire to create a space for inclusive, thorough discussion centered around delicious, specialized foods, Kittch may be a disruptor to watch.