Aldi's Chocolate Pumpkins Are Being Compared To Wax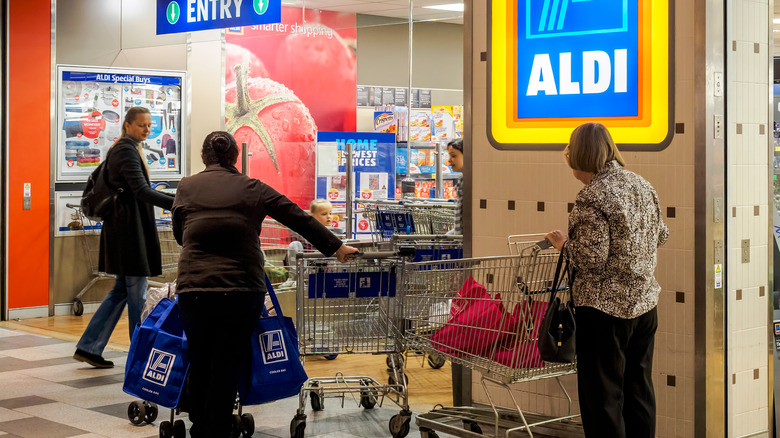 Dr. Victor Wong/Shutterstock
If you're looking for some unique seasonal food finds, you can never go wrong with the popular grocer Aldi. Known for its selection of high-quality items at a low price thanks to the chain's own Specially-Select brand, Aldi has found itself over and over again as a top choice for groceries. This is especially true when it comes to its chocolate products. Because the grocery store chain originated in Germany, most of its chocolate offerings are imported from Europe, meaning the products are usually more creamy and richer than your average Hershey chocolate bar.
With the launch of its new fall food lineup, customers are raving about the products lining the shelves at local stores around the country. This includes several new autumn sweet treats. There are Pumpkin spice ice cream cookies for those PSL lovers and Benton's Maple Leaf Crème Cookies for those with a hankering for syrupy goodness. And for Aldi shoppers who crave a fall soup, there are both Pumpkin Maple and Carrot Coconut bisques. But one item, it seems, shoppers could do without.
Reddit is not impressed with Aldi's Belgian Chocolate Pumpkins
Aldi's chocolate finds are usually a hit because, as mentioned above, they are usually imported from Germany. Once and a while, however, there's bound to be a miss and it seems that the grocer's chocolate pumpkin treat is just that.
In a Reddit thread, Aldi customers are posting that the Choceur Assorted Belgian Chocolate Pumpkins are quite disappointing and even comparing the sweet treat to wax. "So disappointed with the Choceur Chocolate Pumpkins. This is the first yr I've been able to find them in my store, and they were not good. They are a weird mix of waxy & chalky, & so dry inside instead of creamy. They do look cute though," said the original Redditor. 
Another lamented, "That's too bad, as Aldi has some really great chocolates. Hopefully they maintain their quality with those." One Aldi shopper shared, "I've wanted to try those too, but they've not been in stock the last couple of times I've been in. If anything like these though, glad I haven't found any!" The comments continued with the chocolate pumpkins being called "artificial" tasting and "barely edible."
Whether or not you heed the advice of the Redditors, you still may be in the market for a fall-inspired sweet treat. Give this easy chocolate-covered pumpkin pretzel recipe a shot.