Lizzo's 'Cheezy' Takis Is The Vegan Comfort Dish With Star Power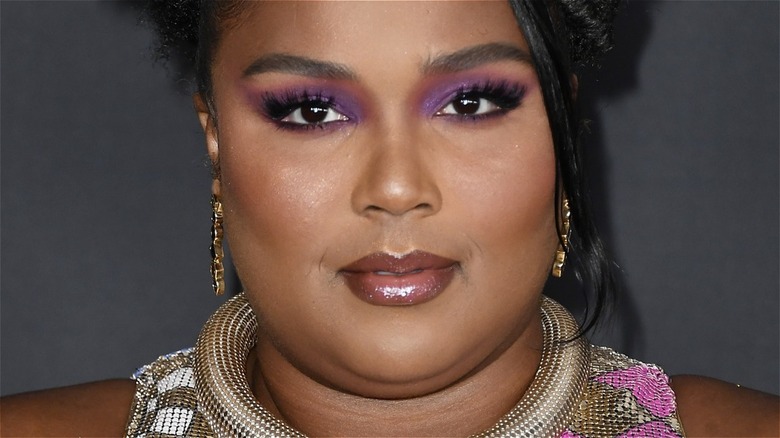 Frazer Harrison/Getty
Lizzo's inner foodie shined through on her TikTok when she shared a recipe for dressed up Takis. This isn't the first time the star featured her culinary creations on her social media channels — in the past, the Michigan-born singer has shared recipes for salad dressing and "feta" pasta on her platform, proving that being vegan does not mean giving up delicious comfort foods.
In her video, captioned, "EAT UR FEELINGS WITH ME: cheezy takis edition," the award-winning artist makes "cheezy" Takis.
Takis, a popular spicy chip snack, are already vegan in their original form, with their primary ingredients being corn masa flour, vegetable oil, salt, and other seasonings (via World of Vegan). They come in a variety of different flavors, including Blue Heat, Dragon Spicy Sweet Chile, and Nitro Habanero. However, there are a few variations that aren't vegan, including their Chipotle Ranch, Crunchy Fajitas, Guacamole, and Nacho Xplosion Zesty Nacho Cheese Flavor. 
Lizzo presented a vegan take on the latter flavor to TikTok, calling them "cheezy" Takis.
Lizzo loaded her Takis up with vegan sauce
Lizzo stated at the beginning of the video that, "My kitchen dirty and I'm scared and anxious." Nonetheless, she managed to put together this cheesy sauce for her Takis, making this dish the perfect comfort food. She stated that she didn't have a recipe, but added Japanese yam, tofu, onion, garlic, nutritional yeast, salt and pepper, and habanero sauce to a blender. She also added Kelly's Gourmet Cheezy Parm, which can be bought online, as well as vegan smoked gouda from Follow Your Heart. Later in the video, the artist noted she used some of the water from boiling the yams in the sauce, which likely gives the mixture an extra thick texture, similar to aquafaba.
She then poured the blended mixture over her Takis. The dish could be compared to cheese fries or even loaded tater tots. In the comments, users such as @mommymarianna wrote how they wanted to try these themselves. The fan commented, "GUUURRRLL! lemme get some." 
Whether you're looking for a way to dress up your Takis, or want to try a new dairy-free dip, Lizzo's DIY "cheese" dip is definitely worth trying.