The Real Restaurant Behind Seinfeld's Favorite Meeting Place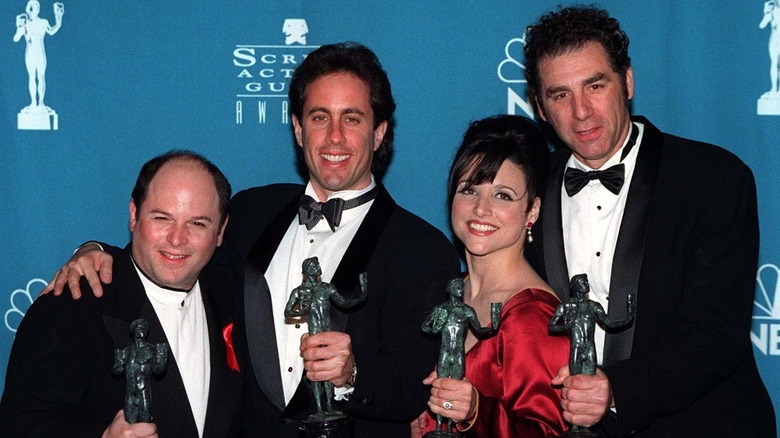 Featureflash Photo Agency/Shutterstock
Have you ever wondered what it would be like to mosey into "Seinfeld's" Monk's Cafe and order a Big Salad? Fans of the show know what a significant role this cozy diner has played in nearly every classic Seinfeld episode of the sitcom about nothing. This is where Elaine exacted revenge by stealing all the "squares," George shared his tale about the beached whale and the wayward Titleist, and Jerry learned that Elaine faked her orgasms (via Screen Rant). Yes, it was in this eatery's booths that George hatched his kookiest plans, Kramer offered less-than-sage advice, and Elaine complained about her life. And every "Seinfeld" devotee has dreamt of joining this hapless quartet for a meal at Monk's. 
What would you order for this auspicious occasion? Well, according to an actual prop menu from the show (via Heritage Auctions), you could opt for a helping of "Marvelous" meatloaf and spaghetti, some ham hocks and lima beans, or the special, which consists of a sandwich and malted milk (to name just a few of the diner's offerings). Where's Elaine's "big salad"? This must be the Famous Chef's Salad Bowl, also known as "the No. 3." 
While it's nice to imagine this fantasy meeting — even if it comes with lima beans — sadly Monk's Cafe doesn't really exist. There is a diner at 2880 Broadway in NYC and its exterior does resemble the one on the show, but that's where the similarities end. Here's a look at the real restaurant behind Monk's. 
Tom's opened in the 1940s
So, what eatery calls this corner on Broadway at 112th home? Tom's Restaurant. One gaze at its familiar exterior and you'll likely hear "Seinfeld's" theme music echoing in your head. But Tom's has been a popular neighborhood hangout since the 1940s, attracting a legion of noteworthy names and faces long before the Seinfeld era. Atlas Obscura shares that the diner popped up in a 1978 episode of "The Bionic Woman." According to Traveller, it was a favorite of William Hurt's. And, the restaurant reached even greater notoriety when singer/songwriter Suzanne Vega released her verbose "Tom's Diner," a ditty that came to her in 1981 as she was sitting in her usual haunt (via Vega's website). 
Yes, Tom's Restaurant had enjoyed several brushes with fame long before Jerry Seinfeld's sitcom came to fruition. But that's not the secret to its success. According to the LaborPress, the restaurant came into the hands of the Zoulis family in the 1950s and, since then, it has been a family-run restaurant that welcomes students from Columbia University and Barnard College as well as the neighborhood locals. Mike Zoulis explained to Traveller that the restaurant has been around for almost 70 years, while "Seinfeld" was only on for nine. Sure, the show has granted the owners extra business and they're grateful for the free advertising, but they can still "only sit 80 people in here at a time." 
What can you expect if you can grab a seat? 
Tom's interior is nothing like Monk's
As you can see in the pictures above, the dark wood interior of Tom's is practically the polar opposite of Monk's muted pastel shades. Both, however, boast a similar blend of booths and stools all lovingly upholstered in a burgundy-ish hue. Tom's menu, however, is distinctly different from the one used on "Seinfeld." While Monk's offers a dated selection of dishes your grandmother used to make and an abundance of cottage cheese, the menu listed on Tripadvisor shows that Tom's offers an impressive selection of deli sandwiches, salads, wraps, and Greek fare. In fact, there are so many salads on offer, that it's hard to decipher whether or not one is based on Elaine's mammoth bowl of greens. There is one named "Jerry's Salad" which will likely have folks wondering, however. 
While the interior doesn't scream out "My exterior has been featured on Seinfeld," there are several nods to the show and its cast members. Tucson.com shares that there are caricatures of the foursome in a prime location, while Unusual Places points to a painting of Kramer once featured on the show. And, of course, the biggest piece of Seinfeld memorabilia is the building's outer façade itself. Zoulis told Tucson.com that he was once asked to sign a form so a television production could use shots of his restaurant and he agreed. In that moment, he unknowingly made the best PR move a restaurant could ask for. And history was made.