The Champagne-Flavored Cheese You Need To Try From Aldi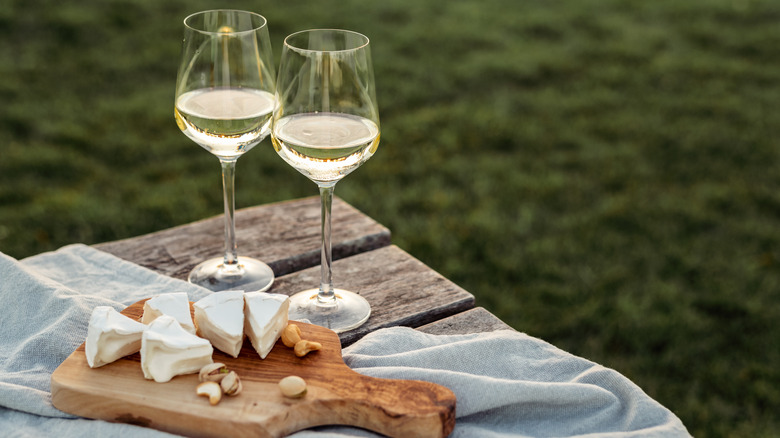 Slava Zolotko/Shutterstock
Although Aldi is a discount grocery store, you can typically find some high-quality food and drinks that you might not expect — including cheese. Instead of shelling out a fortune at a cheesemonger, you can head to Aldi to find a huge variety of items and seasonal cheeses for around $5. Longtime fans of this grocery chain have a list of specialty cheeses at Aldi to rave about, including one particularly boozy variety.
While you're likely more used to pairing wine and cheese or sipping on champagne with cheese, why not combine all those flavors into one tasty bite? Aldi has been bringing out several boozy kinds of cheese to its shelves, and customers have been sharing their reactions. For example, the grocery store released some booze-themed cheeses that are perfect for summer, and people were mixed about snacking on tequila lime and pina colada flavored cheese.
That said, some other boozy cheeses have been big hits — and could certainly be the star of your next cheese board. Specifically, there's a lot of enthusiasm for Emporium Selection's Champagne Cheddar Cheese, which even caught the attention of a culinary judge.
Champagne lovers will taste the alcohol in Aldi's boozy cheese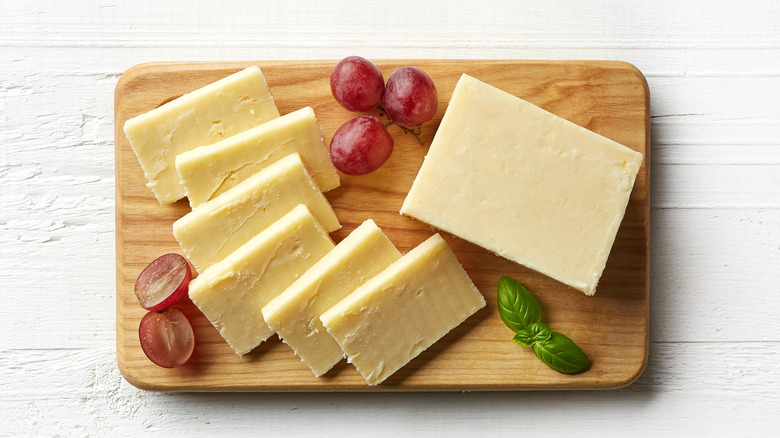 Baibaz/Getty Images
Are you skeptical about getting the nuanced flavors of champagne into a cheese? Here's what the experts think. In an article for Insider, culinary judge Meredith Ochs shared that she loves Emporium Selection's Champagne Cheddar Cheese. Ochs explained that this cheese had not only the distinct aroma of champagne, but she was also able to taste the effervescent notes associated with this type of alcoholic beverage. 
Ochs also mentioned that she tried other flavors of cheese from Emporium Selection at Aldi, including balsamic onion and black truffle cheddar. One Aldi shopper on Reddit was split between buying the champagne cheese or the black truffle cheese but, based on the comments section, you can't go wrong with either option. Like the champagne cheese, people explained that the black truffle cheddar has a strong truffle taste.
Wondering what to eat with champagne cheddar cheese? Ochs explained how champagne and chips are a delicious pairing. In general, champagne pairs well with salty foods – from upscale caviar to your favorite fast-food fries. So, for a low-effort and affordable cheese night, grab a block of this boozy cheese, your favorite bag of crispy potato snacks, and enjoy.