Old-School Dishes You Should And Shouldn't Order At A Steakhouse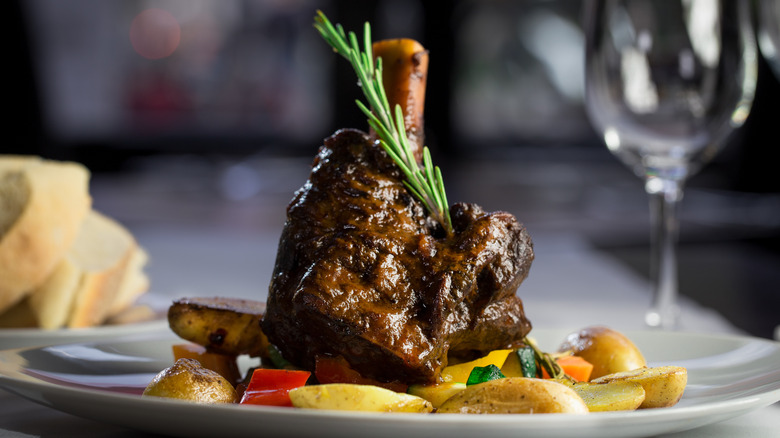 pixgo.de/Shutterstock
Beef is a central protein in the American diet, and steakhouses have always represented the dining bastions where thick beef strips are allowed to take center stage. These are not necessarily your affordable, everyday restaurants — though they can vary from upscale to casual — but places where we go to celebrate or commemorate important events. A visit to a steakhouse usually entails an entire dining affair that starts with appetizers and salads, then moves on to juicy steaks as the main event, while coming to a close with an equally decadent dessert.
Quality and variety of beef at a steakhouse is usually the deciding factor in choosing your favorite, but the selection of appetizers, seafood specials, side dishes, and desserts can play a vital role in the entire experience. Some steakhouses have moved away from the classic image of an old-school establishment serving traditional (and dated) dishes, but many institutions still proudly serve up those reliable, tried-and-tested recipes that may take you back a few decades with the first bite. Though many of these are always worth ordering, some might not be the best choice. As a guide for your next steakhouse visit, we've rounded up the good and the bad to lay out exactly which old-school dishes you should declare staples, and which to steer clear of.
Order: Steak Diane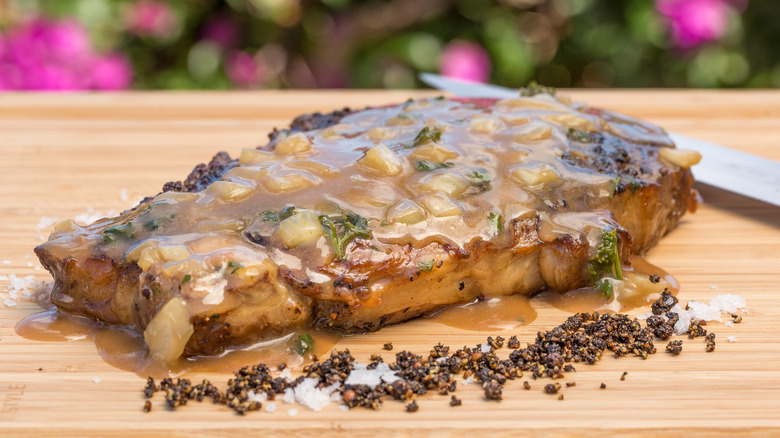 Leigh Anne Meeks/Shutterstock
Steak Diane is one of those vintage dishes we would like to see more often on steakhouse menus. Though this meaty offering is often labeled as a remnant of a forgotten era, it features classic ingredients and can still be deemed relevant, especially at steak restaurants. Admittedly, steak Diane is not the prettiest dish on the menu, but if you like to smother your meat in sauces, this is the most wonderful pairing you can go for.
Steak Diane incorporates a juicy steak doused in a silky-smooth butter-based sauce, sautéed with shallots, and boosted with a splash of Worcestershire sauce, some Dijon mustard, and a touch of brawny cognac. A hefty dose of freshly ground pepper is the essential touch to the sauce that nicely counterbalances all the sweet, rich, and earthy flavors. Essentially, steak Diane is a combination of some exquisite ingredients that only amplify each other in the mix. The dish, or more precisely the sauce, derives from French culinary tradition, and though it was initially served with venison, in the U.S. it found its ideal pairing in beef. You will usually find it on top of tender filet mignon, but it would make a nice partner to any steak cut.
Order: Oysters Rockefeller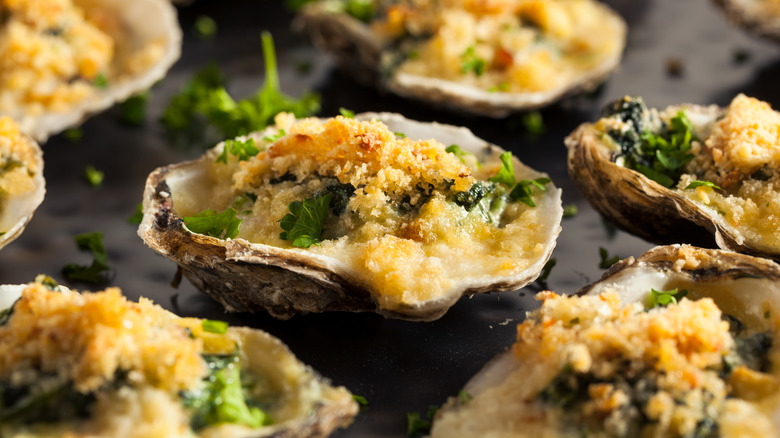 Brent Hofacker/Shutterstock
Oysters Rockefeller don't need much introduction. This legendary American dish consists of a meaty oyster topped with a mix of butter, breadcrumbs, and herbs, all served on a half shell. The combination is baked until the breadcrumbs crisp up, allowing all those buttery and herbal flavors to mingle with briny oyster juices. Oysters Rockefeller is perhaps the most beloved oyster dish in the U.S. Invented at Antoine's Restaurant — a New Orleans dining institutions that has been in business since 1840 — the dish has a venerable history dating back to 1899. Though the original recipe has never been disclosed, oysters Rockefeller has been recreated by numerous establishments nationwide. And despite its seniority, it still remains a favorite seafood option on steakhouse menus.
If executed properly, oysters Rockefeller makes for an exquisite dish. The buttery and herbaceous breading is the perfect complement to the juicy tartness of the oysters. All the flavors come through effortlessly, but none of the elements sticks out. This dish is also worth ordering as it is difficult to mess it up — and the oysters get cooked with the topping so it's harder to taste if they traveled a little further to your plate. Plus, most establishments usually have reliable, longstanding recipes, so you can expect a well-executed dish without any unpleasant surprises.
Order: Twice-baked potatoes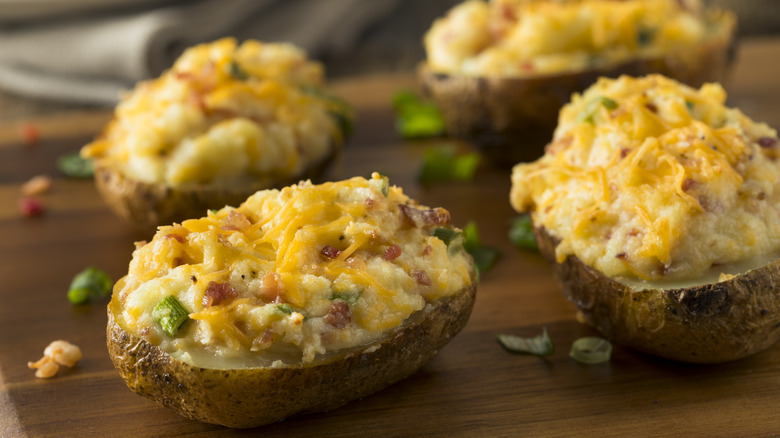 Brent Hofacker/Shutterstock
Steaks go well with various side orders, but most of us can agree that nothing beats baked or mashed potatoes when discussing ideal pairings. However reliable these two options may be, they are also too predictable and perhaps just plain uninspiring. Steak should be the star of your main course at a steakhouse, but you want to pair it with something more stimulating and flavorful than basic mash or a simple baked potato. This is where twice-baked potatoes enter the game.
Perhaps the only potato dish worthy of being served with steaks, twice-baked potatoes combine the best of both worlds. On the bottom, you have a nice, crispy baked potato shell topped with a heap of creamy mash usually loaded with cheese, green onions, and bacon. This retro classic will never go out of style as it can easily be adapted with any topping. You can keep it as simple as possible or turn it into a potato extravaganza by adding trendy or deluxe ingredients. Twice-baked potatoes are sturdy and reheat well, so you can be sure that you will not get a sad, cold potato that will not be a worthy match to your leftover steak.
Order: French onion soup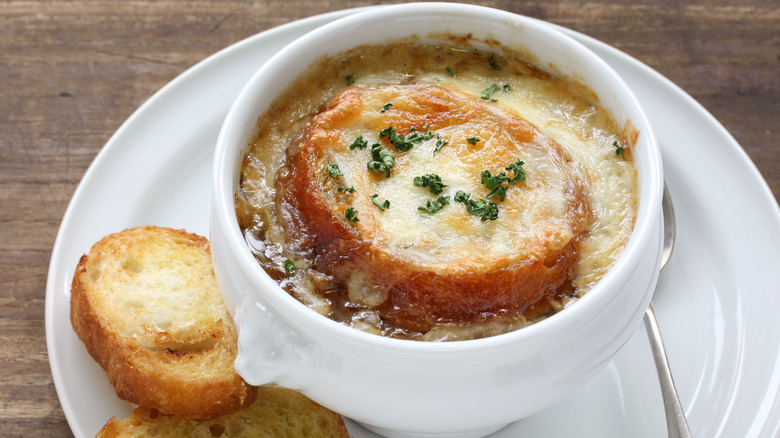 Bonchan/Getty Images
French onion soup is a comforting classic that uses only a handful of ingredients to create an outstanding dish. As expected, it all starts with a heap of sliced onions sautéed in butter until they are thoroughly caramelized. They are then doused in a rich beef broth that gives this soup a firm backbone that can support all the sweet and caramel flavors. The soup is portioned and topped with toasted bread slices and finally sealed with grated cheese and broiled until the cheese melts and creates a gooey layer on top.
Just by reading the description, it's pretty clear that French onion soup should be your regular order at a steakhouse. Apart from being incredibly delicious, this soup is a restaurant staple because the preparation usually takes too much time and effort to make at home. In a restaurant setting, it can be prepared well in advance. It is quickly finished in the oven, so it always comes to your table with a warm cheesy crust that easily breaks into all that flavorful broth hidden underneath.
Order: Tableside Caesar salad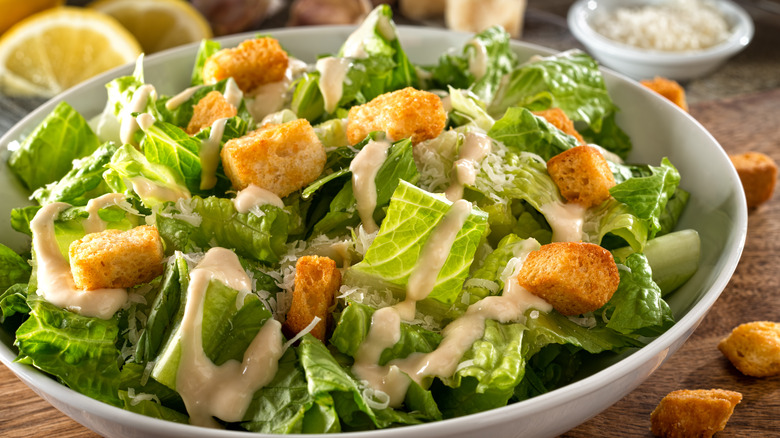 Foodio/Shutterstock
We like to think of Caesar salad as an all-American favorite, but history tells a different story. Allegedly, the first Caesar salad was created in 1924 by Caesar Cardini, an Italian living in Tijuana who whipped up the first batch to make use of leftover ingredients. Though there are many questionable bits to the whole story, the original version was most likely made with whole lettuce leaves and it probably left out anchovies and all the gourmet toppings we like to add to our contemporary varieties.
Traditional Caesar dressing was prepared tableside, something we rarely see these days, but which is still sometimes offered in traditional steakhouses. If you ever see it on the menu, we highly recommend this option as it is the only way Caesar salad should be made. It is prepared in front of you, so all that emulsified dressing is as fresh as possible, and you can munch down on tossed salad immediately while all those bits are still bright and crunchy. Caesar salad is the ideal appetizer, and a perfect antidote to a beefy steak.
Order: Oscar-style steak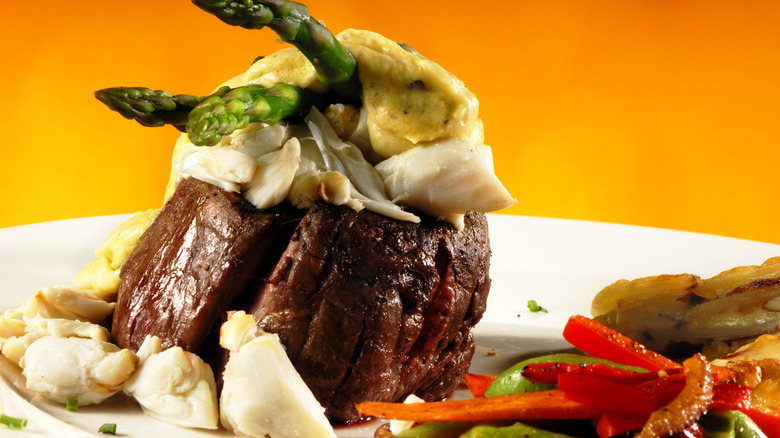 Alfred Wekelo/Shutterstock
Oscar-style steak is one of those lavish, over-the-top options at steak restaurants. This gourmet order will get you a thick slab of steak, usually tenderloin, topped with crab meat and served with a generous drizzle of butter-based sauce. Juicy crab meat is occasionally replaced with lobster in the more luxe version, and when it comes to sauces, traditional options include thick and velvety Hollandaise or classic Béarnaise that is packed with shallots and tarragon. You can say that the dish is fit for royalty, and appropriately enough, it was named after a king. The inspiration was Oscar II, who ruled Sweden for part of the 19th century and who was allegedly a fan of quirky and luxury combos such as this one.
Considering steakhouses are a bit decadent as is, Oscar-style steak perfectly fits the description. If you want some gastronomic decadence, this is the ultimate order. Go all out and treat yourself with this surf and turf combo that screams extravagence.
Order: Baked Alaska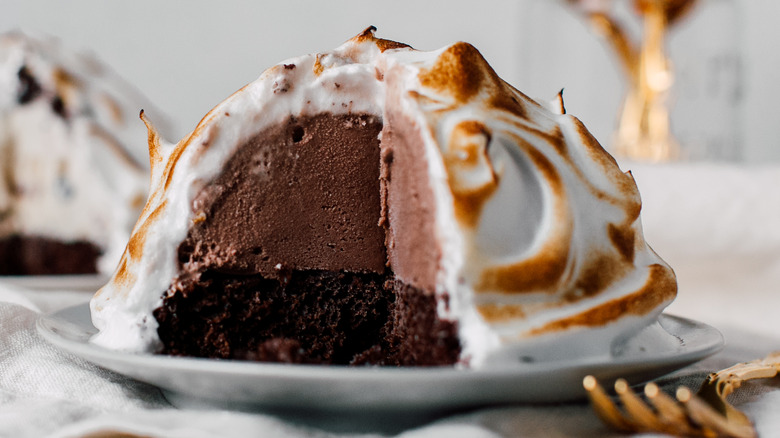 Katheryn Moran/Shutterstock
Baked Alaska has everything you want in a dessert – cake, ice cream, and airy meringue to top it off. The soft sponge base is sturdy enough to support the generous amount of ice cream mounted on top, while the thick layer of caramelized meringue provides that creamy, feather-light element as a great finishing touch. The best thing about baked Alaska is the array of flavor combinations ranging from fruity and light to all-chocolate heavyweights. Essentially, there is a baked Alaska fit for every taste. Besides the flavor, baked Alaska always steals the show as a visually attractive dessert that can easily be the centerpiece and a lavish ending to any meal. 
The only problem is that it is usually challenging to prepare — especially if you choose to make it from scratch — and this is one of the main reasons you should order it when dining out. As it is already a partially frozen dessert, you don't have to worry that you will get stale and underwhelming cake. Arguably, there is no better way to finish a steakhouse dinner than with ice cream coated in warm, caramelized meringue.
Don't order: Iceberg wedge with blue cheese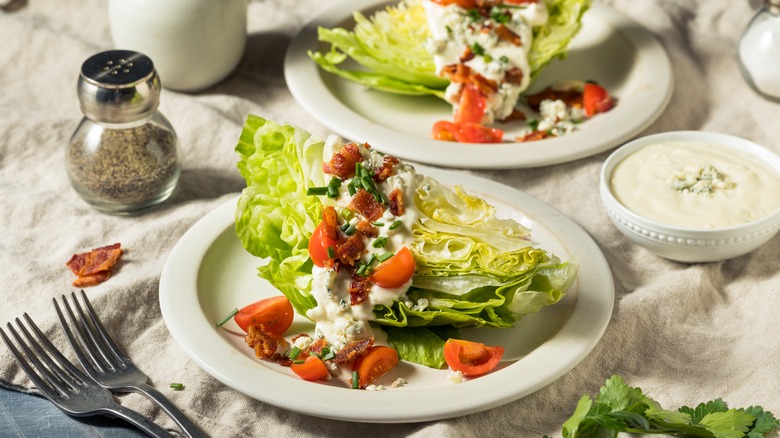 Brent Hofacker/Shutterstock
The first thing on the list of items you should skip at the steakhouse is an old-school classic — a wedge of iceberg salad doused in blue cheese and garnished with bits of fried bacon. The dish has many downsides, but let's start with the most obvious one: the big chunk of iceberg lettuce that makes the base of the dish. On lists of best salad greens, you will usually find iceberg toward the bottom. Though it became popular because of its legendary crispiness, that's where the advantages stop. Nutritiously, this salad doesn't offer much, and together with the neutral flavor profile, you get a pretty bland and tasteless veggie.
Some say the flavor is uplifted with blue cheese, but it somehow only makes the situation worse. The cheese dressing tends to ruin all the crispiness, and you end up with a chunk of flavorless wilted greens. Additionally, the intense aroma and the flavor of blue cheese will completely take over the dish. The crisp bacon bits may be the best part of this classic, but they don't get the chance to come through.
Don't order: Creamed spinach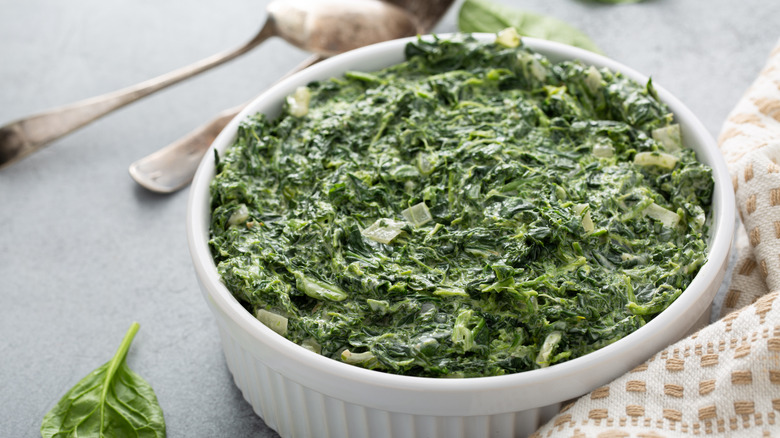 Elena Veselova/Shutterstock
We all know the usual narrative that heralds spinach as a super healthy ingredient packed with vitamins and nutrients, so you might wonder how creamed spinach found its place on the less desired end of the list. The problem with this old-school dish is that it comes smothered in cream, butter, flour, and sometimes a hefty amount of cheese, resulting in a dish that is the opposite of wholesome. Though people like to think of it as the healthier alternative, creamed spinach is packed with fat and calories, so if you want a slightly lighter option, this is not the right choice.
Besides its questionable nutritional value, we're also not sure who really wants to eat creamed spinach in a steakhouse, and it seems that we're not alone. In 2021, we conducted a survey to discover which side order at the legendary Outback Steakhouse ranks as the least favorite among guests. Unsurprisingly, creamed spinach topped the list, with 38% claiming it to be the worst side dish option. We can assume that the situation is similar at other steak restaurants. Not to mention the dubious freshness. Creamed spinach doesn't take long to cook, but you can never be sure if it was made fresh, and there is certainly nothing worse than reheated greens.
Don't order: Shrimp cocktail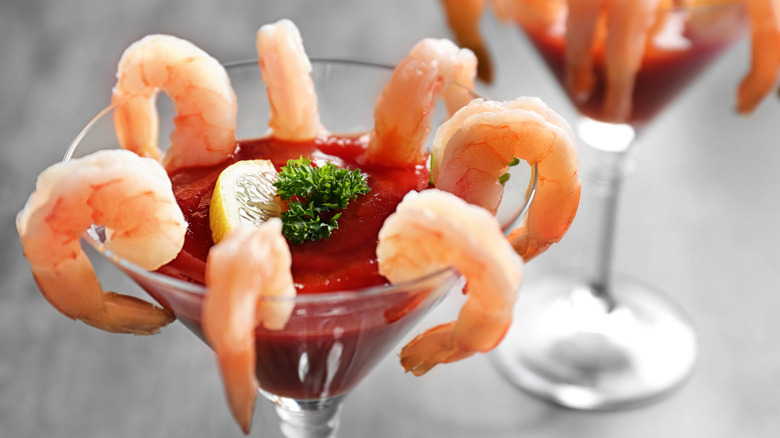 Africa Studio/Shutterstock
If you thought that shrimp cocktails had disappeared from the culinary landscape and restaurant menus — along with other tackily decorated old-school classics — then you'll be surprised to find out that steakhouses still proudly offer this questionable pairing of cold shrimps and tomato-based sauce. The history of the shrimp cocktail is shrouded in mystery, but it likely evolved from similar seafood specialties that were served as snacks and sometimes even drinks, which explains the cocktail moniker. In the U.S., you will often see the sauce served inside a goblet or cocktail glass with shrimps hanging loosely on the side. 
Even if we put aside the visual issue, we can't find a good reason why anyone wants to smother delicate shrimp meat with a spicy ketchup-like sauce. Classic cocktail sauce combines ketchup, horseradish, chili, Worcestershire sauce, and various spices and seasonings, resulting in a salty, spicy, and very aromatic sauce that might be an excellent option for many other things, but is usually too powerful for the buttery, delicate shrimp meat.
The sauce could also be a red flag at seafood restaurants, as it can easily disguise poor quality and lack of flavor. The same thing can be said for steakhouses, which generally sell less seafood, so it might a clear warning to avoid this old-school classic and go with another seafood option.
Don't order: Filet mignon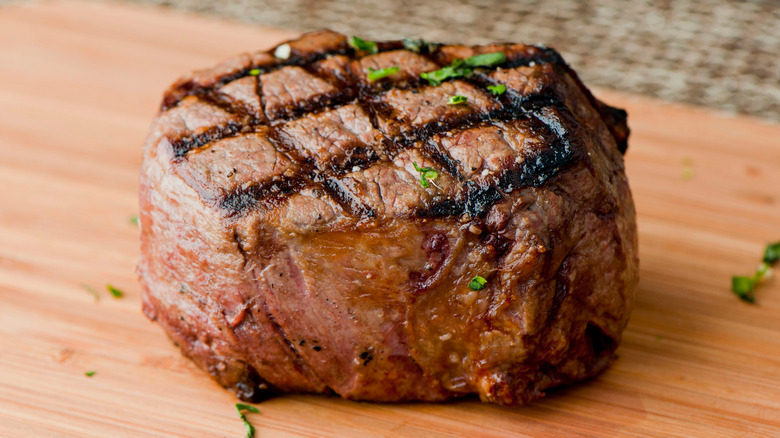 Marie Sonmez Photography/Shutterstock
Despite its popularity, filet mignon is one of those gourmet ingredients that some may consider to be slightly overrated. It is usually one of the most expensive cuts on the menu, but the high price doesn't reflect the amount of flavor packed inside the steak. Filet mignon is a small cut that comes from just one part of the tenderloin. As such, it is relatively rare.. Though it is generally soft and tender, filet mignon misses on the flavor front because it is so lean and doesn't have much juicy fat tissue.
Filet mignon can make an excellent pairing with sauces or some added ingredients that will boost the flavor — think of Oscar-style steak — but if you want to munch down on a delicious piece of beef without having any additional components, you better skip it as a dinner option. Instead, go for steaks that have more marbling, such as a ribeye or the classic T-bone.
Don't order: Duchess potatoes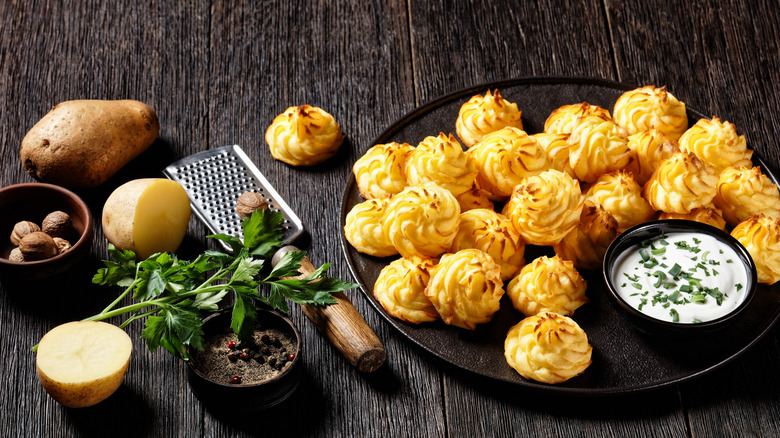 from my point of view/Shutterstock
Duchess potatoes are best described as a more sophisticated, upgraded, baked version of mashed potatoes. The dish starts as a regular batch of creamy mash made with buttery potatoes and seasonings, but with an added egg to bind everything together and occasionally a small amount of grated cheese for more flavor. Instead of serving it as is, the combination is piped into decorative rosette-like swirls that are baked until they firm up and attain some color. The outside of each dollop should be firm, while the center needs to remain smooth and creamy. The dish derives from traditional French cuisine, but it is one of those timely classics that incorporated into American cuisine.
Judging by the description, these elegant potatoes make a great side dish with hearty steaks, but the problem usually occurs during preparation. Duchess potatoes are often piped in advance and are baked or broiled before service. This can often mean that the swirls have been sitting on the counter too long and might have completely dried out. Even worse, they might have spent time in the fridge, and the short time in an oven won't be enough to thoroughly heat the center. With many other steakhouse options, the possibility of your potatoes coming out semi-cold is not something we want to suggest.
Don't order: Clams casino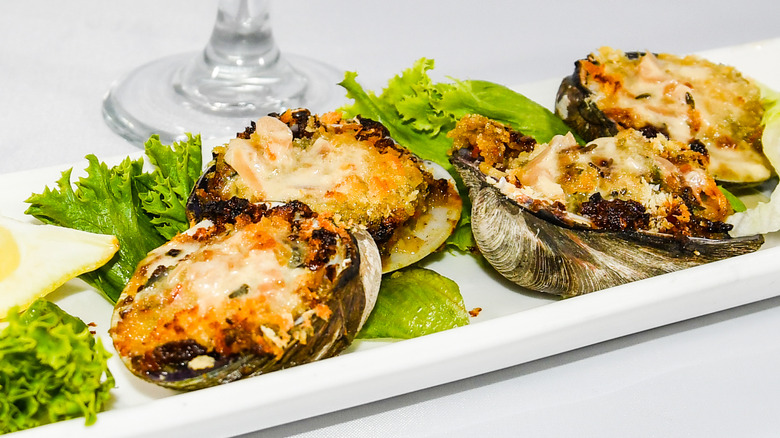 Sandi Cullifer/Shutterstock
Surf and turf is a culinary idea that proves how unconventional land and sea pairings can work in perfect harmony. However, while the concept has given us some fantastic dishes, clams casino might not be one of its proudest achievements. This old-school dish most likely originated at the turn of the 20th century at the Narragansett Pier Casino in Rhode Island, with Julius Keller usually referenced as its author. These days they are a rare sight on menus but remain popular at some seafood joints and Italian-American restaurants. You will occasionally find clams casino at classic steakhouses, but if you ever happen to find them on the menu, we advise you to skip the order, despite their venerable history.
Clams casino is not an overly complicated dish. It consists of littleneck clams served on a half shelf topped with a mix of breadcrumbs, butter, peppers, and bacon. Variations include different seasonings, grated cheese, or even a slice of bacon perched on each clam. The assembled shell is broiled until the breadcrumb topping sets and the bacon crisps up. Individually, each of these elements sounds appetizing, but the combination seems a bit off. The flavor of the clams certainly can't come through the bready pepper topping and the smoky bacon, so the idea of pairing these overpowering elements with the juicy sweetness of the shellfish seems completely wrong.
Don't order: Calamari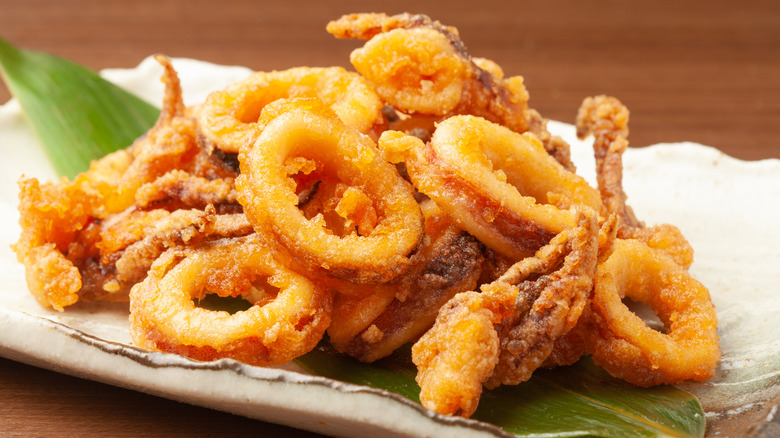 sasazawa/Shutterstock
Calamari is a lovely Italian term for squid, but in the U.S., it is mainly used to describe an appetizer of breaded, deep-fried squid rings. This classic dish is one of the most common seafood options at traditional steakhouse restaurants, and if made correctly, it results in a wonderful combination of soft squid meat paired with a crispy, golden crust. Add a creamy sauce on the side and a squeeze of lemon juice, and you've got yourself a fantastic seafood dish.
The problem at most steakhouses is that calamari is offered as a starter, meaning you would munch down on a heap of fried seafood before you even get to the main event. Health-wise, squid is a potentially nutritious and healthy, but the problem occurs when you cover it in flour and drown it in copious amounts of oil. It may be delicious, but it's certainly not an order you want to have before tackling down on protein-packed steak, not to mention the sides and desserts to come.